Black Friday is a globally popular shopping event when goods and services from retailers are sold at very discounted prices. Jumia Kenya joined the Black Friday bandwagon in 2015 and has grown in popularity. This year's Jumia Black Friday sales will start on 4th November and run through to 30th November. This year, a wide range of products will be on offer ranging from a 14-seater matatu, to TVs, Shoes, and Cooking oil. Even maize and Wheat floor will be on offer.
Transsion Holdings, the company responsible for TECNO, Infinix & itel will be this year's platinum sponsors. Other partners to Jumia Kenya Black Friday include Xiaomi, Vision Plus, Nivea, Beefeater, Gordons, and Garnier. Jumia Kenya has also partnered with banks such as ABSA Kenya PLC and I & M Bank to offer incentives for any payments made using their cards. Mastercard has also not been left behind as they will be offering 20% discounts for payments made using their cards.
Advertisement - Continue reading below
"We are happy to be part of this year's Jumia Black Friday, where consumers can expect great deals on our latest products which include TECNO, Infinix, and itel brands," Transsion Holdings' Kenya Regional MD Ray Fang.
---
Also Read:
---
Jumia Kenya 2022 Black Friday Highlights
This year's Jumia Kenya Black Friday Campaign will kick off on November 3rd at midnight with 'Deal za soo' (Ksh100 deals). The biggest discount to kick off Jumia Black Friday will be a 14-seater matatu that will go for Ksh100. There will also be other products like Fridges, TVs, SmartPhones, Dispensers, and Cooking oil going for Ksh 100. Let us now have a look at some of the best tech deals in Jumia Kenya on Black Friday 2022.

1. Best SmartPhones Deals
a). Samsung Galaxy A13
November is usually the best time to hunt for the best smartphone deals. If you are looking for a decent midrange smartphone, you will be pleased to know that Samsung's Galaxy A13 is currently retailing at an 18% discount.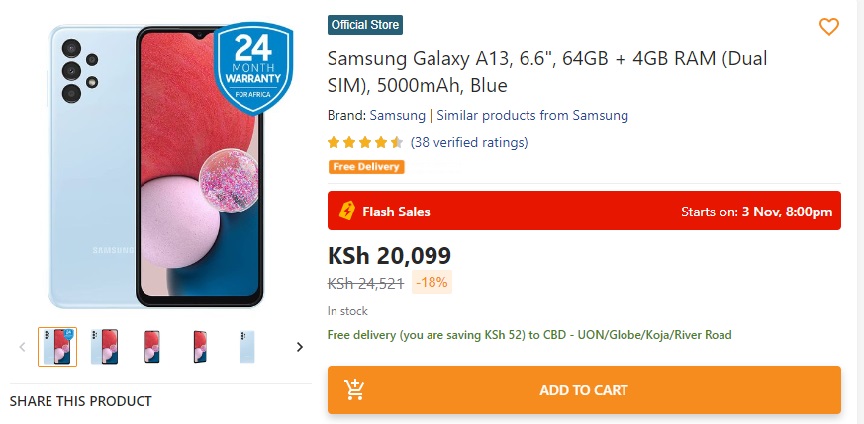 Head over to Samsungs official store on the Jumia Kenya website or app and grab this Black Friday offer
---
Also Read:
Advertisement - Continue reading below
---
b). Tecno CAMON 18 Premier
If you are a features kind of person and not oriented to the most premium brands, the Tecno CAMON 18 Premier should make it to your shortlist. With 8GB of RAM and 256GB of storage retailing at just under KSh 30,000/=, this is a serious value-for-money smartphone.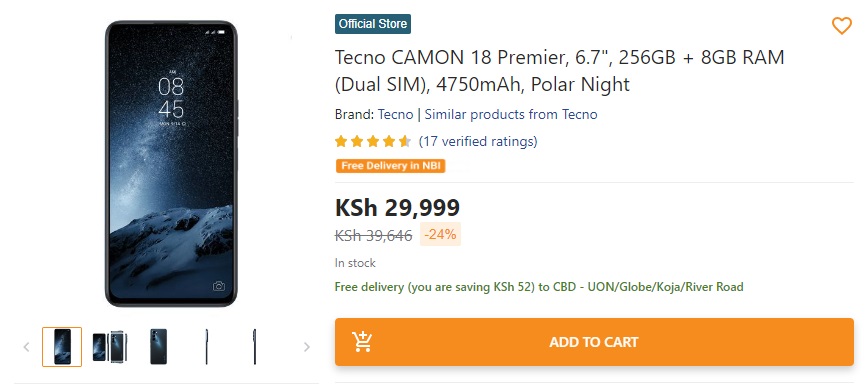 Below are three more smartphones at three different price points that you can consider
---
Also Read:
---
2. Best TV Deals
a). Vitron 22″ HD LED DIGITAL TV
Have you been planning to soup up your home with a budget TV? Or perhaps you have been planning to get a second budget TV for your Kitchen or Bedroom. Well look no further here is the deal of the year. With just Ksh 8,650/= you can get yourself this 22-inch Vitron digital TV.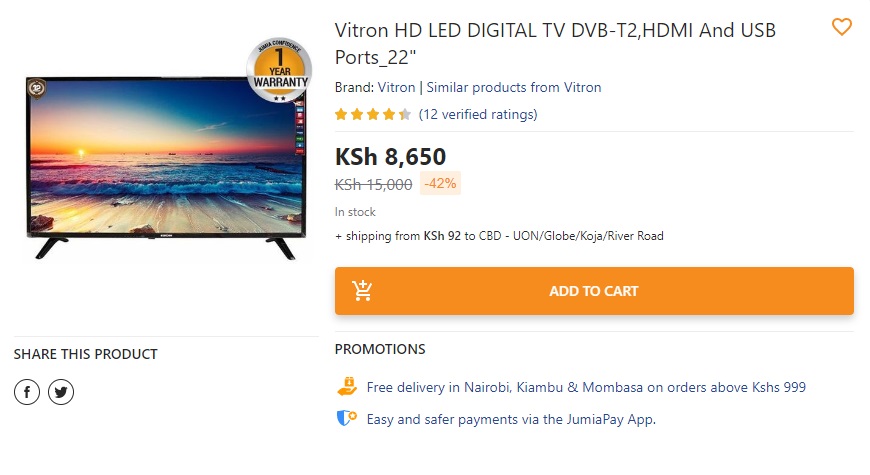 With free delivery within Nairobi, Kisumu & Mombasa, this is a deal you should not allow to skip you this Black Friday season.
---
Also Read:
---
b). Hifinit 32″ HD LED DIGITAL TV
If you are looking for something slightly bigger than a 22″ TV and not in the 40″ territory, we have something just right for you. Now with a 49% discount, the Hifinit 32 Inch Frameless Digital HD Ready LED TV is your best buy at Ksh 11,628/=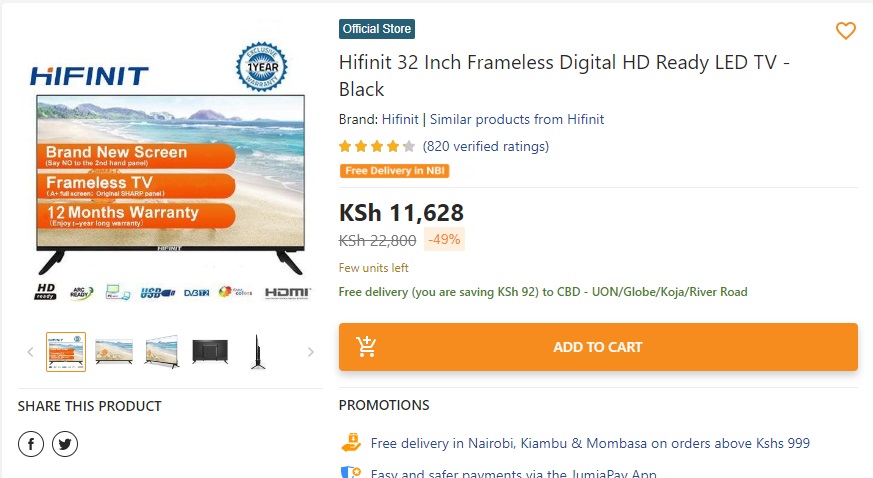 This TV boasts a beautiful frameless design as well as some high-quality output speakers. Go ahead and grab this offer while it lasts.
Advertisement - Continue reading below
Below is a list of other notable TV deals on Jumia Kenya that are worth your attention:
---
Also Read:
---
3. Best Sound Bar Deals
a). Sony S20R Soundbar System
If you are looking for a premium brand 5.1 surround sound bar, Sony is among the most established sound system manufacturers. Thus you can not go wrong with this Sony 400W 5.1ch Soundbar.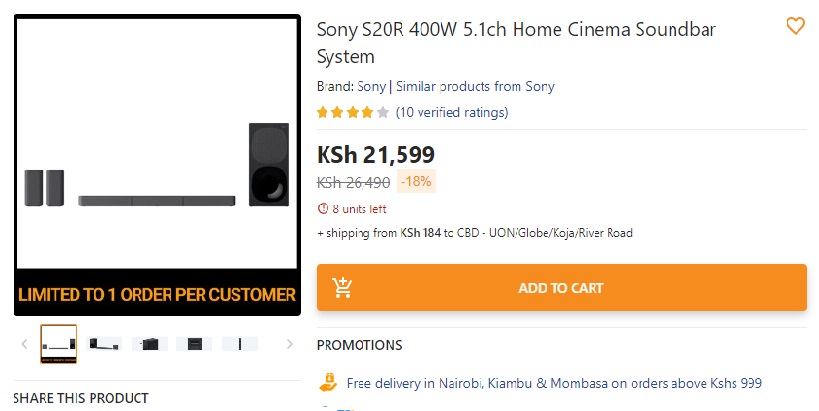 You can be assured of good quality sound output to bring your movies to life and add extra bass to your music.
---
Also Read:
---
b). Vision Plus 2.1 Soundbar
Are you fed up with the un-immersive speaker system of your TV? With a budget of Ksh 10,000, you can get yourself this Vision Plus 2.1 Soundbar and improve your home groove experience.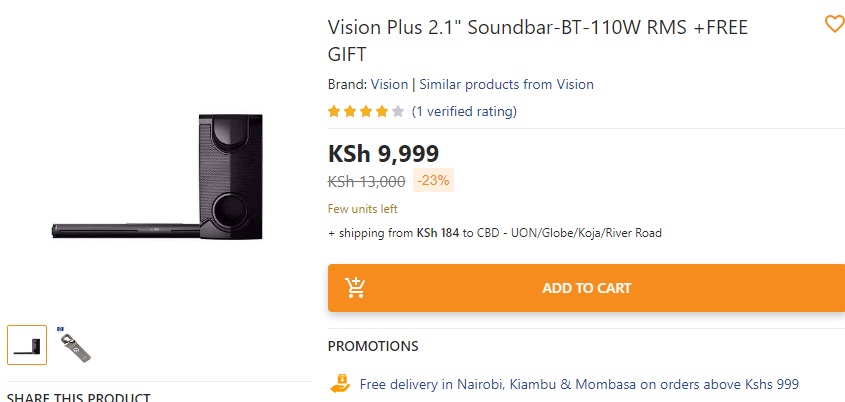 Remember that these offers will end by 30th November 2022. For additional bargains worth your consideration have a look at the list below that are of higher quality but with great discounts.
---
Also Read:
Advertisement - Continue reading below
---
4. Best Mobile Accessories Deals
a). Edifier TWS330 Wireless Earphones
The Edifier TWS330 NB Bluetooth earbuds are now retailing at a staggering 49% discount. If you have been procrastinating about buying earbuds, this is the time to do it. With several impressive features such as Active Noise Cancelling and IP54 sweatproof rating, I'd say this is a pretty good deal.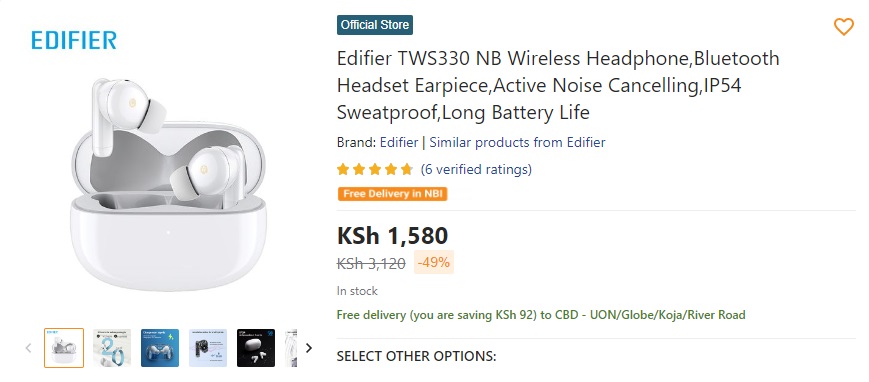 These come in a variety of very flashy and nice colors, head over to the Edifier official store and get you ones that match your skin tone.
---
Also Read:
---
b). Oraimo 10,000 Mah Power Bank
Some deals appear to be too good to be true, this is one such deal but fortunately, this one is true. The Oraimo OPB-P116DN Power Bank with 10,000 mAh capacity and two fast charging ports is on sale for less than Ksh 1,000!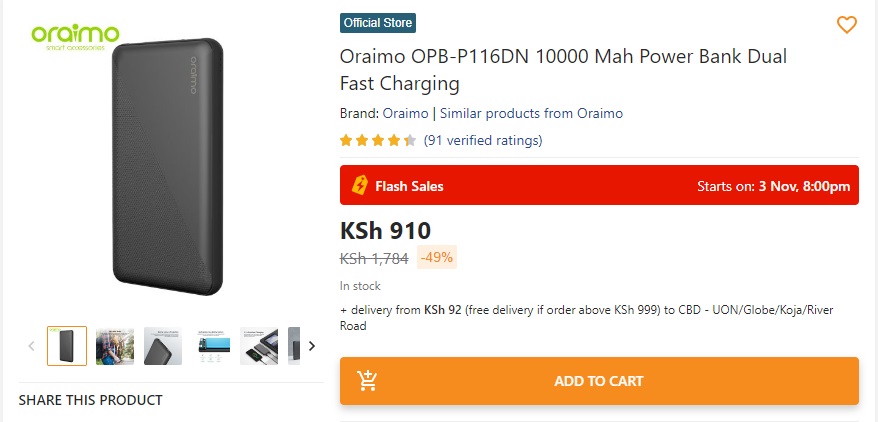 It's about time you stopped going offline and borrowing chargers. Just because your phone battery cannot sustain you through an entire day with a single charge, it does not mean you have to be offline.
Below are other worthy deals in the accessories section of Jumia Kenya black Friday offers.
To conclude, we have to warn you about fake "deals" where unscrupulous sellers list items with big discounts claiming that the item used to cost a higher price than it ever did. The best way to identify such is by cross-checking with other sellers on different platforms to avoid being duped. We should also mention that there are several other online platforms similar to Jumia that will also be hosting their version of Black Friday sales in this same month of November. Such platforms include Kilimall Online Shop, Masoko Africa, and Sky Garden.
We wish you all the best in your Black Friday shopping endeavors!
Advertisement - Continue reading below
---
Also Read:
---