Summer is almost here and the heat can get to an unbearable level. If you're thinking about getting an air conditioner, installing one can be exhausting and more time-consuming. This is why portable air conditioners are becoming an excellent alternative because they are easy to set up and move around.
There are a number of top contenders in the market with varying features and specifications. So it might be overwhelming to pick the best option for your specific needs. This is why in this article, we've curated a list of the best compact air conditioning units you can get in 2023. With this list, you can make a more informed decision and stay cool all summer long.
Advertisement - Continue reading below
Black + Decker Air Conditioner
Key Specifications
Up to 700 Sq.ft
Remote control
11000 cooling power
6.2 SEER
115 volts
54 dB noise level
3-speed levels
Energy saving timer
Price: $486.85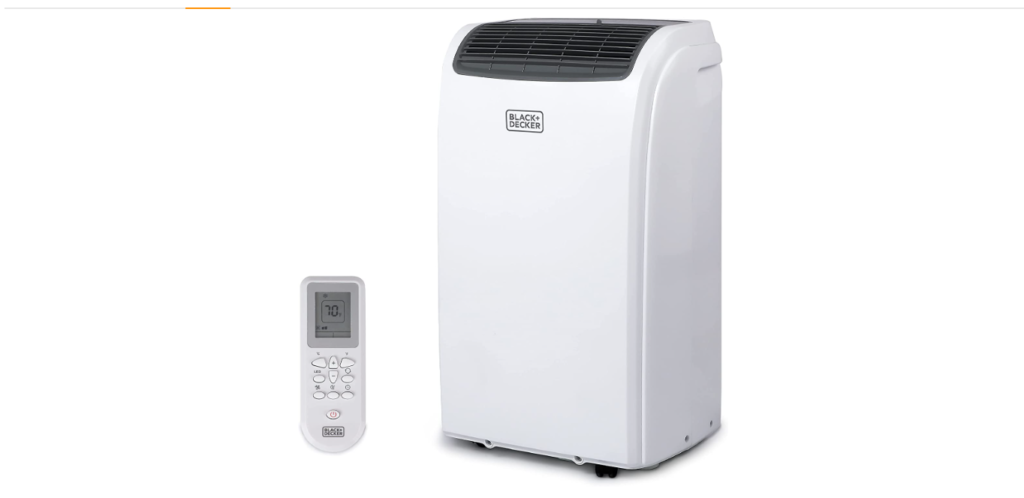 This portable air conditioner also doubles as a heater. This is why it makes it to the top of our list. This means you can stay cool in the summer and remain warm in the winter. Being able to power rooms up to 700 sq. ft, it's an ideal unit for the bedroom. It comes with a remote control, so you can mount it on its control panel and track the settings from the LED display.
This portable unit also has a dehumidifier and fan. We love how it has a slide-out washable filter so it's easier to maintain. With the casters on the bottom and side handles, you can physically move it to a different room. It also includes an easy-to-install window kit that makes it super easy to assemble on the first try.
Honeywell 700 CFM Compact Spot Fan & Humidifier
Key Specifications
Freestanding mount type
700 cubic ft per minute airflow capacity
Remote controlled
7.9 gallons reservoir capacity
Removable air filter
AC, fan and humidifier
Price: $299.99
Advertisement - Continue reading below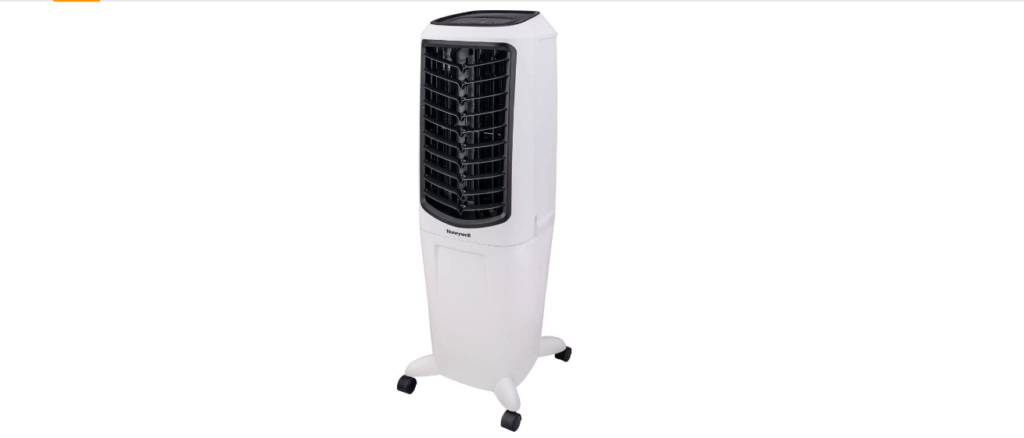 Being a compact tower cooler, this portable AC is built to power small to medium rooms. This makes it ideal for rooms around 426 sq. ft. While it might be ideal for smaller rooms, it has a vertical and oscillating air vent that allows air to be distributed faster and more evenly.
Asides from being an air conditioner, it's a 3-in-1 appliance so you have a fan and humidifier all in one. We love that it has smooth gliding wheels that help you roll it to any room you need it in. Also because it's environmentally friendly (it only reduces temperature through water evaporation). Launch by filling it up through the easy-access water-fill door and use the remote control. It has an alarm to notify you when it's low on water. The washable dust filter also ensures that you only have to do simple maintenance every now and then.
SereneLife SLPAC8 Portable Air Conditioner
Key Specifications
Built-in Dehumidifier and fan mode
Quiet operation
Window mount kit
8,000 BTU
120 volts
55dB noise level
350 sq ft coverage
3 Speed settings
Auto swing
Remote controller
Price: $294.83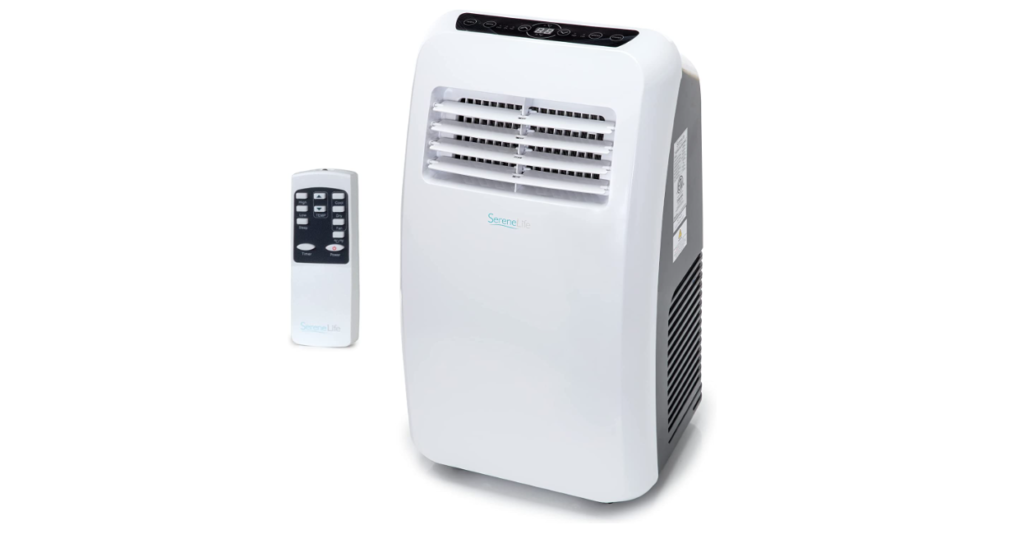 With 8,000 BTU of portable cooling power, you can save both time and money while enjoying the temperatures you need. This AC unit comes with a built-in dehumidifier and a fan mode with 3-speed settings you can switch between using the remote control. The extra features also make it worth the buck.
For example, there's a 24-hour timer that comes with an automatic swing mode. There's also the automatic self-evaporation technology to help you save resources. Most importantly, unlike other AC units on this list, this particular air conditioning has a very low operating noise which gives it this luxurious feel.
In addition to its functionality, the design is sleek and free-standing. So you don't have to worry about it looking out of place. It's pretty easy to install thanks to the window mount kit and easy to maintain since it has a removable air filter.
COWSAR Portable Air Conditioner
Key Specification
Advertisement - Continue reading below
8000BTU
Up to 200 sq. ft
53dB
24hr timer
5 SEER
Dehumidifier
Led touchscreen
100 volts
Corded electric
Price: $299.99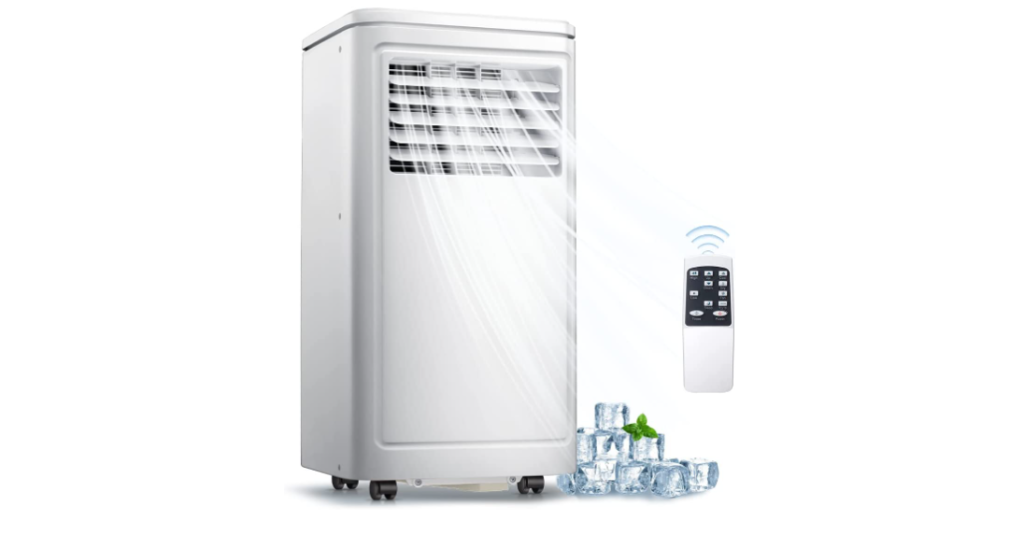 This portable air conditioner has a fan mode and a dehumidifier which makes it suitable for all seasons. Simply control the temperature with the remote or the LED touchscreen. This unit is ideal for rooms, high-temperature kitchens, apartments and other rooms within 200 sq. ft.
We love that it has a low sound so you can have a quiet space even when it's at peak performance. Like most air conditioners, it has a double filter system and multiple purification sets in place. Being simple to install, it's also portable which makes it easy to move.
LG 10,000 BTU Smart Portable Air Conditioner
Key Specification
10,000 BTU
Remote controlled
7.83 SEER
115 Volts
2 speed
Voice commands
450 sq. ft
Price: $599.99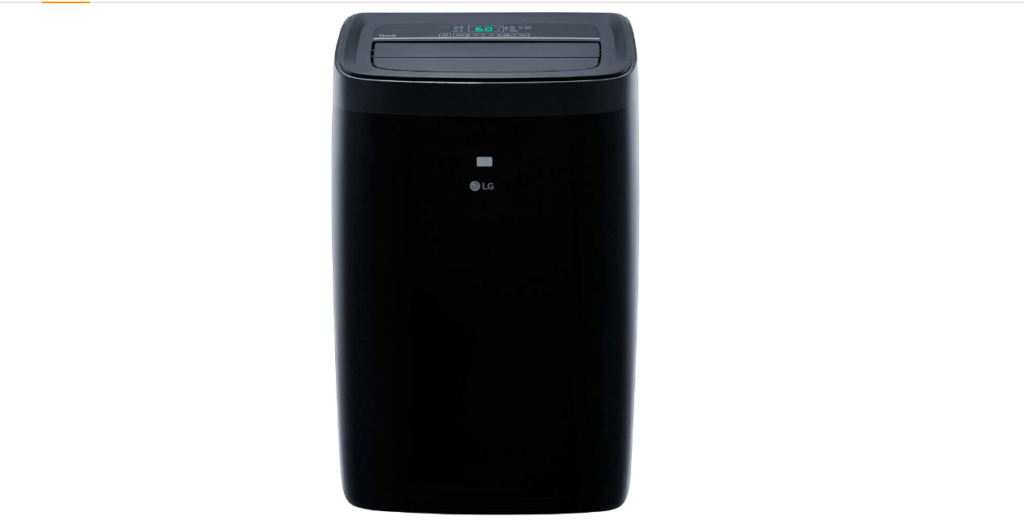 Enjoy a 3-in-1 device with this LG air conditioner. Enjoy cooling and dehumidification during hot seasons as this is ideal for cooling medium rooms at about 450 sq. ft. While it might seem expensive when compared to other options, it's a great addition for lovers of the LG brand and voice control.
Control your AC unit with a remote control or voice commands since it works with Amazon Alexa and Google. In rainy weather conditions, you can use the fan mode to circulate air, especially in rooms that tend to get damp. This fan mode has two speeds – low and high. So you can better customize your cooling.
R.W FLAME Portable Air Conditioner
Key Specifications
Advertisement - Continue reading below
10,000 BTU
450 sq. ft
Dehumidifier and fan
LED Display and remote control
Window kit
Price: $289.99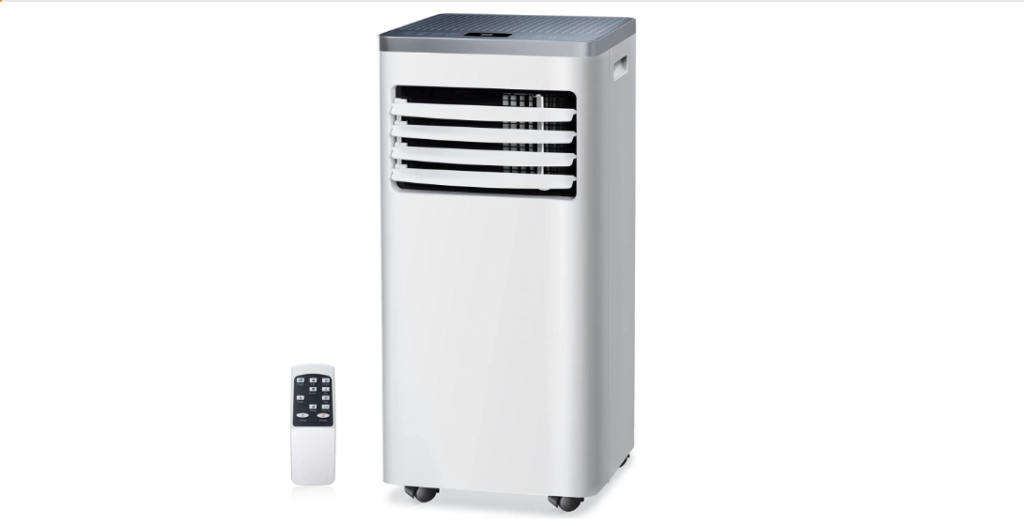 Quite similar to the LG portable air conditioner, this unit has three different functions and two fan speed settings. The cool helps set the room temperature, there's the dehumidifier and the fan. It has a sleep mode to help you conserve energy when you fall asleep or forget to turn it off. This means you'd have to set a timer for triggering the sleep mode.
This AC unit doesn't require any permanent installation so you can easily wheel it out. There are user-friendly functions that allow you to switch settings either through the LED panel or remote control. However, unlike the LG, you cannot switch between modes and settings using voice commands.
And that brings us to the end of this list. We hope that you've found this guide useful in choosing a portable air conditioner for your room or office. Do share this post with your friends and family who might need this too.
Disclaimer: We might get a commission for some of the products we recommend here, but this doesn't affect our editorial policy