Ugandan company Styx Technology Group has released an Ag App called "Poultry Farm Revenue Calculator". The app helps you determine the feasibility of decisions on a poultry Farm before you make them.
Leveraging on the experiences shared in this post Poultry Feed Economic 101 – Changing the Supplier Scenario, the Styx team built a simple easy to use calculator to address this question using minimal inputs to help poultry farm managers:
Advertisement - Continue reading below
Estimate their spot profitability based on the cost of inputs and revenue from sales of eggs
Use simple data to decide whether to make the feed change based on the impact on the bottom line.
We talked to Mr. Stephen Musoke Senkomago of Styx Technology Group who mentioned that as part of their mission to leverage technology to support executives identify, implement and  refine strategic technology interventions in their business & target market segments, they partnered with Kkungu Poultry Farm Enterprises to help bring relevant, useable cutting edge technology to Uganda agriculture executives.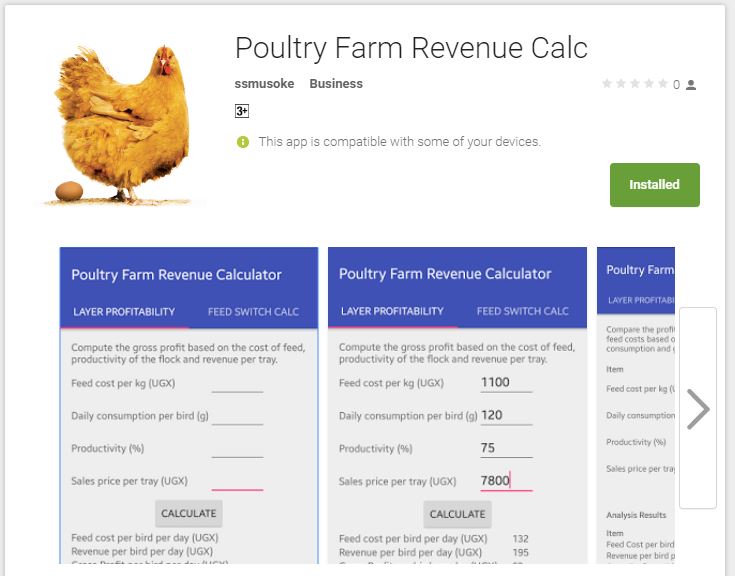 The App looks simplistic with only one or two features. When we asked him about other features a poultry farm would need and whether they will be added into the app, he mentioned that building the app wasn't the problem and anyone could have done it but unfortunately they haven't because they do not have enough data to make evidence based and data driven decisions to solve everyday problems. They think a million complex features make an app good.
For Poultry farmers, the biggest expenditure is feeds. A decision on whether to change the feeds can determine your net profitability. This app does not solve multiple problems. It solves only one critical problem that poultry farmers face. This app is for that Poultry Farmers who needs appropriate and relevant technology to keep a pulse on his business.
He noted that they observed a poultry farm for over 2 years collecting relevant data to be able to help them make a simple app that solves a pertinent problem for poultry farmers.
Styx have developed 2 Apps that we know of and that is the Uganda PAYE Calculator  that (being pulled down) was merged and improved in a new app; the Syzygy Utility Calculator App. This helps you calculate your PAYE, NSSF and Mobile Money.
Advertisement - Continue reading below
Download the Application today from Google Play Store.
Image: Photo Bucket