Yesterday, MTN Uganda increased on its mobile data rates without passing formal communication on its website or otherwise. We first learnt about the development on social media when some MTN customers started complaining about the sudden and stealth increase in its mobile plans.
Hi UG ISPs, care to share why you've revised mobile internet data bundles upwards? Is it a need for bigger margins or higher costs? — Stone Atwine (@StoneAtwine) October 10, 2013

Advertisement - Continue reading below
We've confirmed the increase from the Telecom's website where  now  a daily bundle of 10 MB is now at UGX 300($0.12), from UGX 250($0.10), while 50 MB now costs UGX 1,200($0.47) from UGX 1,000($0.39). The Per kb rate now is UGX 0.80 up from UGX 0.20.
MTN from their tweets claim the increase is due to increase in the cost of doing business;
@StoneAtwine, We apologize for all the inconveniences caused by the new changes. However, internet data bundles were revised due to the…

@StoneAtwine increase in the cost of running business which requires us to sustain good quality of products and services to our customers.
— MTN UGANDA (@MTNUGANDACARE) October 10, 2013
It's not clear how the other operators will respond. Among other operators, MTN seems to be the operator that has the highest data tariffs. For instance, for UGX 500, you get 20MB on MTN, 30MB on Orange and 50MB on Airtel.   Here's how the telecom stacks up against Orange — the current market leader and  Airtel.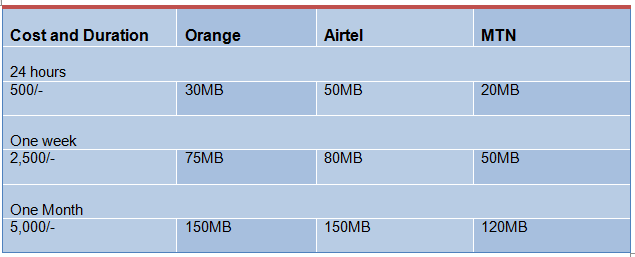 This comes at a time when when a Google report, released last week at Sheraton Kampala hotel indicates cost as one of the prohibitive factors affecting access of the internet on the wider African continent. We hope to do a service death match between various operators, but you can read our comparison of Orange and Airtel data services as you tell us what you think of MTN's data tariff increase.
Advertisement - Continue reading below