Fitness bands have proved themselves over the past few years as a set of devices useful in our daily lives. The bands will help you keep track of your habits and recommend ways of living healthier lives. If you're currently budget-conscious and not in the market for heavy-hitters like the Apple Watch series, Samsung Active Watch, or Fitbit versa, then Xiaomi's Mi Band 5, Huami Amazfit Band 5 and Huawei's Honor 5 are incredible, relatively-affordable choices.
Fitness bands take on a rectangular form-factor with bracelets wrapping around the wrist. They are specifically designed to keep track of your physical activity, although most also track your sleep. They have a slightly smaller screen, typically 1.1 inches or smaller, are very lightweight, and have at least a 14-day battery. They are a lot cheaper than smartwatches, typically costing less than $50.
Advertisement - Continue reading below
I have been using the Xiaomi Mi Band 4 fitness band for more than 6 months as my daily driver, taking it with me on casual evening workouts. When Xiaomi updated this band in June 2020 with the Mi Band 5 which has a larger display and magnetic charger, I immediately bought one which I now use as my daily driver. The Xiaomi Mi Band is produced by Huami which also owns the Amazfit brand. As such, there's not much difference between the Mi Band 5 and the newly-launched Amazfit Band 5 except for a few features which I'll talk about.
The Huawei Honor 5 meanwhile is just as great as the Band 5s albeit with a slightly smaller AMOLED display. However, it generally takes a rectangular colorful form-factor with most features you will find in the Band 5s at slightly a lower price point.
Xiaomi Mi Band 4 vs Mi Band 5
Now delving into the details, the Mi Band 4 is last year's fitness tracker from Xiaomi. It sports a 0.95″ AMOLED display with capacitive touchscreen, 135mAh LiPO battery which supports standby time of up to 20 days, 5 ATM water resistance, PPG heart rate sensor, 512KB RAM, 16MB ROM, and 6 sports modes. The Mi Band 4 costs about $26 on Amazon.com.
The new 2020 Mi Band 5 has more or less the same specifications, except it has a 20% bigger 1.1-inch AMOLED display, 125 mAh battery which supports up to 14 days, 11 professional sports modes (compared to the Mi Band 4's 6 modes), women cycle tracker, PAI tracker, breathing and stress monitoring and a convenient magnetic charger. The Mi Band 4 has a strap-on charger that requires you to first remove the band from its straps to work. The Mi Band 5 costs $42 on Amazon.com.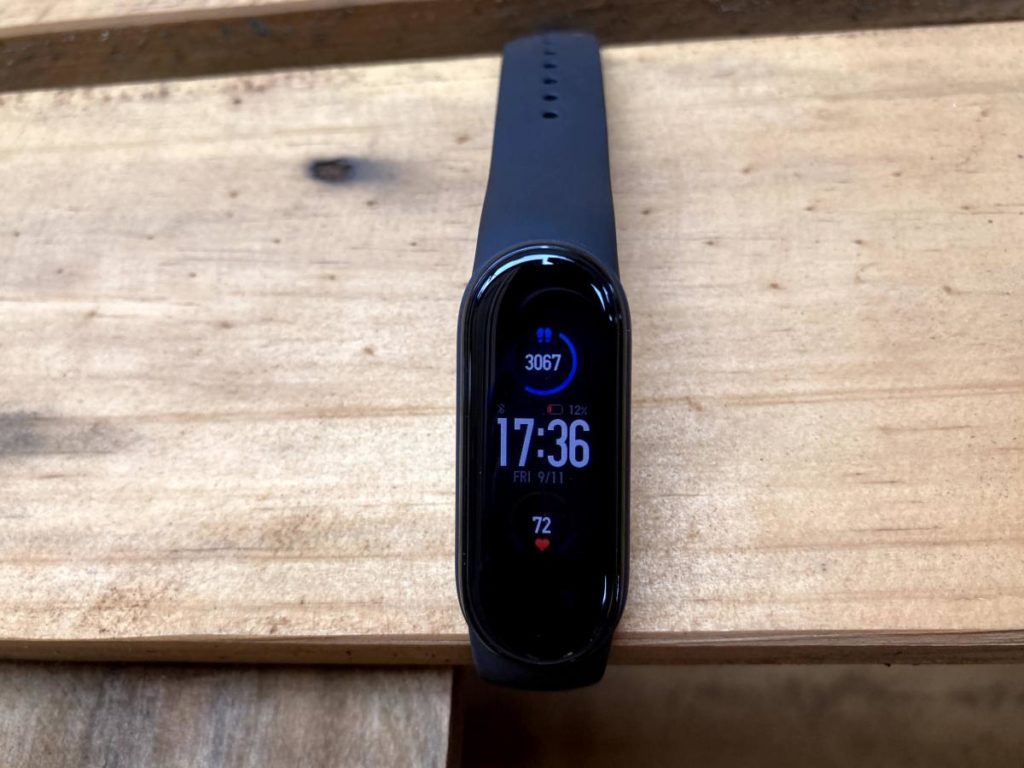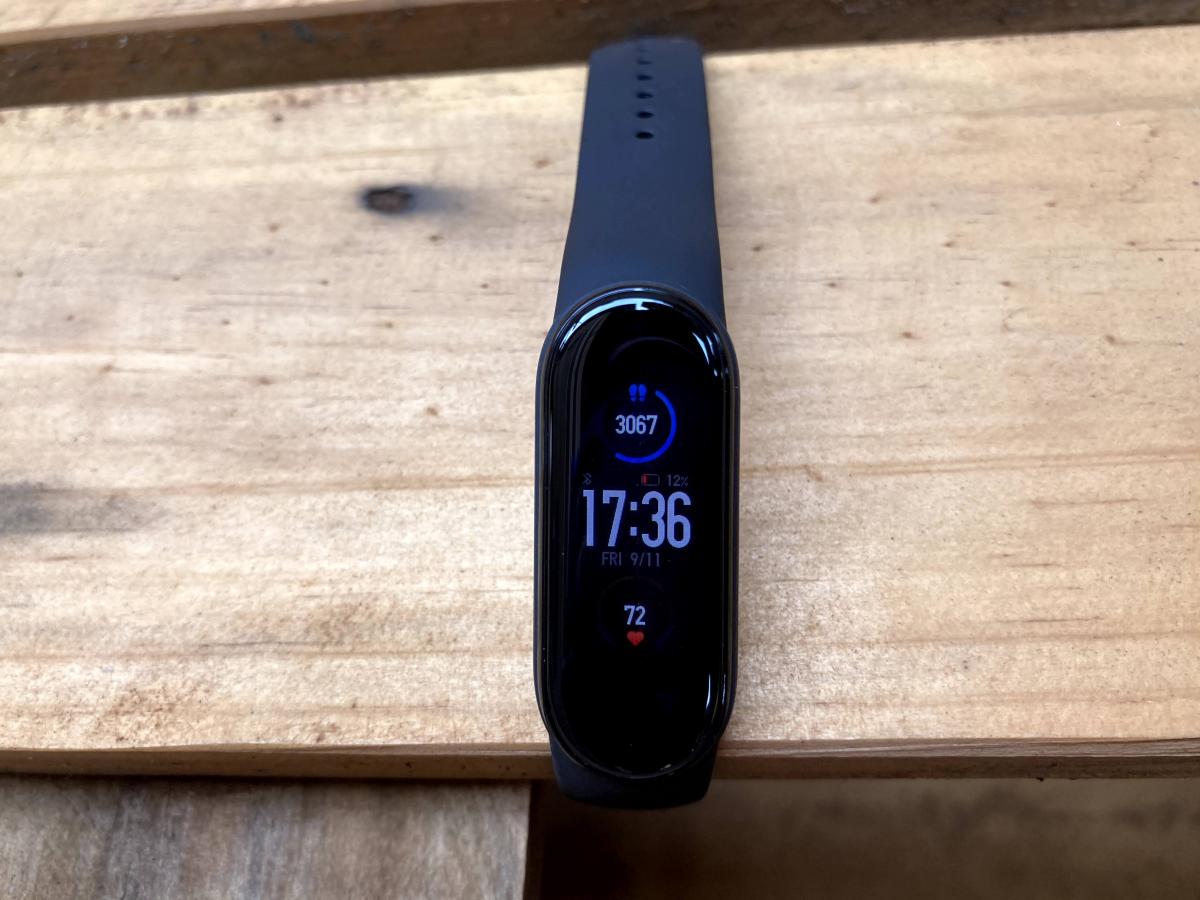 Summarily, below are the differences between the Mi Band 4 and Band 5.
Mi Band 4 vs Mi Band 5
Mi Band 4
Mi Band 5
Screen Size
0.95"
1.1"
Screen Brightness
400 nits
450 nits
Battery
135 mAh
125 mAh
Women's health tracking
No
Yes
Sports modes
6 workout modes(Treadmill, exercise, outdoor running,
cycling, walking, pool swimming; Count steps, distance,
and calories burned)
11 workout modes (Outdoor running, power walking, cycling, indoor running, pool swimming, freestyle,
indoor cycling, elliptical, jump rope, yoga, rowing machine)
Charger
Specialised strap-on charging cable
Magnetic charger
Bluetooth
Bluetooth 5.0 BLE
Bluetooth 5.0 BLE
Sensors
3-axis accelerometer + 3-axis gyroscope;
PPG heart rate sensor;
Capacitive proximity sensor
6-axis sensor: Low power-consumption 3-axis accelerometer and 3-axis gyroscope
PPG heart rate sensor
Digital MEMS microphone
Price
$26
$42
Common features shared by both bands include; Remote photo-taking, music playback, Find My Phone, Phone Muting, Phone Unlocking, Incoming Call Notification, Do Not Disturb, WhatsApp notification, App Message Alerts, Calendar Reminder, Event Reminder, Weather Forecast, Timer, Countdown Timer, Alarm, Bluetooth Broadcasting, Online Dials, Custom Dials, Preset Dials, Screen Locking, Charging Progress Display, Choice of Wearing method, OTA upgrades.
Advertisement - Continue reading below
But if you are looking to purchase a band and you're deciding between the Mi Band 4 and 5, I would very much recommend the Mi Band 5.
Xiaomi Mi Band 5 vs Amazfit Band 5
Now that the Xiaomi Mi Band 5 comes out as the clear winner of Xiaomi's fitness bands, how does it stack up against the Amazfit Band 5? As earlier mentioned, the Amazfit and Mi Band are produced by the same company called Huami.
The Amazfit Band 5 was launched just a few weeks after the Mi Band 5. They look alike and both sport a 1.1-inch full-color AMOLED touchscreen display with a 126 x 294 resolution. Additionally, they both feature the same 125 mAh battery delivering up to 14 days in normal mode and 20 days in standby mode. They are both charged by a magnetic charger which just snaps on the back of the band. It's also worth noting that both devices are rated 5 ATM waterproof, making them safe for swimming and showering, offer 11 workout modes, include women cycle tracking.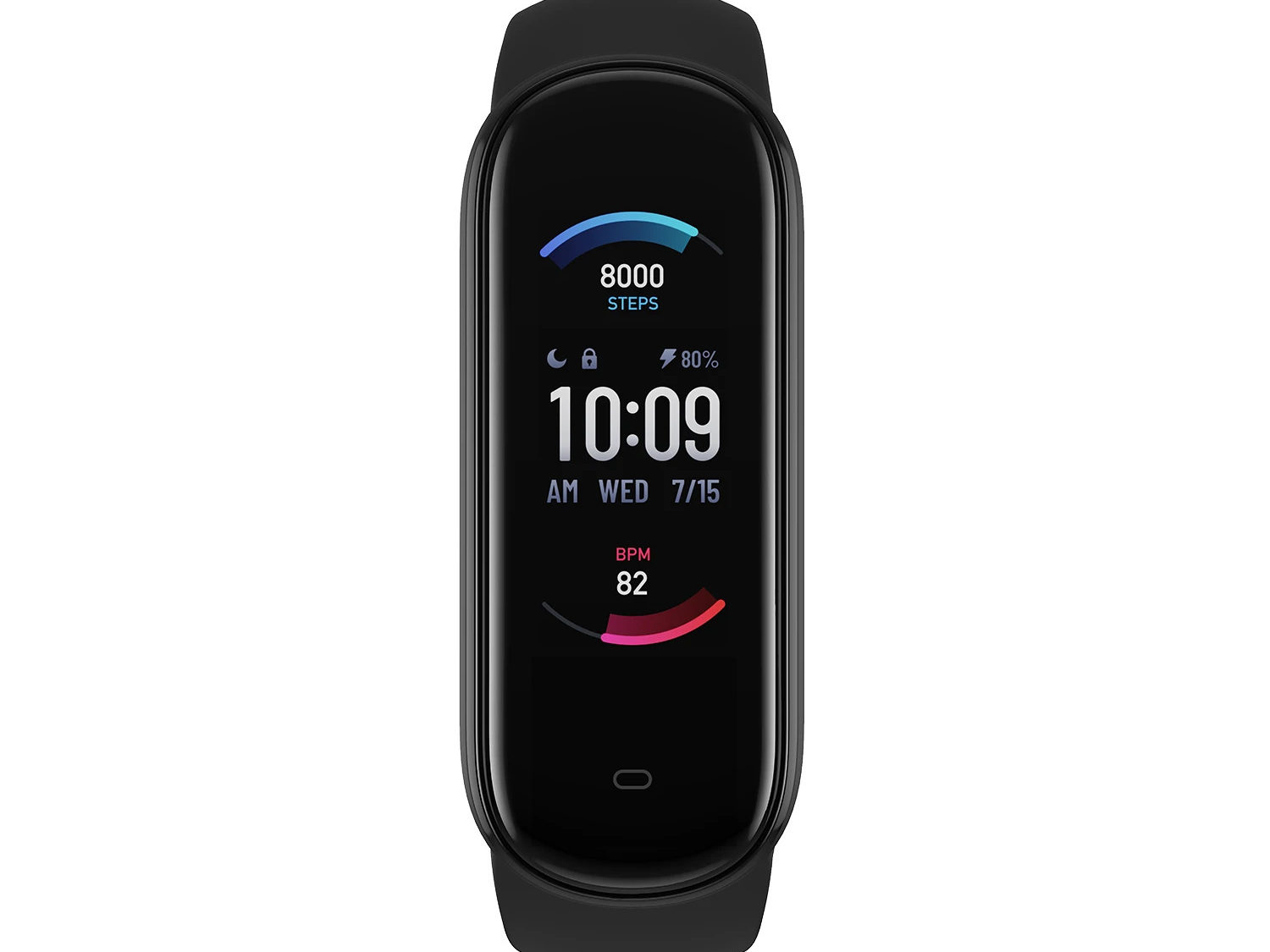 So what's actually different between the Mi Band 5 and Amazfit Band 5?
From the color options, the Mi Band has several options. The Amazfit Band is available in three colors; Olive, Orange, and Midnight Black. On the other hand, the Mi Band in comparison is offered in six different straps; Yellow, Teal, Navy Blue, Mint Green, Orange, and Black.
Another major difference is the Amazfit has a SpO2 sensor for measuring blood oxygen levels which the Mi Band doesn't. Given we are in the Covid-19 pandemic crisis, the blood oxygen sensor is actually critical as low O2 level might be indicative of a serious respiratory issue.
Another difference is Amazfit Band comes with Amazon's Alexa built-in. With the smart voice assistant, you can ask questions, set alarms, and timers, make shopping lists and control smart home devices.
The Amazfit Band 5 is $49.99 on Amazon, just $7 more than the Mi Band 5.
Advertisement - Continue reading below
So for an extra $7 you get the Sp02 monitor on the Amazfit Band 5 which in 2020 isn't just a nice little extra feature to have. It's a must-have.
Watch our video review of the Amazfit band 5 below;
Mi and Amazfit Band 5 vs Honor 5
Both Huami —the company behind Mi and Amazfit bands— and Huawei which owns the Honor 5 are based in China. Is there much difference we should expect? Maybe. Since Huawei has been in the news lately following the U.S-China trade wars, users from the United States could be concerned about any of Huawei's products.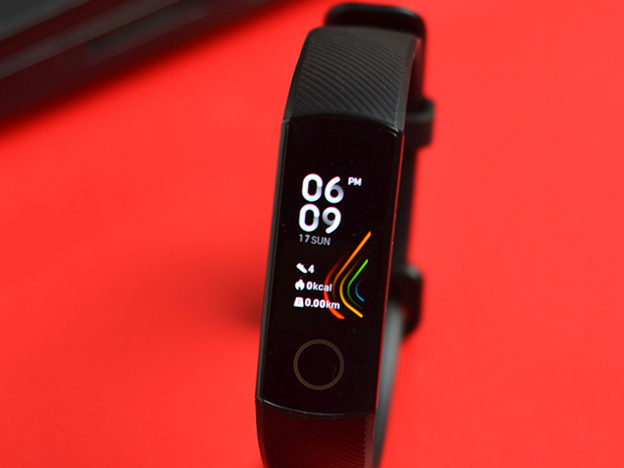 The Huawei Honor 5 has most of what you would expect from a fitness band, really— a sharp AMOLED display, 24/7 heart rate monitor, multiple fitness modes, sleep tracking, up to 14 days of battery, water resistance, app notifications and multiple language support.
Huawei Honor 5 Specs
Screen Size: 0.95-inch
Display Type: AMOLED
Resolution: 240 x 120 pixels
Battery: 100 mAh LiPo (14 days)
Charging Tech: Charging Cradle
Waterproof: Up to 50 meters
Bluetooth: 4.2
Sensors: 6-Axis Inertial Sensor, separate PPG Sensor, Infrared Detect Sensor, Sp02 sensor
Fitness modes: Outdoor running, indoor running, outdoor walking, outdoor cycling, indoor cycling, swimming, free training, indoor walking, rowing machine, elliptical trainer
Features: Multi-sport Mode, Call & message notifications, Reject Call Support, Sedentary Reminder, alarm, calorie & distance counter, sleep monitoring, social app notifications.
The Huawei Honor 5 has SpO2 Blood Oxygen Monitor used to analyze the amount of oxygen in your blood. The Mi Band 5 does not have this feature but the Amazfit Band 5 does. So the honor appears to be more comparable to the Amazfit than the Mi Band for much cheaper albeit with a smaller 0.95″ screen and 100 mAh battery. It currently goes for about $39 on Amazon, about $3 less than the Mi band, and $7 less than the Amazfit.
The fitness band market is certainly much bigger than the Mi Band 4, 5, Amazfit band 5, and Honor 5. If you were to ask me between the four options, I think I would go with the Amazfit Band 5. My only issue with these options is that none has a built-in GPS. They all use a "connected GPS," meaning they have to be paired with your smartphone to get GPS data.
If you're not satisfied with these options, then you can also consider fitness trackers from Letscom, Linktelek, Fitbit, and Samsung. Here are the other options in the fitness band category;
Advertisement - Continue reading below