Apple has dumped a charging brick along with the wired earphones from the box of the latest iPhone 12 and the Apple Watch Series 6. The company, however, includes a USB-C to Lightning cable in the box along with the phone. Apple did this to reduce electronic waste. According to Apple, there are already 700 million lightning headphones out in the world, as well as 2 billion Apple power adapters.
So what to do now when you buy your new iPhone and there's no charging brick to juice it up? Well, Apple assumes you already have a charger from the previous iPhone. The problem is that it's a USB-A ordinary charging port that most smartphones use. So it won't work with the included USB-C-to-lightning cable that comes with the iPhone 12. This means you'll either have to use an existing USB-A-to-lightning cable and plug it into the old USB-A adapter or buy a new USB-C Adapter and use the new USB-C to Lightning cable that ships in the box. Confused? Don't be. Summarily, you can't use the iPhone 12 cable in the box with your old charging brick—except for the iPhone 11 Pro and iPhone 11 Pro Max charging bricks.
Advertisement - Continue reading below
So a good option is to go shopping for a new USB-C power adapter before or after you purchase your new iPhone 12. The good news is, USB-C adapter supports fast charging via USB Power Delivery(PD). USB-C port is a smaller rectangular female connector with circular edges. The corresponding USB-C cable plugs in either way unlike the traditional bigger USB-A port found in older adapters. Before you get an adapter, be sure to get yourself a USB-C-to-lightning cable if you don't already have one. A good option is AmazonBasics USB-C to Lightning Cable selling at $11.99 on Amazon.
1. 20W USB-C Power Adapter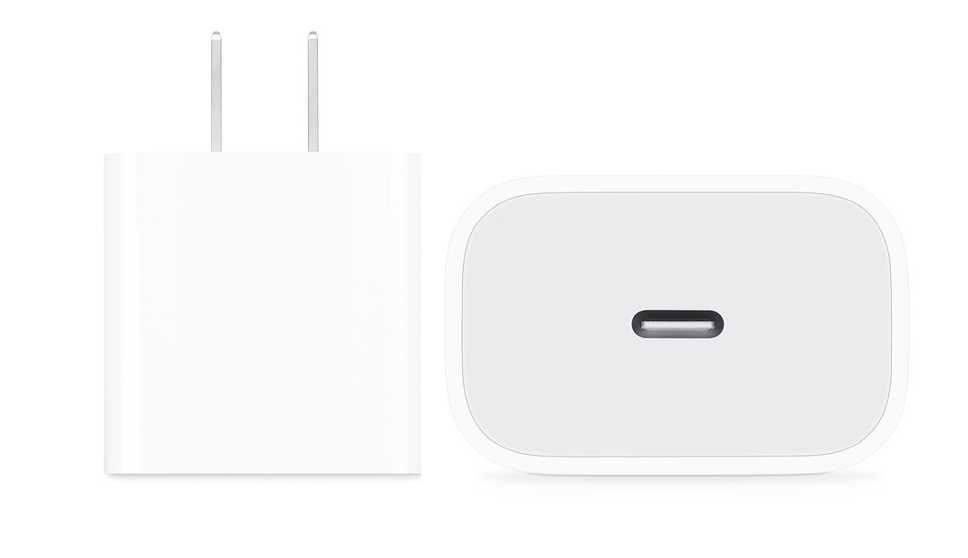 Apple announced a 20W USB-C Power Adapter going for $19 on the Apple website. The company says it charges your iPhone to 50% in just 30 minutes. You can use it to fast charge 11-inch iPad Pro and 12.9-inch iPad Pro (3rd generation) as well as iPhone 8 and later. USB-C to Lightning cable is sold separately.
2. Aukey Omnia Mini 20W PD Adapter
If you don't go for Apple's 20W USB-C USB-C adapter, you should consider the even cheaper but equally great Aukey Omnia Mini 20W USB-C Power Delivery (PD) charger. It's compatible with the newly released iPhone 12/12 mini/Pro/Pro Max as well as the older iPhones up to model 8. It supports Power Delivery 3.0 as well as Qualcomm's Quick Charge 2.0 with 20W power output. This means it can charge the iPhone 3 times faster than the original 5W charging brick. A USB-C-to-lightning cable is not included.
You can buy this charging brick for $17.99 on Amazon.
3. Aukey Swift 30W 2-port iPhone fast charger
Another option from Aukey is the Swift 30W dual-port charger selling for $13.99 on Amazon. The reason we would recommend this is because it comes with not just the USB-C PD fast charging port but another ordinary USB-A port. This means you can use it with either the older USB-A-to-lightning cable or the newer fast-charging USB-C-to-lightning cable. It's equipped with an 18W Power Delivery 3.0 port which isn't too fast off from 20W alternatives. You can use the 12W USB port to charge older iPhones, Android smartphones, headphones, earbuds, smartwatches, and just about anything that uses the USB-A port.
4. Anker PowerPort III 20W USB-C charger
Anker is certainly one of the best brands in charging accessories. The Anker Nano Powerport III 20W USB-C delivers 20W fast charging to iPhone 12/12 Mini/12 Pro/12 Pro Max, AirPods Pro, and several other Android alternatives that use USB-C. It's 50% smaller than a standard 18W iPhone charger making it an ideal choice for travel. The 18-month manufacturer warranty is another reason to buy this power brick. This charger is currently selling for $19.99 on Amazon.
Advertisement - Continue reading below
Note: Cables are sold separately.
5. SELECTID Mini USB-C PD 30W Charger
If you are looking for something even cheaper with the capability to delivers competitive performance for your iPhone 12, then the SELECTID Mini USB-C PD 30W Charger is a good option. This pocket-sized charger delivers 30W of power, thanks to USB PD 3.0 and Quick Charge 3.0 support. It's built using GaN (Gallium Nitride) technology which makes it really small, light-weight and generate less heat. Besides charging your iPhone, it can also charge select Macbook Pro/Air Laptops, Dell XPS 13, HP Spectre X2 and other laptop models with USB-C PD charging support. This charger currently sells for $14.99 on Amazon.
So then, whether you want fast-charging up to 3 times for your existing iPhone 11 or a charging brick for your new iPhone 12, these USB-C PD chargers are great options. Remember, you need a USB-C-to-lightning cable which is normally sold separately from the charging brick.