Whether you are going camping, climbing, hiking, cycling or fishing, a good power bank that keeps your devices juiced up is a good investment. Solar power banks are growing in popularity as more people go outdoors and need their devices powered.
Solar power banks are designed to be charged by mini solar panels attached to the power bank. However, this is only given as option for emergency scenarios because Solar charging is super slow. Most solar power banks support dual-charging mode; one via wall socker and another using the sun. Most vendors advice you to charge the power bank via wall power source which is a lot faster. Solar power banks range from as low as $20 to as much as $45 depending on features.
Advertisement - Continue reading below
So lets dive in to some of the best solar power banks you can buy right now. Summarily;
BEARTWO 10000mAh Solar Power bank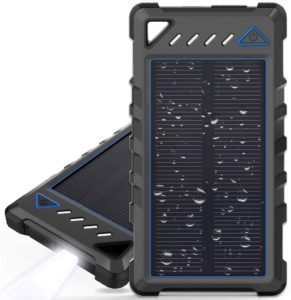 This Beartwo 10,000mAh solar powerbank balances design, ease of use and pricing quite well. You can take it out for a hike, fishing, cycling or camping. While it can be charged via using the sun, the vendor advices that you charge it at home using electricity and only use the sun in emergency situations. That's because it charges really slowly with the sun because of the size of the solar panels. Otherwise, this solar powerbank is rugged enough for outdoors, has dual output ports and is IP67 Waterproof. It's just $19.98 on amazon.com.
SOARAISE 26800mAh Solar Power Bank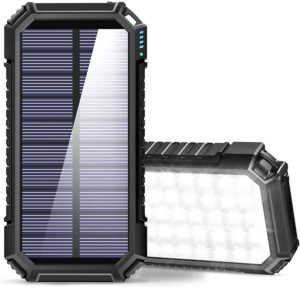 Looking for a high capacity solar power bank, then the soaraise 26800mAh power bank is a good option. This power bank is rugged enough for the outdoors and is designed with 1.9W panel on one side. It has two 10W USB-A outputs ports and one 15W USB-C bidirectional port for charging it as well as charging USB-C devices. It has 60 bright LED LEDs with SOS-strobe modes. It's $36.99 on amazon.com.
Other worthwhile Solar powerbanks with the same capacity and price point but with additional 5W wireless charging is the Hiluckey 26800mAh wireless solar charger, Riapow 26800mAh solar power bank, aonidi 26800mAh solar power bank at the same price of $37.
YOESOID 20000mAh Solar Charger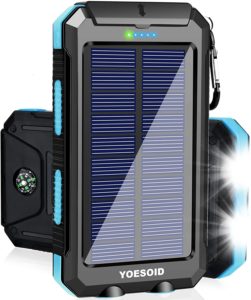 This solar powerbank comes with a 1.5W solar panel on one side, two USB-A ports with maximum power output of 10W and a micro-USB port for charging. You also get two LED lights with SOS functionality which is ideal for emergency situations. It's IP65 water and dust-proof. You can charge it with both wall power and the sun, but note that charging it with the sun takes a considerable amount of time. It's $22.99 on amazon.
You can get a higher capacity powerbank for an additional $6. The GoerTek is 25000 mAh solar powerbank with 36 LEDs, 3 output ports for $28.89.
Advertisement - Continue reading below
Blavor 10,000mAh Solar Wireless Power Bank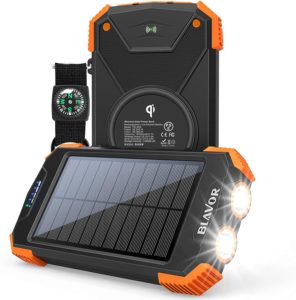 This solar powerbank also supports Qi wireless charging. It's equipped with two output USB-A ports and one USB-C bidirectional charge, dual-flashlights for the night and a compass kit. It's well built and rugged with rubber guards on the corners to make it shock-proof. It's IPX5 water proof as well as dust-proof. This powerbank is Qi certified so you can wirelessly charge compatible devices too such as smartwatches, earbuds, smartphones. It's highly rated and goes for $28.99 on amazon. Anker, a more premium brand for mobile charging will take you back an additional $10 with their Anker PowerCore Solar 10000mAh dual-port solar powerbank.
If you're looking for a higher capacity version of this powerbank, then you can top up another $20. You'll get 2 additional output ports, 20000mAh battery, upto 10W on wireless charging and QC 3.0 fast-charging all for $48.99.
IEsafy 26800mAh Solar Charger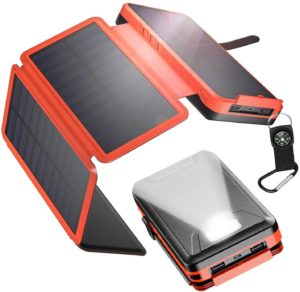 This solar powerbank comes with 4 foldable solar panels giving upto four times faster recharging speed. It has two 10W USB-A output ports, is IP65 waterproof, has LED flashlights with SOS mode and comes with a portable compass kit. It takes about 6 hours to charge this powerbank from 1 to blinking 4th bar with the solar panels which isn't fast but is good enough. This solar powerbank is $40.99 on amazon.
Another capable foldable four solar panel power bank is the 25000mAh Tranmix power bank at $39.99 or the more premium ADDTOP Solar Charger 25000mAh Portable Solar Power Bank at $45.99.
EGRD 30,000mAh wireless solar power bank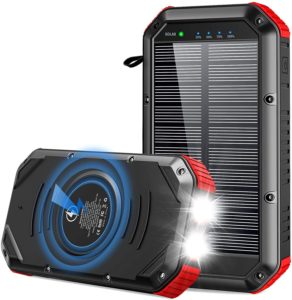 This power bank is a power horse. It has a high capacity 30000mAh battery, 1.5W solar panel, 4 USB-A output ports(15W on 3 USB-A ports and one QC 3.0), so you can charge upto 4 devices simultaneously, a bi-directional USB-C power delivery 18W port and one more additional Micro-USB charging port. It's also Qi compatible, so you can wireless charge compatible devices. You can upto four lightning modes, its rugged with a hook to attach to your backpack and drop resistant and has waterproof support. At $30.59 on amazon, this monster solar power bank is reasonably priced.
Feeke 32800mAh Qi wireless solar power bank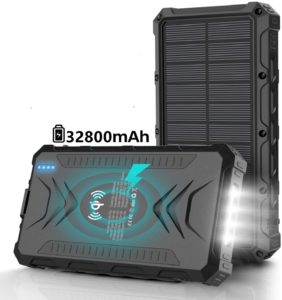 This Feeke solar powerbank is a high capacity 32800mAh solar power bank with support for wireless charging. It has one micro-USB input port(10W), two USB-A output ports(15W) and one bi-directional USB-C port(15W). It's also Qi-compatible, so you can wireless charge compatible devices. This powerbank looks and feels very rugged. It's IP66 Rainproof, Dustproof and Shockproof. It also comes with a 200 lumens flashlight with SOS mode which will come in handy in dark and emergency situations. This Solar power bank goes for $47.98 on amazon.
Feature image: Unsplash.com
Advertisement - Continue reading below