Black Friday is here and Rocket Health is rolling out offers for you to help save on your health and a few pharmacy products. We will digest all the products and services they are offering for the Rocket Health 2021 Black Friday and how to take advantage of the deals. Please read through and snap up a few deals.
Laboratory and Wellness Offers
For the uninitiated, Rocket health is a telehealth startup that makes it easy for their customers or patients to request lab tests, buy medicine, and even make consultations with a doctor from the comfort of their homes or offices.
As part of the Rocket Health Black Friday campaign, they are offering discounts on a curated list of wellness packages and laboratory tests. Here are our top picks for the deals in that domain;
11% off the Men's wellness package to 80,000UGX. Tests under this packages involves, Prostate cancer screening (PSA) using a blood sample, complete Blood Count, HIV/AIDS test among others. You can read more about the offer here on this link.
13% discount on the COVID-19 PCR Test to 175,000UGX. This is among the cheapest and most affordable COVID-19 test around Kampala with the most efficient turnaround time if you are traveling in and out of the country.
15% offer on the General body wellness check to a small fee of only 170,000UGX for over 10 laboratory tests.
14% discount on the Pre-employment check to 60,000UGX. This check is tailored for domestic help including but not limited to Maids, Nannies, Gardeners, etc…
---
READ ALSO: A Beginner's Guide to Using Rocket Health in Uganda
---
Pharmacy and Hamper Offers
In this arena, the Rocket health team created a list of product hampers tailored for a specific group of people and have individual products as well with great discounts. Here are our top picks;
18% discount for the Men Action package to 65,000UGX for a hamper of Oral quick HIV testing kits and Skyn condoms.
12% offer for the Maternity package to 45,000UGX. This hamper favours expectant mothers and hamper has a Maama kit, Huggies New Born Pampers, and Wipes.
The Mother Baby hampers has been discounted to 68,000UGX for a collection of Sebamed cleansing soap, and extra soft cream.
The Clabane Intense Moisture Lotion is on a deal of 40,000UGX.
You can view more about the phamracy products and the offers currently available here on this link.
Free Doctor Tele-Consultation
For the first Friday of the month and last Friday, Rocket Health is giving you a chance to consult and talk to a doctor for free between the hours of 12:00noon to 6PM. Keep in mind, this offer is only available through their e-commerce site www.rockethealth.shop and here is a direct link to the product on their website.
Advertisement - Continue reading below
Once you order the doctor consultation, and filled in your details, the doctorrs will be able to give you a phone call and chat to understand your concerns.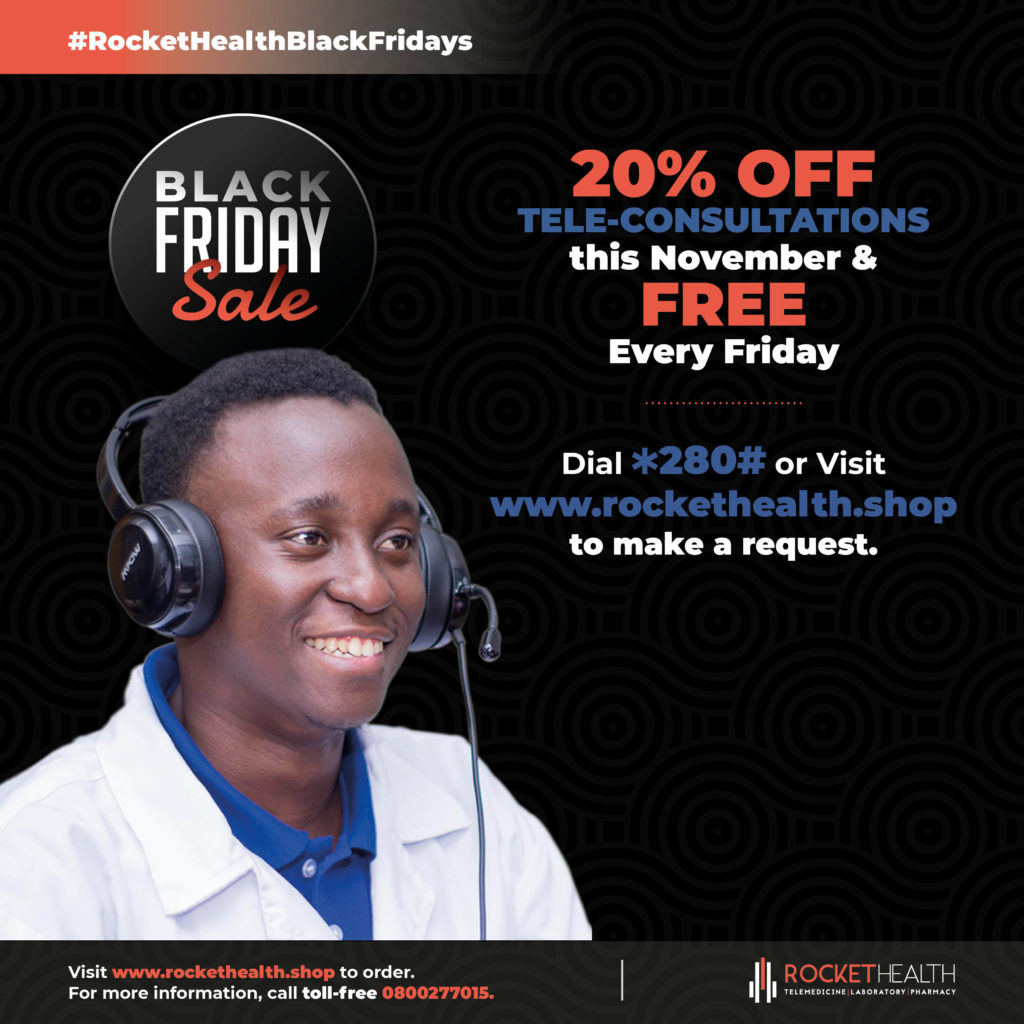 How to Order on Rocket Health
Here is how you can order for the services and products of Rocket health;
Through the web shop, www.rockethealth.shop create an account, browse the products you want and checkout.
You can use the USSD, *280# and order for products. Read more about how the USSD work here in our previous article.
And thats is it for our buying guide on the Rocket Health Black Friday, let us know in the comment section if you would be having time to buy or checkout any of the services.