Ride-hailing app, SafeBoda, has announced a 50% slash on cashless rides for customers for an entire week starting from 21st to 25th February 2022. The discount promotion, dubbed 50% Cashless Madness, comes following President Museveni lifting the night curfew on boda bodas.
This week, a ride from Kawempe to Nakawa will cost you about UGX 4,000; Najjera to Acacia Mall at UGX 2,000; Ntinda to Wandegeya at UGX 2,000; Makindye to Makerere at UGX 4,000; and Kibuli to Rubaga at UGX 2,000. This is half the usual cost.
Advertisement - Continue reading below
SafeBoda co-founder and director of operations, Ricky Rapa Thomson, says that this 50% discount is a form of reward to customers that had stood by SafeBoda, especially during the recently lifted lockdown when operations were on restriction.
"We value our customers and know what they expect of us. As the economy recovers to full activity, we believe everyone should be able to move around town at prices they can afford," Ricky says.
How to use SafeBoda Cashless for rides
You need to have some money on your SafeBoda Wallet before you order a ride. You can add money to your wallet through a SafeBoda rider, a SafeBoda agent or through mobile money.
Go to the order ride option where you will select where you want to go and your pickup location.
Once, the pickup location has been confirmed, select the Wallet option. You can then choose to order a ride or pair with a SafeBoda close to you.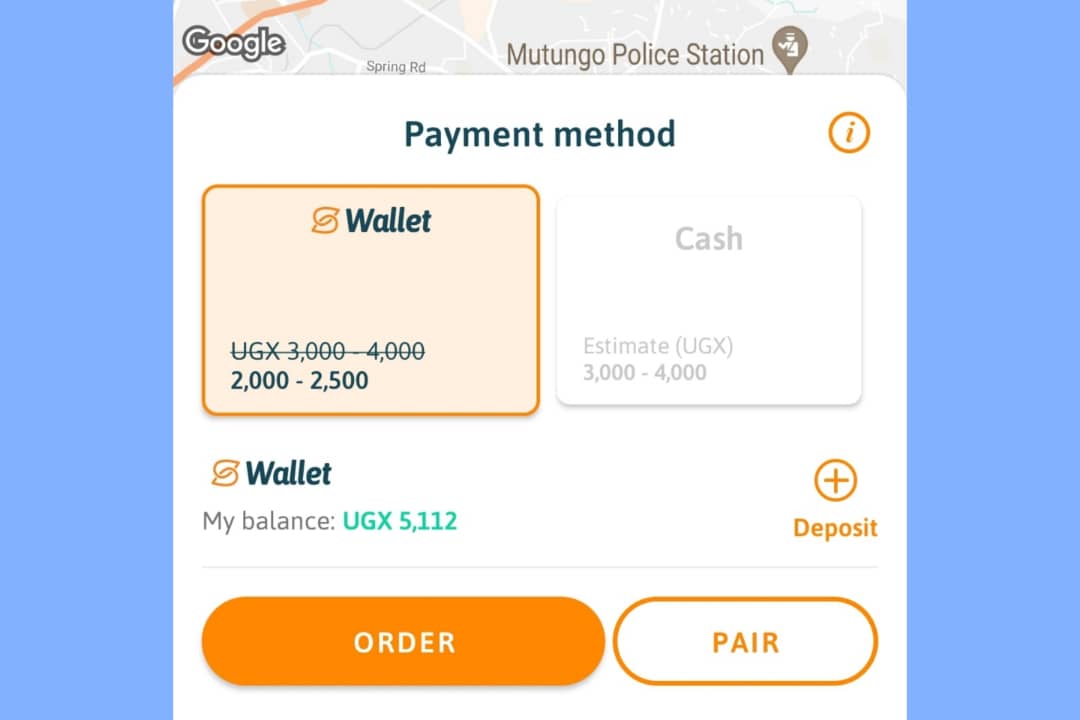 ---
Related Article: The New SafeBoda Super App Explained
---
Addressing concerns by customers that riders do not prefer the cashless option, Ricky Rapa Thomson said SafeBoda is continuously engaging their riders to embrace cashless.
"Our drivers are continuously embracing the cashless mode of payment. We have been able to change the attitude of our drivers in regards to cashless by increasing the use-cases for them. They now have a wide range of agents to help them cash out their money and several discounts on different services which they only access using the cashless option," he says.
SafeBoda also launched the SafeBoda Service Week for their riders. During this week, riders will be re-educated on the different customs of SafeBoda, and get new supplies, among other activities.
Advertisement - Continue reading below
Boda bodas are popular in Kampala and Uganda because they provide a speedy mode of transportation for many city dwellers who face daily traffic congestion.