After years of rumors and speculations, we finally get to see Apple's first AR headset. Apple has decided to delve into the AR (Augmented Reality) face computing space with the unveiling of its first AR headset dubbed Apple Vision Pro. The headset took center stage during Apple's latest event. And with a promise of deep integration with the Apple ecosystem and the fact that a lot of attention will be paid to the world of gaming, this new AR/VR headset looks like it going to be the best one yet.
The Vision Pro is coming in to compete with the VR headsets like Meta's Quest 2, and one thing is sure, the Apple Vision Pro will definitely give Meta's Quest 2 a run for its money. That being said, let's look at what to expect from the Apple Vision Pro headset when it is released. You should note that the device is not expected to be released until 2024.
Advertisement - Continue reading below
Apple Vision Pro: A Unique Design

Unlike the AR/VR headsets that we've seen in the past (Including Meta's Quest 2), The Apple Vision Pro has a distinct design. This headset looks like a pair of ski goggles. It has got a glass front (which comes with a feature called 'eyesight') and an aluminum frame. It also comes with five sensors and 12 cameras around the aluminum frame. Furthermore, you get a 4K display for each eye on this headset. On the sides of the headset, you get built-in "audio pods" that are positioned close to your ears to deliver Spatial Audio, while keeping you aware of your surroundings, at the same time.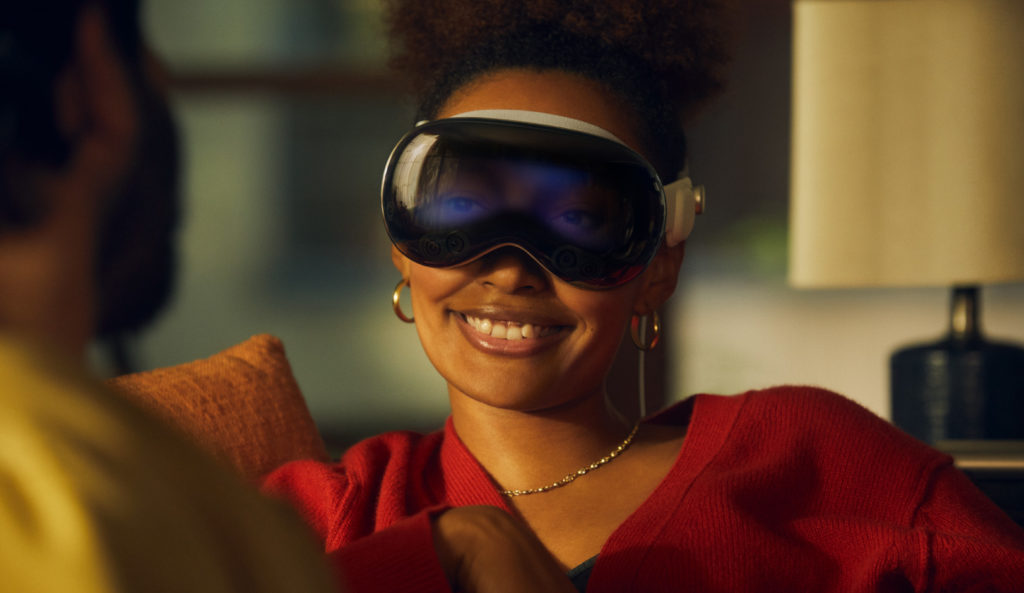 Now, the most interesting thing about the design of the Vision Pro is the eyesight feature. This feature uses a front-facing display (on the glass covering) to reveal the eyes of the user to other people around them. According to Apple, this will let others around you know when you are using apps or fully immersed.
What can it be used for?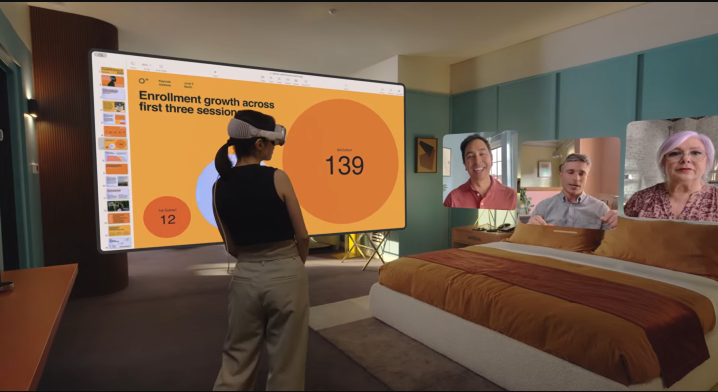 Apple says, 'With Vision Pro, you have an infinite canvas that transforms how you use the apps you love. This device lets you arrange apps anywhere and scale them to the perfect size, making the workspace of your dreams a reality. Browse the web in Safari, create a to-do list in Notes, chat in Messages, and seamlessly move between them with a glance.'
What all of this means is, this device is controller-free. You interact with app icons by looking at them. You can also give voice commands. Asides from that, the Vision Pro supports Bluetooth accessories such as Apple's Magic Keyboard and Magic Trackpad. Now, here's what's interesting about its support for the Magic keyboard; Downward-facing cameras can capture your hands while you type and use the mouse. It also lets you connect your Macbook and you can use it inside the headset.
Finally, the Vision Pro will be available early next year, starting in the US market – with more countries joining in later in the year. The Apple Vision Pro will sell for $3,499.
Advertisement - Continue reading below