MTN Uganda in partnership with Hellofood Uganda and the 40/40 foundation launched the "Feed a Child" initiative. This initiative follows on from the MTN-Hellofood Xmas Party held in December 2015, where 230 children from orphanages in Kampala were treated to a day of fun activities and a special meal allowing them to be part of the Holiday season celebrations.
Under this initiative, members of the public can donate a meal to a child in need by visiting the Hellofood website at www.hellofood.ug and clicking on the "Donate a meal" banner. Donations are made using MTN Mobile Money.
Advertisement - Continue reading below
The campaign will run from 3rd Feb 2015 to 3rd April 2015 and proceeds will go to feed a child during the Easter Season through the 40 days over 40 smiles foundation, 40daysover40smiles, a Kampala-based independent youth-led, charity organization.
"One of the key programs areas of 40 days over 40 smiles foundation is food and nutrition which aligns very well with this campaign. Indeed through its track record, we could not have found a better partner and look forward to successfully delivering this initiative," said Hellofood Managing Director Ron Kawamara.
"As leading brands in the Food business under the MTN-Hello Food partnership, we are excited to launch the "Feed a child" initiative. Together, we are happy to leverage our platforms and services to make the lives of the underprivileged children brighter, said MTN's Chief Marketing Officer Ms. Mapula Bodibe. "We call upon everyone to join us in this noble cause, for together we can make a huge difference, she added.
How to donate to the Feed A Child Initiative
Step 1: Log onto hellofood.ug and sign in. If it is your first time, you will have to sign up.
Step 2: Click on the "Donate Now" button on the Feed a Child Banner that looks like this

Advertisement - Continue reading below
Step 3: Add your location and click on "Find Restaurants"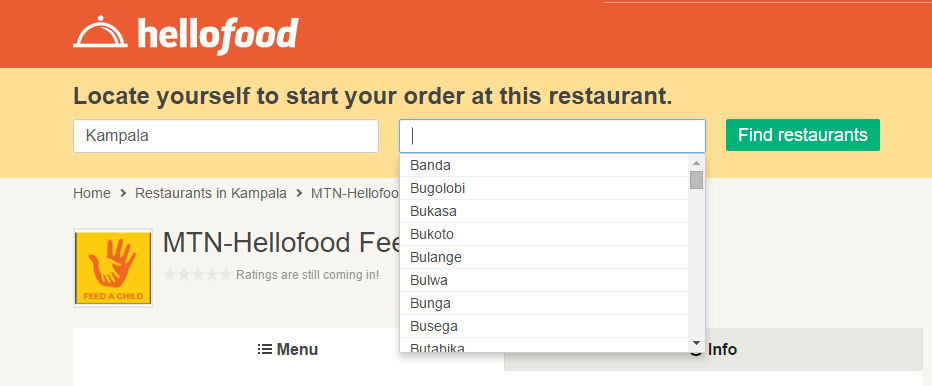 Step 4: Select amount to donate and click on checkout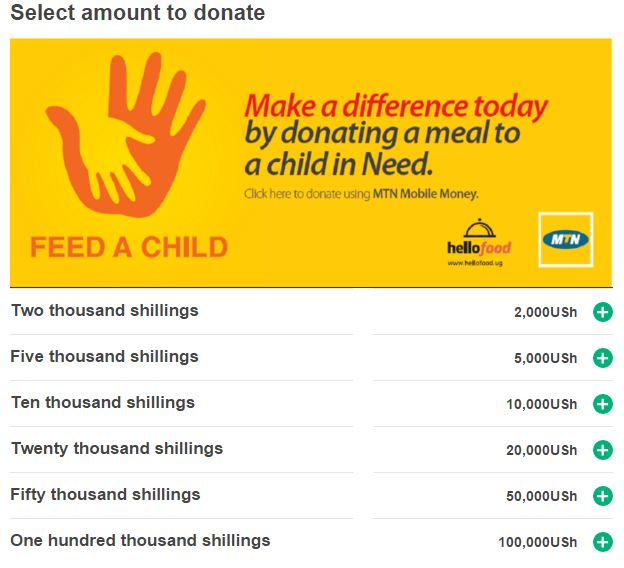 Step 5: Your contact details will be verified.
If they are right, then click on "Place Order"
When you do, you will be asked for an MTN associated number from which the donation will be deducted.
Step 6: Submit Payment
Click on "Submit Payment". When you do, you will receive a message initiating a mobile money transaction. Follow the prompts or dial *185# and go to approvals to okay transaction. For those with the My MTN App, can just check for approvals and approve transaction.
Step 7: Congratulations. You have FED A CHILD. Clap for yourself.
Advertisement - Continue reading below