A Chat bot, or Internet bot is an interactive piece of software that runs simple and repetitive automated tasks over the Internet. This is aided in part with Artificial Intelligence for a more human-like interaction with people.
Bots are increasingly used on social media (Facebook, Twitter, WhatsApp, Telegram, e.t.c), in banking and customer care, and this is just the tip of the iceberg. They simply work.
Advertisement - Continue reading below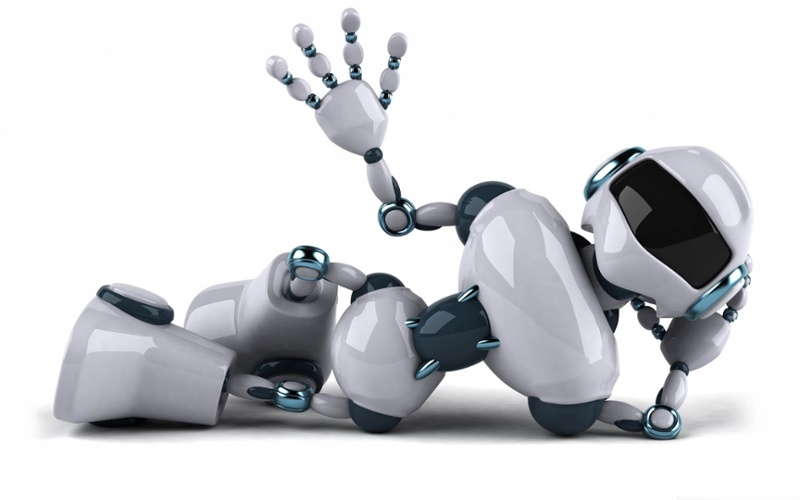 What do Bots do?
Bots simplify online interaction by making it unnecessary to leave your current app to search for content online . Bots can allow you order for read news highlights, translate text, shop, check the weather, etc.
Botstores with thousands of bots to choose from have been set up on Telegram, WhatsApp, Facebook, Kik, Line and Slack to mention a few.
How to Use Telegram Bots
Telegram was one of the first apps to have a botstore and is credited for popularising bots. Users can interact with the bots by sending them messages, commands and inline requests. Or better yet, you can develop your very own bot if you know how to. Here are some of the most useful bots on Telegram in no particular order:
YouTube Bot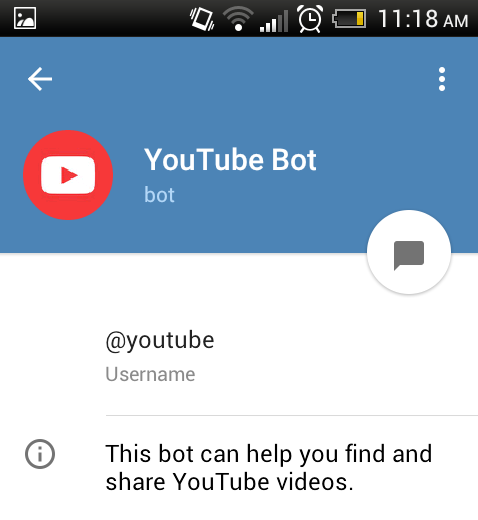 Advertisement - Continue reading below
Whenever you need to send whoever you're chatting with a YouTube video, in the chat box, just type @youtube, leave a space and type the name of the video you would like t share. the YouTube bot will show you a bunch of videos you can click on and send. You do not have to leave Telegram at any one time during this process.
Poll Bot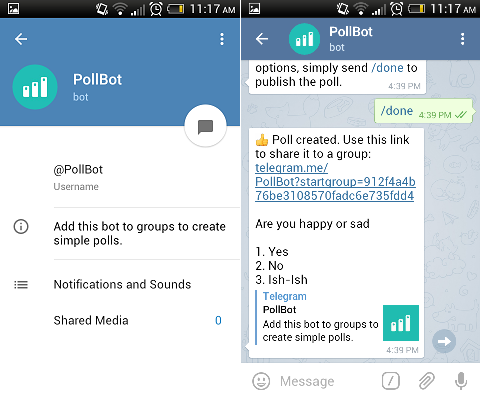 A poll bot only works in a group setting. You can formulate the usual YES/NO questionnaire to have your group members vote on something, say to change the group name, or on an issue of contention. The votes are added up incrementally until you decide to close the poll and announce the popular verdict.
Giphy GIF search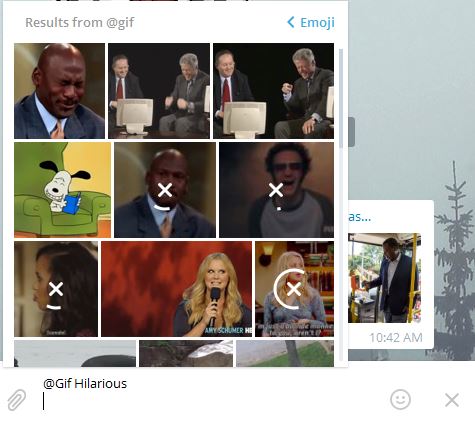 GIFs are animated images. GIFs work inline so all you have to do is type @GIF, leave a space and type a reaction you want to see. Typing anger for example will bring up GIFs showing anger. Scroll through for what piques your interest.
Image Search
Yandex (@pic)  and Bing (@bing)
Advertisement - Continue reading below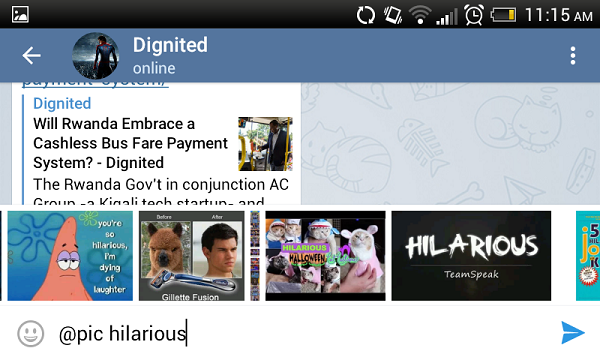 If you want to show an image of something you are chatting about, all you have to do is type @pic or @bing, then type the name of whatever you are looking for.
Tweeting Bot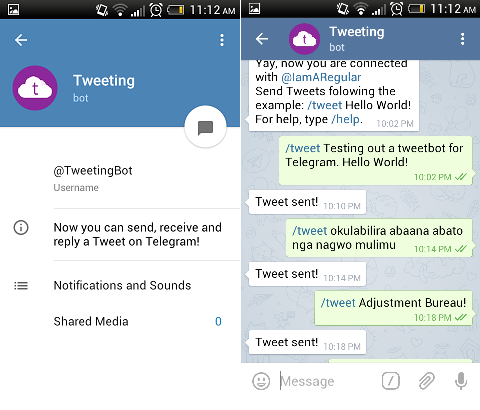 The tweeting bot asks for permission from your Twitter account before you are able to use it. After setting up, you can send a tweet in the same way as you would send an instant message in Telegram.
To use the Tweeting bot, you enter forward slash (/) and tweet to be able to type your tweet. Other functions are a bit of a chore understanding but that shouldn't be an issue. So next time twitter is blocked by an overzealous gov't, you know what to do.
Wikipedia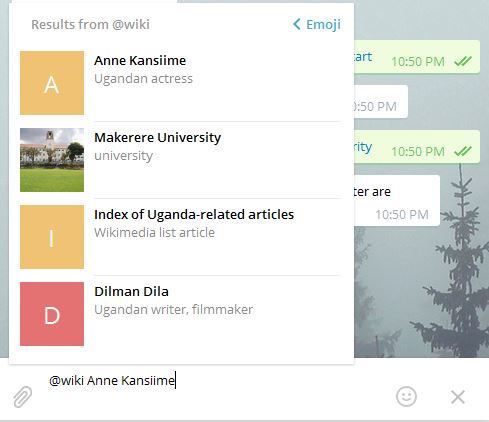 Advertisement - Continue reading below
The Wikipedia bot works as a Wikipedia search engine to bring up a list of articles with the search criteria you have input. When you click on one, it sends it to your chat buddy as a link that opens in a web browser.
Yandex Translator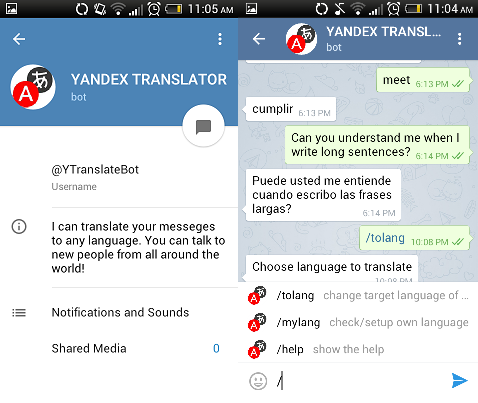 Yandex is to Russia what Google is to the rest of the world. Basically, it's an internet company offering internet-based services like search and translation. Enter Yandex Translator. The translation is as good as can be expected. Long sentences are not advised. It will jumble it all into an incomprehensible string of words.
Stickers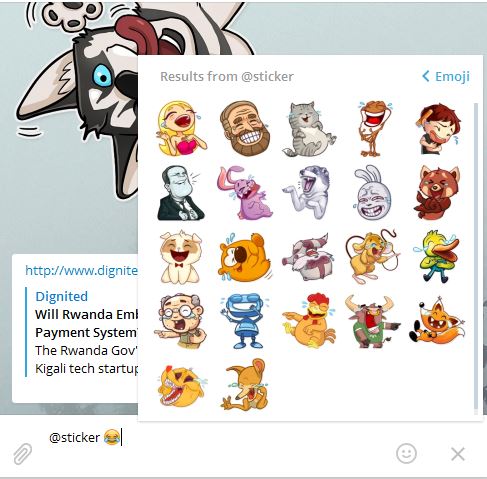 Stickers are without a doubt the coolest thing on messaging apps right now and no one does it better than Telegram. The process of hoarding your own collection of stickers has been somewhat vague up until now. All you have to do is type @Stickers and then search through your emoji for a face you want as a Sticker. The Telegram Sticker bot takes it from there, bringing you some awesome new stickers.
Markdown Bot
 (Bold, italics, Fixedsys text) @bold
Advertisement - Continue reading below
The Markdown Bot enables you to make your sentences bold, italic or fixed system which is the oldest fonts on Windows OS as far as we can tell. Follow the procedure used for bots above. Make yourself Heard! 
URL Reader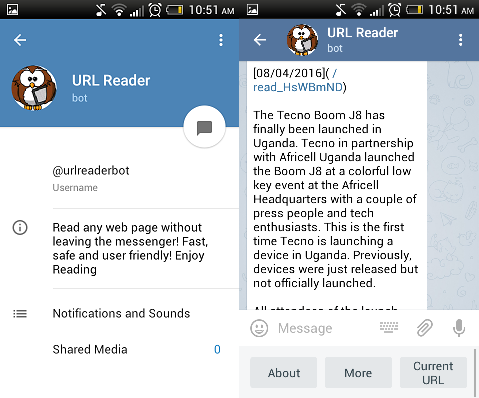 The URL Reader bot opens any website inchat after you input the url (link). The website is in its most basic form without images and a few navigation functions. Bottom line is, it works! We opened the Dignited page and successfully navigated to a couple of posts all which we did inside Telegram.
Bot Father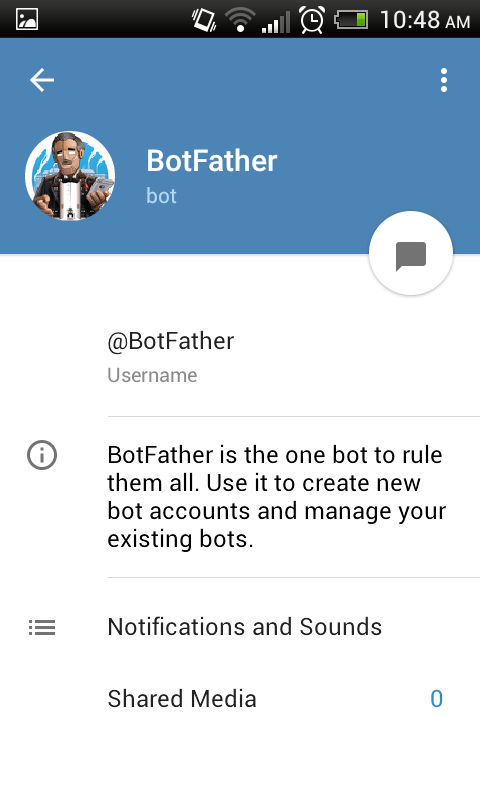 "They call me the Botfather, I can help you create and set up Telegram bots," reads the Botfather status. And that's what he does. Botfather is the one bot to rule them all. Use it to create bot accounts and to manage existing ones. That is an offer you cannot refuse. Word!
Telegram Store
Store Bot @storebot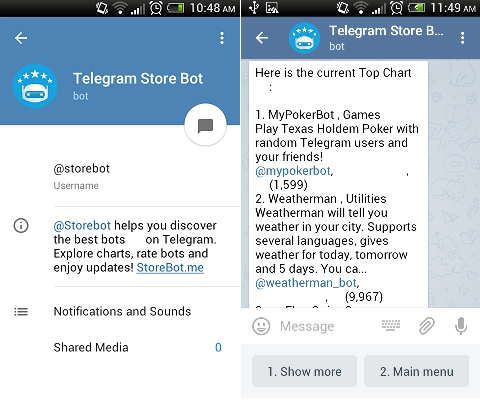 Advertisement - Continue reading below
The Telegram Store Bot lists all the bots in Telegram's repository including the ones listed here. You can access the bot inside the Telegram app but we recommend doing it in your web browser for quicker navigation. More bots are added daily and old ones improved upon.
Telegram recently launched Bot 2.0 update which introduced new features such as location-based services and abilitity to send any content such as MP3s, Videos, Animations and Documents. Pre-set buttons can also be used to respond to the bot as opposed to typing out instructions.
Featured Image: TechCrunch