Dolby Atmos was always considered to be the future of home audio, but it is now for the present. Considered to be the most significant development in cinema audio since surround-sound, it is the first cinematic audio format in which sounds exist as individual entities, called audio objects. In this, any sound, be it from a helicopter, a car screeching around a corner, or even a melodic bird call can exist as an independent audio object, free of channel restrictions. They can be within in your room including overhead, to flow above and around you in three-dimensional space.
So, as movie directors increasingly choose Dolby Atmos for their soundtracks, you'll find a growing library of movies and other content on Blu-ray Disc and online from premium services.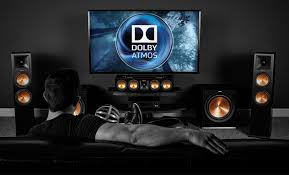 The beauty of the Dolby Atmos
The Atmos makes you feel like you're inside the action as the sounds of people, music, and things come alive with breathtaking realism and move all around you in three-dimensional space. Dolby Atmos discs and online content are also fully compatible for playback on conventional stereo and on 5.1- and 7.1-channel systems, giving you the same outstanding experience you've always enjoyed.