Recently, I was traveling to a vacation in a bus. The vehicle had a music system but unfortunately, it had writings in Japanese and no one could operate it. You might have been in a situation where you are helpless simply because you cannot relate to a certain language. You might have to consider the possibility of learning a new language.
Since we are in a digital age with most of the things easily done on smartphones, I have compiled a list of ten language learning mobile apps. Some of them you are probably familiar with, but you may also find some new ones.
Advertisement - Continue reading below
Memrise is a good platform for fun vocabulary practice. You can find standardized courses based on popular textbooks or vocabulary frequency lists as well as less expected vocabulary collections such as "Japanese naughty words" or words from the Japanese translation of Harry Potter.
Memrise follows a learning method that relies on creating funny or bizarre associations with the studied words. Courses are often coupled with memes designed to playfully help remember the vocabulary. The memes are created by the community and everyone can add their own! Both earning, revising and creating memes is a source of points that help you advance in the Memrise hierarchy of users.
You can follow fellow learners and compete with them for points as well as see how well you're doing in a ranking for a particular course. It's very motivating to outscore others!
The power of Memrise also lies in the spaced repetition algorithm which calculates when and how often you should review each word and the app will send you reminders when it's time to review.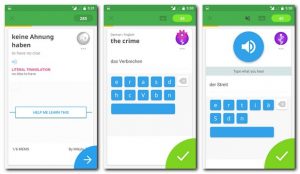 This is certainly one of the best apps for learning a new language. It was developed by Luis von Ahn who successfully merged gamification and learning addicting people to languages and producing an app with over 100 million users. .
Advertisement - Continue reading below
Duolingo courses are created by native speakers themselves which empowers communities and language passionate people to get involved. Another feature that makes Duolingo special is that it is not aimed solely at an English native speaker. For each language there are specific courses that aim at those with different first languages.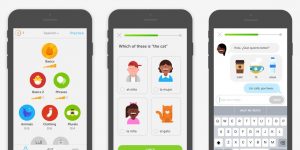 HelloTalk is an app aimed at facilitating speaking practice and eliminate the potential stress of real time conversation. Learners can find native speakers and converse with them using a whatsapp-like chat with voice and text messages.
Users can correct each other's messages with an in-built correction tool. The app also has an integrated translation system to help you avoid those moments when you really want to communicate something but just lack the one word that gives the sentence it's proper meaning.
You can star your top conversations or messages, so your favorite phrases will not get lost and the text-to-voice option will make sure you always know how to pronounce the messages you receive. To help you with conversation motivation you can also arranged language exchanges with lengths defined by different parameters like time, number of exchanged messages or characters.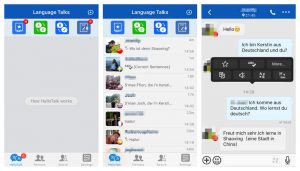 Mindsnacks takes gamification of a new language to a whole different level. Each out of seven languages they teach comes with eight or nine tiny games are designed to help you learn vocabulary, grammar, practice your listening. There are short simple lessons outlining concepts that then get practiced or tested in the games before being mastered. Mindsnacks monitors your progress so you can clearly see how much more learning you need to achieve proficiency in every skill. It's such a fun app though, that even if you do master a skill it is still fun to go back and play more games to practice it.
The basic download is free, but it comes only with a restricted number of games. If you pay a little bit you can access more lessons and widen your game options.
Advertisement - Continue reading below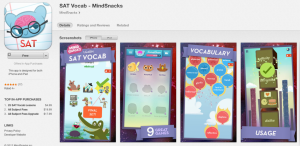 It offers full courses in 12 languages. The app is free but to unlock most of the features and course materials you have to invest $17 a month. Busuu takes you through learning individual words to simple dialogues and questions about the dialogues all of which include audio where you can listen to native pronunciation.
The lessons are organised in topical themes where we learn skills and expressions connected to tasks. Each course also comes with a separate mini "travel course" for those who need to quickly get the basics before a trip abroad.
Busuu learners contribute their native speaking skills to the platform by correcting texts created by those who learn their language. The desktop version allows you to chat to native speakers real time. Both studying and contributing to the platform as a teacher allows you to collect points used to rank students based on their activity.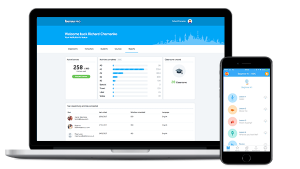 ---
Related Article: Learning code in Uganda: These are the best options to get you started
---
The free version of Babbel comes with 40 classes, so even without investing money the app allows you to learn a fair amount of phrases in one of the 13 languages it teaches.
Each class starts from step-by-step teaching of vocabulary with the aid of pictures. Then the words are used in related phrases and short dialogues adjusted to the student's level to help quickly build conversation skills. The app has speech recognition exercises too.
Advertisement - Continue reading below
Handy pop-ups with the app explain most important grammatical points related to the learned material and the desktop version includes short cultural notes.
Babbel's classes can be downloaded for later offline study and the app will send you convenient reminders so you don't miss your daily session.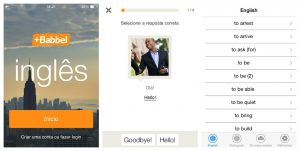 Lingua,ly is aimed at getting you to read content written by and for native speakers from the earliest levels of your learning. The study materials are based on texts pulled from the internet.
At set up, the app will asses your level, by asking whether you know specific words it will estimate your level and the range of your vocabulary. As you learn you will be shown a text. Clicking on a word you don't know and you will see its translation, hear it pronounced aloud and have it added to your database of words. Based on this feedback the app will be able to match future texts to your level more accurately.
You can specify your interests, so that you don't have to go through texts on the history of the ancient Babylonia, but maybe rather on blogging.
The words can be reviewed in 5, 10 or 15 minute study sessions. If you install the Lingua.ly Chrome extension, on you will be reminded about the need to come back to your saved vocabulary while browsing. With Lingua.ly you have a lot of control over what material you learn and how much you review.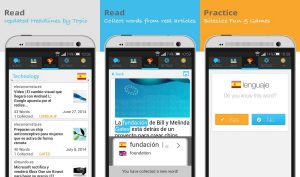 Advertisement - Continue reading below
TripLingo is aimed at getting you to speak and be understood so you don't feel lost in a foreign environment making your stay not only much richer culturally, but also less stressful. A feature called the slang slider displays different levels of formal or casualty of each phrase so you can adjust it to the specific context you're in. The lessons are divided into handy sections such as "safety phrases" or "business phrases".
TripLingo has an inbuilt voice translator rendering your English in the foreign language, and when you are really at a loss of words you can even call a real translator. With the free version of the app you get access to about 15% of the resources and no audio, but it's still a great and fun resource.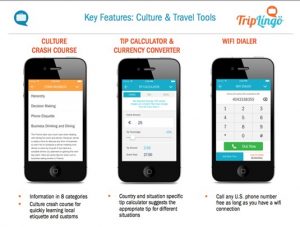 With MosaLingua, you can choose to go through the standard lesson program starting from simple phrases and numerals, or you can opt to go for one of the specific topical packs, for example people, time or tourism.
If you already went through the basics and are looking to fill in specific gaps in your knowledge you can do it instantly. You can support your learning with dialogues illustrating real life situations.
Learning is based on a self-assessed system which will drill you on the words in a number of ways, asking you to record, speak out, and spell them, so that you easily remember.
Not all the resources of the apps are unlocked without paying. You have to pay for each language separately. But even the free version has ample resources.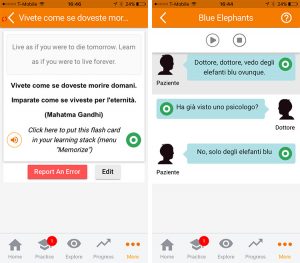 HiNative allows you get the benefits of contact with native speakers without the hassle of searching for an exchange partner or scheduling a chat.
It brings native speakers together with learners to help each other resolve language struggles. No question is stupid or too simple: you can ask for translations, input on pronunciation, or advice on cultural norms.
Advertisement - Continue reading below
It's not only the native speakers who can answer the questions, but also other learners. Those who went through the same struggles as you could have a better idea of how to approach them as a learner!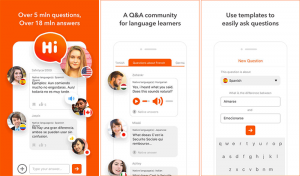 Learning a new language should never be a hustle with the advancement in Technology. Have you come across any cool language learning apps? Let us know in the comments section below.