I opened my first Bank account just as I was joining campus. At the time, there was one product, YEA by Cooperative Bank, that was being marketed as sort of the account for Young Innovators, Students and Hustlers.
YEA Access Current Account was the new sensation in town, every smart hustler in Kenya was opening this bank account. People who were starting life, students and all sorts of hustlers were rushing to open YEA Access Current Account because of ONE important thing. There was NO monthly fee with YEA Access Current Account.
Advertisement - Continue reading below
But then I missed out on the HELB Loan because apparently, I wasn't needy enough, and I had an M-PESA account so, I didn't really use my Bank Account that much. Cooperative Bank went on to offer new services like Mobile Banking and many other products that I didn't bother to sign up on, until I got my first job and really needed a Bank account.
Frustrations with YEA and Co-operative Bank
Over the many moons of my bank account's inactivity, my ATM had expired. (Not that I even remembered the PIN anyway). So I applied for a new one. While at the bank, I activated my Mobile Banking so I'd be able to access my funds and other bank services remotely. But then Cooperative Bank wouldn't notify me of transactions and the multiple USSD Codes to access the same service were a little confusing.
Like many young people, the idea of getting stuck in a banking hall for hours to sort out something really small is upsetting, to say the least. A couple of months later I visited the bank to collect the ATM Card that should have been ready a few weeks after my application but guess what, it wasn't ready yet.
Breaking Point
No problem, I had mobile banking, right? Then this happened.
To make matters worse, this happened on a Friday evening. The embarrassment when you're out with friends, and to think that help wouldn't come until Monday. Something had to change. I couldn't keep living like this. Something had to give. Then later that weekend, I saw this "Unbank yourself ad on the TV.
Loop by CBA

Suddenly I knew exactly who I wanted to bank with. Like any reasonable person in this day and age, I went online to look for people's experience with Loop. Not a single negative experience. Further research made me realize that opening an account is paperless. I wouldn't need to visit a bank or anything. I could do it all on my phone.
Advertisement - Continue reading below
Opening an account is as simple as installing an app and filling a form
I went ahead and installed the Loop app and filled in the details needed. One thing you need to have to do is with your KRA PIN. I know most of you already have one so you need to have it ready before you sign up.
Just like that, I verified my ID Number, entered my phone number and verified it with a One-time PIN and that was it. I had an account number and all that was left was an ATM Card. I applied for one from within the app, selected from their list of available Loop Stores across the country and I was set to collect my ATM Card from the Kisumu Loop Store the following Monday.
I got to the Loop Store and was received by some rather cool, freestyle looking guys. One had dreadlocks. No way that guy was a banker. They talked me through the process and offered me Coffee (I'm not kidding.) A quick photo here, a signature there and I had my Loop Card, as simple as that.
How to Deposit cash into the Loop Account
Loop is still a product of the Commercial bank of Africa so if you need any of the traditional Bank services, feel free to visit any of CBA's banking halls to deposit funds the old school way or whatever.
For most of us, we will be depositing funds into our Loop Accounts using M-PESA. To do so;
Load the funds onto your M-PESA account using any of the tens of thousands on Safaricom M-PESA agents countrywide.
Go to M-PESA
Go to Lipa na M-PESA
Select Pay Bill
Enter PayBill number 714777
Under Account Number, Enter your Loop Account Number or your Phone Number
Enter your M-PESA PIN and watch your Loop Account get credited immediately.
Loop to Loop transactions are free of charge
If your friends are Loopers (I like how that sounds), you can send money directly into each other's accounts free of charge. You can send funds from your Loop account to any other local bank account via Pesalink among many other transactions.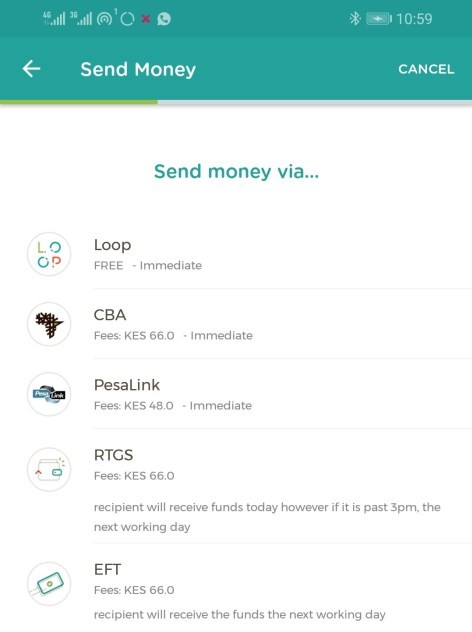 The Loop App is Everything
Forget about banking halls from now on. The Loop app is feature-packed. Its been a little over two weeks now and everyday I discover something new. For instance, when you're in say a supermarket, you can Lipa na M-PESA directly from the Loop app instead of transfering your funds to your M-PESA account first then paying. The same works for Pay Bill services.
You can purchase airtime for Safaricom, Airtel or Telkom lines directly from your Loop account at no extra charge. I am still digging into the apps Analyse and Growth sections that allow you to among other things, set standing orders, save your money and analyse your expenditure. We shall do a detailed review of the app in a later post.
Advertisement - Continue reading below