Instagram has a new app (called Threads) that is dedicated to direct messaging together with your close friends, something close to the relationship between Facebook and the Messenger app.
What is Threads by Instagram?
Threads is a camera and messaging app by Instagram made with the intention of chatting with your close friends. It works by default with your Instagram close friends list, although this can be edited at any time in the Instagram or Threads app. You can also set up a new list on the Threads app after it has been installed.
Advertisement - Continue reading below
Step by step guide on how to use Threads
Setting Up
The first step obviously is to download the Threads App. You can do so by getting it from the iOS app store or from Google Play Store.
Once you've got the app, you'll simply sign in with your Instagram login details.
Upon your first Log in to Threads, you will be prompted to see your close friends list and add or remove any users you need or do not need to speak with on Threads.
Tap Done at the bottom when you're done editing the list.
If you wish, you can also include group chats to your close friend list but everyone in the group has to be already in your Close Friends list. Tap OK to add available groups.
Tap Turn On to enable notifications.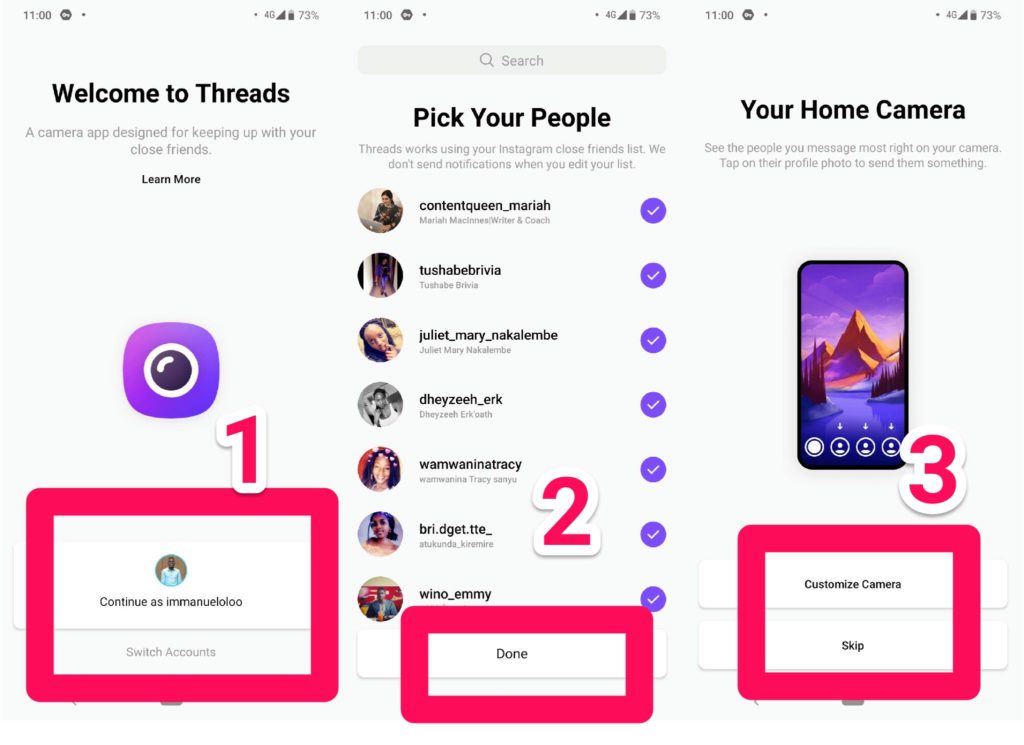 Tap Customize Camera to customize which friends will appear on your camera window. This is to make it easier for you to send photos and videos to the people you chat with the most.
Select the plus (+) sign beside the name of the person to feature them on your camera window. Tap the cross (X) sign beside one of the names to get rid of them.
Tap Done once you are finished.
Status Updates
Threads additionally allow you to add status updates so your close friends can know what you are up to. You can set these statuses yourself, or activate the auto-status feature to permit Threads to see what you're up to and update with what is most appropriate for you depending on the location and movement data from your device.
Tap Skip if you would like to update your status manually. You will additionally decide what theme you would like to use; there are five themes to choose from. Scroll sideways to choose the theme you would like to use and then tap Done.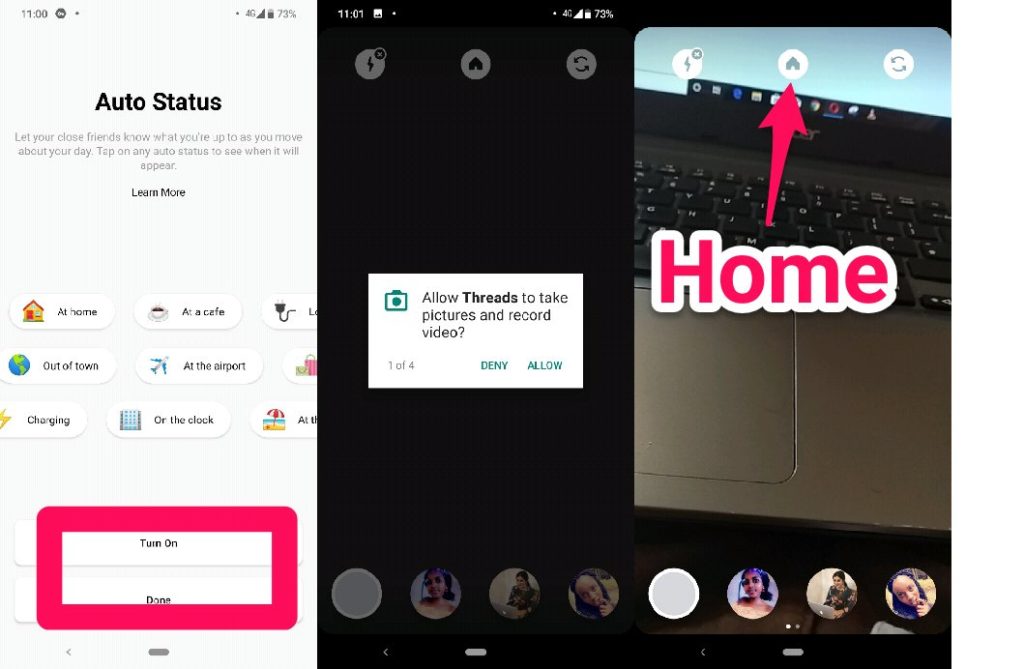 You will be redirected to your camera window. Tap the circle within the bottom left corner to take a new photo, or hold it down to capture a new video.
If you already know the person you would like to send it to, use the profile icon of the friend you would like to send it to rather than the plain circle icon.
Related Article: How to See Posts you liked on Instagram
At the bottom of your screen, choose whether or not you would like the photograph or video to be playable once, on a replay, or stay on the cost permanently.
You can also add text to your video or photo and then tap the arrow icon to send it.
Select the friend you would like to send it to, or select your Story to post this to your close friends' stories.
Finally, select Share.
Chatting with Friends
On the Threads window, you will simply see all of your chats with your close friends. Also, any direct message chats you already started through the Instagram app are automatically added to the Threads app.
Tap a chat to open it. You can send messages just how you send them via the normal Instagram app.
Select the photo icon to send a picture from your device's camera roll. You can also select the sticker icon to send a fun animated sticker.
Tap on the arrow at the top left-hand corner to go back to the homepage.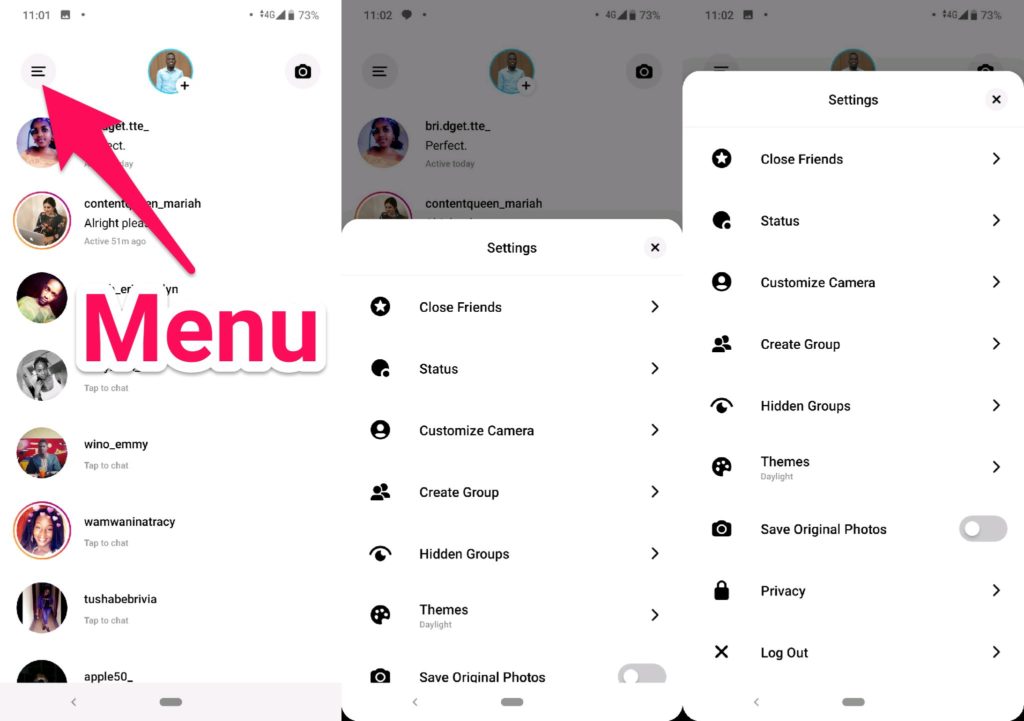 Settings
Select the menu icon at the top left-hand corner to access additional settings. Here you will be able to edit your close Friends list, change your statuses, customize your camera shortcuts, among others.
You can scroll down to see additional settings, like whether or not you would like to save the photos and videos you took through the app. At the very bottom of the menu page, you will find the log out button.
"We hope that Threads can bring you a little closer to the people you care about," is what Robby Stein, Instagram's Director of Product said after the launch of Threads. We at Dignited would like to hear your thoughts on this new app. Have you used it? Is it worth it? Share in the comments section below.