Last Friday, HiPipo held the grand finale summit at Mestil to celebrate the winners of this year's Women In FinTech Hackathon. Out of the 20 shortlisted teams, only six got to share a prize pool of $10,000 (sh38m) to further develop and implement their ideas.
Team Elevation came first and bagged 4 Million. Team APA bagged 2.5M and was runners-up with Team Oliwa in third place and went away with 2M in cash. The top teams would also participate in a BootCamp and post-mentorship. Let's see more details.
Advertisement - Continue reading below
The Nominees | Shortlisted
Before I present to you the rest of the winners, the event saw around 50 group applications from East Africa but majorly Uganda, and only 20 of those were shortlisted.
The teams shortlisted come from all over the region including a team from Rwanda and Tanzania.

Neza Charlotte, FinTechs Events Manager – HiPipo
View list a full list of Nominees here;
The 20 teams had a long week of ideation, designing, developing, and coding from various mentors. The 2022 Women in FinTech Hackathon reached its climax on Thursday 15th September with these teams presenting their final minimum viable products (MVPs) to the judges.
---
Also, Read; The Third Edition of Women in FinTech Hackathon Is Here!
---
The Summit & Winners
The event happened at Mestil last Friday that saw many notable people around the country gracing the event. These included Hon Owek Joyce Ssebugwawo, Minister of ICT and who also happened to be the Chief Guest. Prof Maggie Kigozi, is an investment Expert & who also doubles as an esteemed advisor of the HiPipo Foundation, the parent company under which the Hackathon runs.
Advertisement - Continue reading below
Women are over-represented among the unbanked in Uganda. For example, there is a wide gender gap in access to technology, skills, and financial products for women.

Hon Joyce Nabbosa
As aforementioned, there were six overall teams that collectively shared USD 10,000. These top six teams in order were;
1. Team Elevation
An application that helps pregnant women prepare for maternity (both post and antenatal) help them save for baby showers, maternity bills, baby needs, personal need, etc.
Elevation was led by Angella Bukirwa and had a lion's share of the prize pool. They bagged sh4M as the overall winners.,
2. Team APA (Academic Personal Assistant)
A digital assistant that provides students at higher institutions of learning with instant access to academic resources and seamless updates on results, assignments, and deadlines all via an automated human conversational experience in their WhatsApp inbox. The students can also pay tuition and other dues like ID replacements, retakes, re-dos, etc via the WhatsApp messaging application.
The team led by Diana Najjuma bagged sh2.5M as the first runners-up.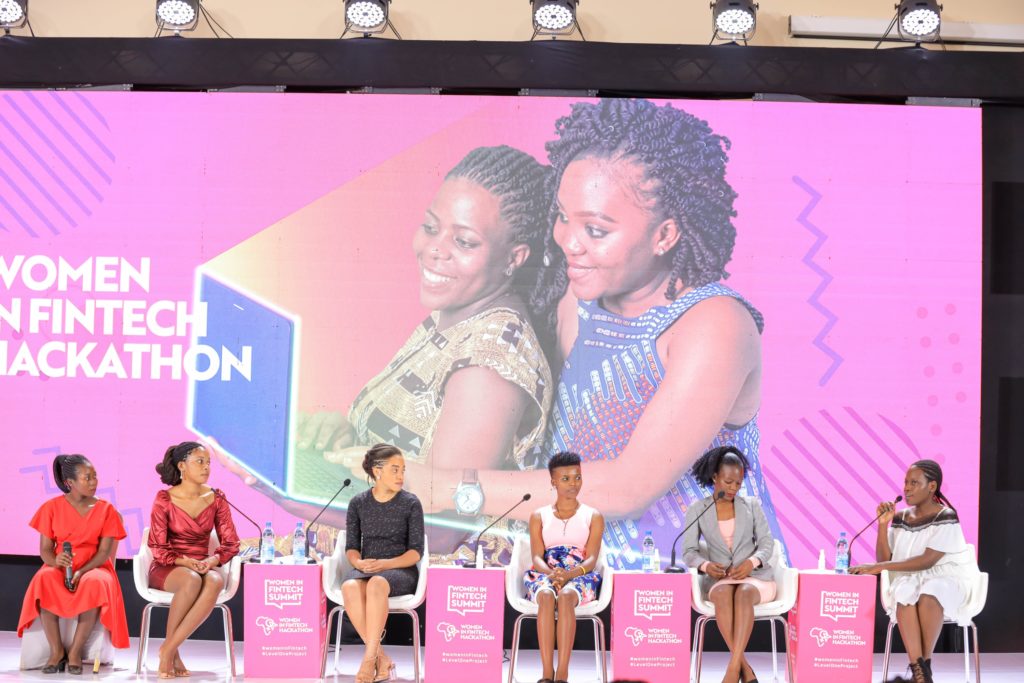 3. Oliwa
An application for event management. One can book tickets for events and also have friends track them in case they get an emergency while they're out having fun.
The team was led by Maria Luzinda and bagged sh2M as the second runners up.
Advertisement - Continue reading below
4. Go Green
A crowd-sourcing platform that helps seek donations to support climate activists. The team was led by Havillah Mirembe and went away with sh1.5M.
5. Insure Wallet
A mobile application that provides quick, reliable, and affordable insurance services from as low as 50,000 UGX. The target market includes Drivers & Passengers (general road users) and provides safety and comfort guarantees as they travel. It is also aimed to reduce the long bureaucratic processes people go through while doing insurance claims.
The team was led by Evelyne N and bagged away 1M UGX.
6. Lands Resource
This team was led by Novita N and came all the way from Kisoro. Their idea involves renting out land at a fee. They also went away with 1M UGX. This solution elevates land into digital space for digital and web usage while accessing land for various purposes. It also enables an increase in the value of land to the respective owners.
There was no sixth (6th) position actually as the Insure Wallet and Land Resource teams tied. Land's Resource got attention as it was one of the teams that came through from the Kisoro, western part of Uganda to participate in this year's edition. They were also awarded about 1000 USD from Pivot Pay CEO, Shamim for their hard work.
Another team called Sueno_Wetaase was awarded 300 USD from Belle Beauty for being the most active team throughout the entire hackathon. Belle Beauty participated in last year's edition.
We are excited about this year's edition . The past 2 editions have been highly impactful with different participants being able to take their innovations to the market while others are in the process.

Kawooya Innocent, CEO – HiPipo
Conclusion
Winning is one thing, but these startups should move further and introduce their solutions to the market for consumption. More than 80 innovators gathered with the aim of closing the gender gap in access to technology, skills, and usage of digital financial services.
Advertisement - Continue reading below