Teaching kids how to program computers is no easy fete. It's even worse when the computer teachers get to know that these little kids still find it hard grasping the basics of life such as brushing their teeth or even tying their shoes laces.
It's such an uphill task to run the humble souls through streams of alien monotype code, it could easily pass for mental torture if the cohort programmes are not properly conducted.
Advertisement - Continue reading below
There have been seemingly good attempts at luring as many kids as possible into computer science but the banter remains, kids think it's dead boring. However, where they have been cajoled into hacking stuff, it passes off as too easy and perhaps not really helpful. On the other hand, where they are presented with somewhat sophisticated DIY electronic shell boards, they come off as boring and intimidating. Rinse and repeat. The final outcome is quite frustrating.
That is briefly the story that inspired  the making of Kano —a computer and coding kit simple as lego but yet as powerful as Raspberry Pi. The London startup beat all odds late last year when they raised $ 1.5m on Kickstarter thrashing their earlier set goal of $100k. The great news is that they will be shipping their first consignment early next month.
On the go, Kano does a significant role in enhancing the Raspberry Pi kit. It merges basic computer science concepts with gorgeous, functional design, turning just about anyone into a computer maker. Each kit is comprised of bits and pieces that are constructed to build a functioning computer that can be hooked up to a monitor. On the Kano OS, for example, kids can reprogram Pong and Minecraft, compose music, learn to code and even just word-process —all through a computer they built themselves.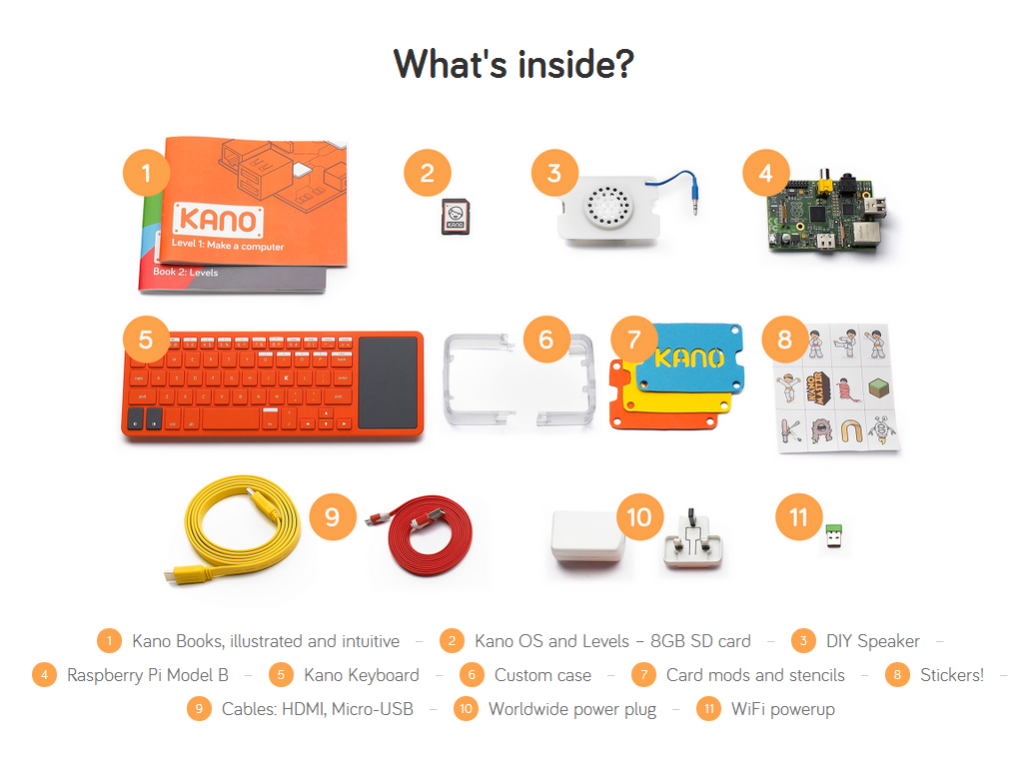 The product design was key to making the kit accessible to children; but even more than that, it was a way to unite all of the separate elements of the kit into a cohesive product. Each Kano comes with a step-by-step booklet that teaches kids how to get the most of out their computer. The goal is to ensure that kids never get bored with coding and creating.
Kano seems to borrow strategic inspiration from the likes of Hello Ruby, a programming book, also a successfully backed kickstarter project that leverages the power of captivating storytelling to teach kids how to program. Nevertheless, it runs on top of the famous credit card-sized $35 computer, the Raspberry Pi. Although it overtly does a good job enhancing the Pi. Also, it borrows from MIT developed juvenile friendly graphical programming language, Scratch. Let's not forget to pay homage whrere it all started from, OLPC, Prof. Negro Ponte's  ambitious attempt at equipping kids in developing countries with rugged and affordable computers. It's unfortunate that OLPC has since headed to oblivion. It's dead.
Advertisement - Continue reading below
Let's do some quick math, sum up the above, if your answer is close to something like Kano, then you should probably pre-order a kit from here.
Images | Kano
Disclosure: This isn't a sponsored post.