MyMTN App will soon put the final nail in the coffin that is USSD short-codes to once and for all prove that short-codes are so last century. Frankly, it's such a chore checking for airtime credit, borrowing, topping up and all those little services that give us something to do in awkward social situations.
If you agree that short-codes have made your life extremely unpleasant while using Telecom services, then you'll appreciate MTN Uganda's Mobile smartphone App. In the pre-smartphone era, you had to remember short-codes for every product and service on your provider's network; balance inquiry, airtime recharge, customer care number, and almost every service plan had a short-code you needed to dial to activate it.
Advertisement - Continue reading below
But not any more.
Enter the MyMTN app. A smarter and more convenient way to access MTN's services and manage your own account from your smartphone. This app enables you to top-up airtime, purchase bundles, pay your bills and not to kill the surprise, you will have to check out the rest by yourself. Tell us what you think.
Summary
What we liked
Intuitive design which makes it easy to use
Works even without active data plan (without MBs)
No need to remember a zillion short-codes anymore!
Works on Wi-Fi
Really small (2.6MBs to download)
Contains a lot of useful information like FAQs etc.
What we didn't like
The Tariff plan feature doesn't work
The "My Bundles" feature  doesn't work and has been posting a "Temporary Interference" Message for as long as we have used the app. Bundles have since been placed under the "MTN Services" tab
Registration and signing up
Registration with MyMTN app is unbelievably easy and intuitive.  The first time you're registering the service, you'll receive a code via SMS on your phone. This one-time code will enable you enter your Mobile Money PIN to access your Mobile money account or create a strong password to access the self-help portal.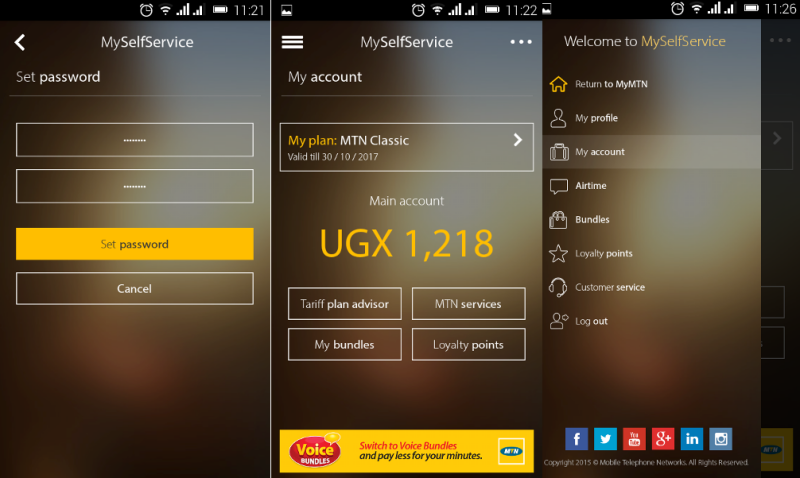 Advertisement - Continue reading below
Using Selfservice portal
The App has a great self-help interface that enables you to view and manage your account details. You can see details about your current Voice Plan, how much airtime your currently have, gives you an option to share Airtime, view different Voice and Data bundles, and shows where to locate the nearest MTN service centers. There are a lot of things you can do with the Myselfservice portal, you won't find reason to call customer care center.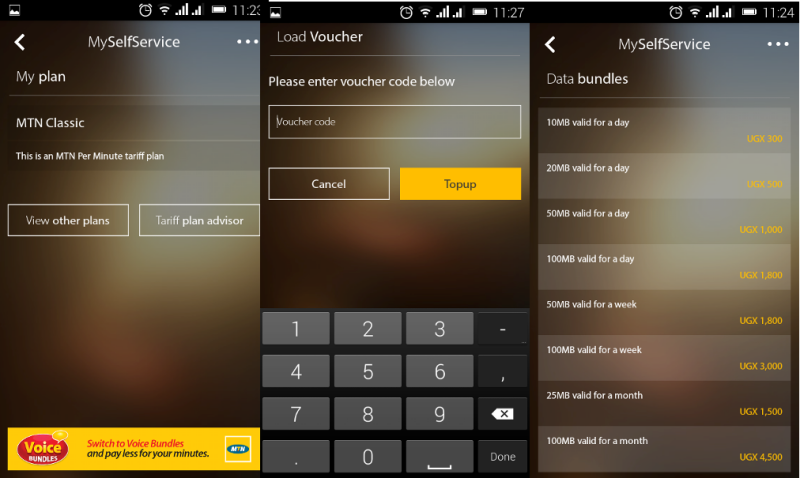 Using Mobile money services
Accessed from the App landing page, MTN Mobile money interface is the bank in your palm. You login (as you would expect) with your 5-digit MTN Mobile money PIN after-which you can do lots of things. The App intuitively shows your current balance below which you can do lots of other services such as buy airtime, send money, pay bills, make payments among other things. The app also allows you to schedule money transfers, check for location of the nearest agents and change your Mobile money PIN. Everything just works!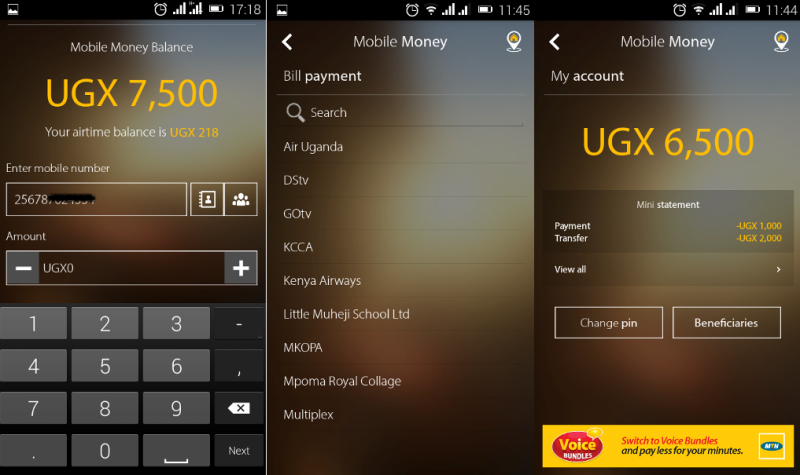 Dignited Rating: 4.3/5.0
We found the MyMTN app to work flawlessly. It is packed with awesome features and has an awesome interface that's easy to use. The app simplifies the process of accessing MTN services and managing everything about your account from your phone without having to remember the short-codes. Averaging expert rating from Dignited reviewers, the MyMTN app got a whooping 4.3/5.0 star rating which rightfully accords it the Dignited "Geek tested & verified" badge.
Download it from the Google Playstore here.