Home Internet is quickly becoming a necessity today. With the average number of connected devices per household set to rise to 3.6 in 2023, a stable, fast, and reliable home internet solution is key now more than ever.
In the continent, Kenya enjoys a relatively solid average internet speed, no doubt helped in the most part by Safaricom, the leading telecom provider in the country. This ISP spares no expense when it comes to delivering reliable internet, but also charges an arm and a leg for it. This is one of the most high-profile toxic relationships Kenyans have ever known.
Advertisement - Continue reading below
On the Home internet front, there is no shortage of options if you're in one of the major cities in the country like Nairobi, Mombasa, Kisumu, and Nakuru. Step out of these towns and the situation for home internet is dire. Safaricom Home, Zuku Fiber, Jamii Telcom, and Poa internet are just some of the top-rated ISPs in the FTTH space with reputable consumer bases in cities but almost no footprint at all outside these towns.
---
Related:
---
Advertisement - Continue reading below
---
My Mawingu Internet Experience
I left Nairobi a few years ago and one of the perks I had to forfeit with that move is affordable high-quality unlimited internet. I went from downloading and streaming all the content I could consume to rationing my data usage, prioritizing work, and playing with the little bandwidth I had left.
Until a few weeks ago when some sales lady named Faith handed me a flyer from Mawingu Internet. I have had my fair share of frustrations with wannabe startups promising you solid internet speeds only to have you deal with glitchy services, ample downtimes, and a heavy heart so I was skeptical about it.
I asked so many questions and got connected to the regional manager, Marto. Marto was coincidentally in the neighborhood and he showed up at my doorstep to explain to me, a fellow techie, what the deal was with Mawingu Internet. KES 4,500 for full installation and the first-month subscription for the 20Mbps package, show me a better deal.
Installation
Mawingu uses AirFibre as its main mode of connection to customers. This requires a direct line of sight from their base station to work well. I still don't have the hard facts about the effective working distance from the base station but for my town, this isn't a big concern.
See, AirFiber is a brilliant idea if you think about it. It doesn't use traditional fiber-optic cables under the ground and instead, uses new cell towers mounted strategically around town, presumably on top of the tallest buildings or on cell towers. Thank goodness for co-location.
Advertisement - Continue reading below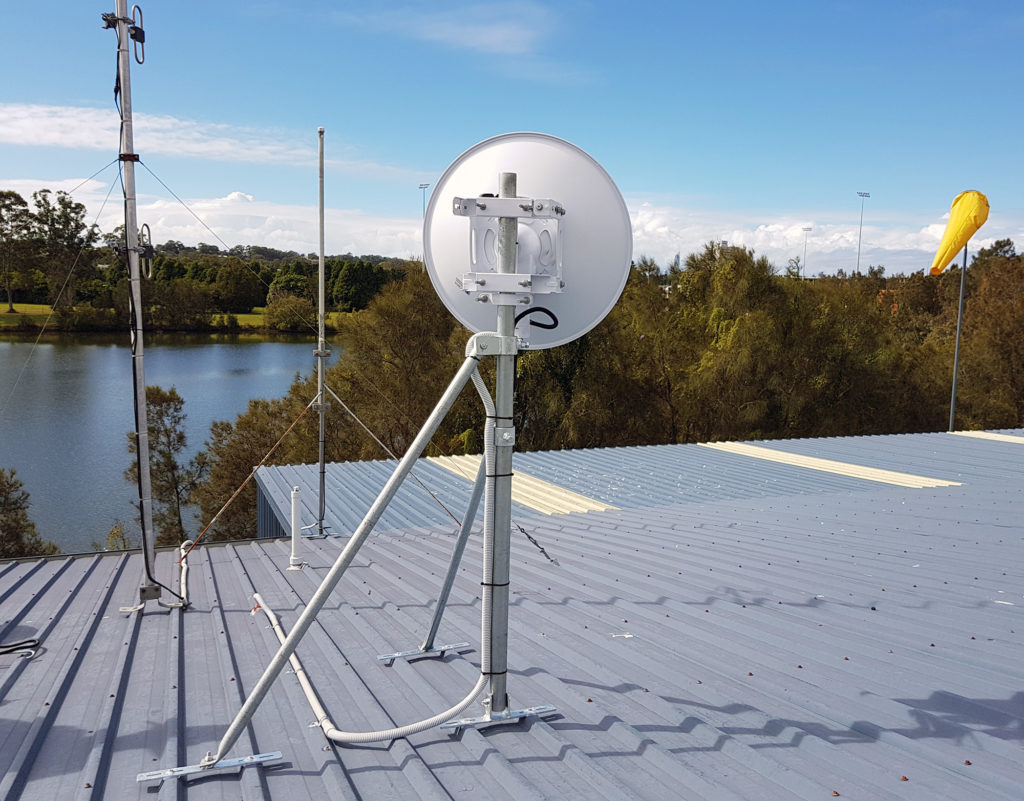 The guys pulled up and installed a Ubiquiti receiver on the rooftop and ran a simple ethernet cable to another doohicky indoors that is connected to power. They came with their own tiny Wi-Fi router that works with this setup.
Reliability, Downtime
Mawingu is a relatively new entrant into this space and as such, it might not be fair to hold them to the same reliability standards as more accomplished players like Safaricom. In my month of service with Mawingu, I'd say the service got interrupted for around 30 minutes to an hour a day. Of course, I don't have the exact data for this one.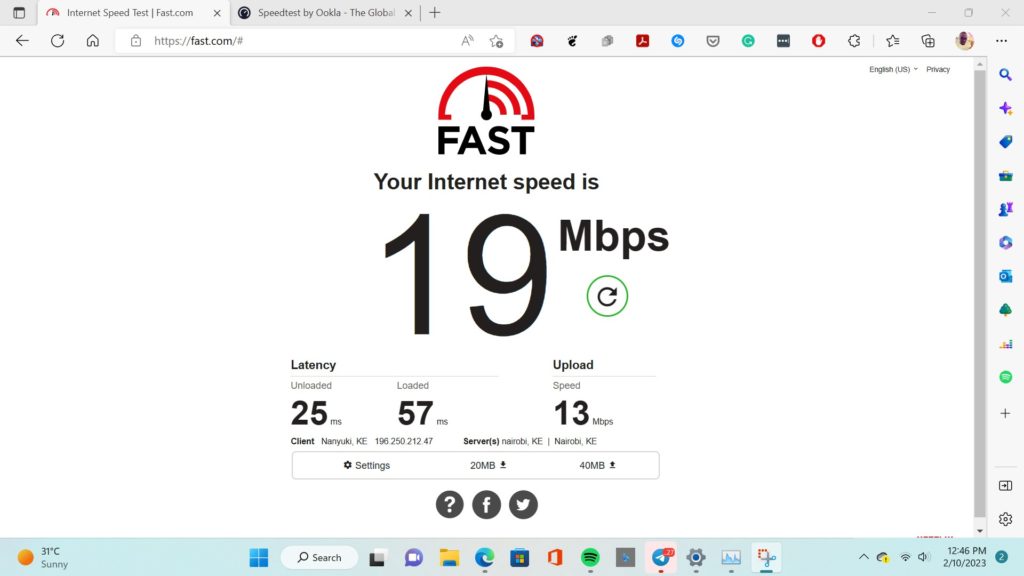 The speeds are spot on as advertised for the most part. During off-peak hour, I got the advertised 20Mbps but this takes a little dip during peak hours of mid to late evening when expectedly, everyone is Netflix and chilling. I'd get around 11-13Mbps which is more than adequate for my needs.
Customer Service
Mawingu Customer Care is accessible via their call center, +254111194000. This is not a toll-free number, just like any other home internet solution. Luckily, the wait times are pretty slim and I have almost always gotten connected to an agent in less than a minute.
The customer care staff are really nice to deal with and should they not be in a position to help, they'll call you back. Other than Safaricom, what other company actually calls you back? I am a fan of this one. Keep it up, guys.
The field team is also pretty prompt when you have an issue, like the one time a kid decided to play target at my receiver and knocked it out of alignment. These guys sorted it out in less than an hour.
A few Qualms
SSID and Password for my home wifi cannot be changed locally. Instead, I have to log into their self-service portal to do this. All in all, not a lot of hassle but it'd be nice to have the option.
Advertisement - Continue reading below
Also, the Wi-Fi routers installed do not support the 5GHz band. This means I am stuck with the 2.4GHz which does get a little crowded, especially at night leading to a lot of interference. It is 2023 and most of our devices support this 5GHz band. A better router would be nice.
Luckily, I still have my trusty Xiaomi Mi Router 4A Gigabit Edition on hand so a simple ethernet connection between the two routers ensures I still get to use my own hardware.
The Future
See, the reason Mawingu is in my area to begin with is the company's expansion drive they're undertaking. Reports have it that they're targeting counties in this expansion drive after netting $9 million (Sh1.23 billion) in funding.
This is a space that desperately needed some disruption as existing FTTH solutions in my town haven't undertaken expansion drives since COVID. Safaricom Home I am talking to you guys. Should these guys keep up the pace, we just might have a winner.
Initially, Mawingu was available in the Mt. Kenya region: Nyeri, Embu, Meru, Karatina, Nanyuki, and other nearby towns. Now, the company is expanding into the Western region and part of North Eastern with more set to get connected in the coming months.
"Our strategy is to stay rural in counties like Wajir, Marsabit and Voi. This is driven by demand for cheap and quality internet,".

Mawingu CEO Farouk Ramj
Pricing
Mawingu Internet offers its customers a few tiers priced as follows.
| Tariff | Price |
| --- | --- |
| 10Mbps | 2500/- |
| 15Mbps | 3500/- |
| 20Mbps | 4500/- |
Upon signing up, I was allocated the 20Mbps tariff and only paid Ksh 4500. This means that I didn't get charged installation fees, at least not for the first month. In the week or so I have been on the service, this translates to around 15-17Mbps with acceptable jitters in latency. Its nothing that hurt my Netflix and Spotify but I see why gamers might feel some type of way.
Advertisement - Continue reading below
Conclusion
Save for the shaky initial days, I think Mawingu is actually onto something solid here. Their pricing is competitive, their internet speeds don't suck, their customer service is spot on (please don't slack off), and downtimes aren't as atrocious all good things.
In the meantime, give us a more modern router (ask me to pay a little extra for a nicer one if you must), keep working on the downtimes and you have me as a customer. It'll take a few more months before you have me as an ambassador, but a good product sells itself.