Fiber to the home is really picking up in Africa. The rise of social media and online content consumption could be a contributing factor. In Kenya, there are quite a number of players in this market segment; from Safaricom with Safaricom Home to Jamii Telecom with Faiba. However, in this space, Zuku might be considered King.  Zuku Fiber is an Internet-to-the-Home cable network solution by Wananchi Group. The service is currently available only in Nairobi and Mombasa. This platform supports broadband, pay-tv and telephony services through a single cable into customers' homes. Zuku fiber boasts of Residential internet speeds of up to 250Mbps which is the fastest in East Africa.
Who is most likely to benefit from Zuku Fiber? Who is it for?
According to Zuku, their products are aimed at making and providing quality home entertainment and communication services accessible to a rapidly growing, choice-conscious African middle class. Zuku fiber is squarely directed at this demographic. This is true for many reasons. First, the coverage in Nairobi for instance. Zuku Fiber effectively covers the zones and regions of the city that can be considered middle-class residentials, and their packages pricing reflects just that.
Advertisement - Continue reading below
Zuku Fiber Plans/Packages and Pricing in Kenya
Zuku is a comprehensive Home entertainment solution that offers Satelite TV, phone services and of course Zuku Fiber. Zuku Fiber comes in three models. Triple Play, Double Play, and Internet Only. All these models come with different goodies;
Triple Play Packages come with;
Unlimited High-Speed Internet
Free Installation
Free Modem + Digital TV decoder
58 Local & int. TV Channels
Free Zuku To Zuku Calls
Plus Free Premium + Asian Pack
Plus Handset at @1500 and GET KSHs. 1,500 airtime to all networks
Plus Free Police and Emergency calls from Zuku Phone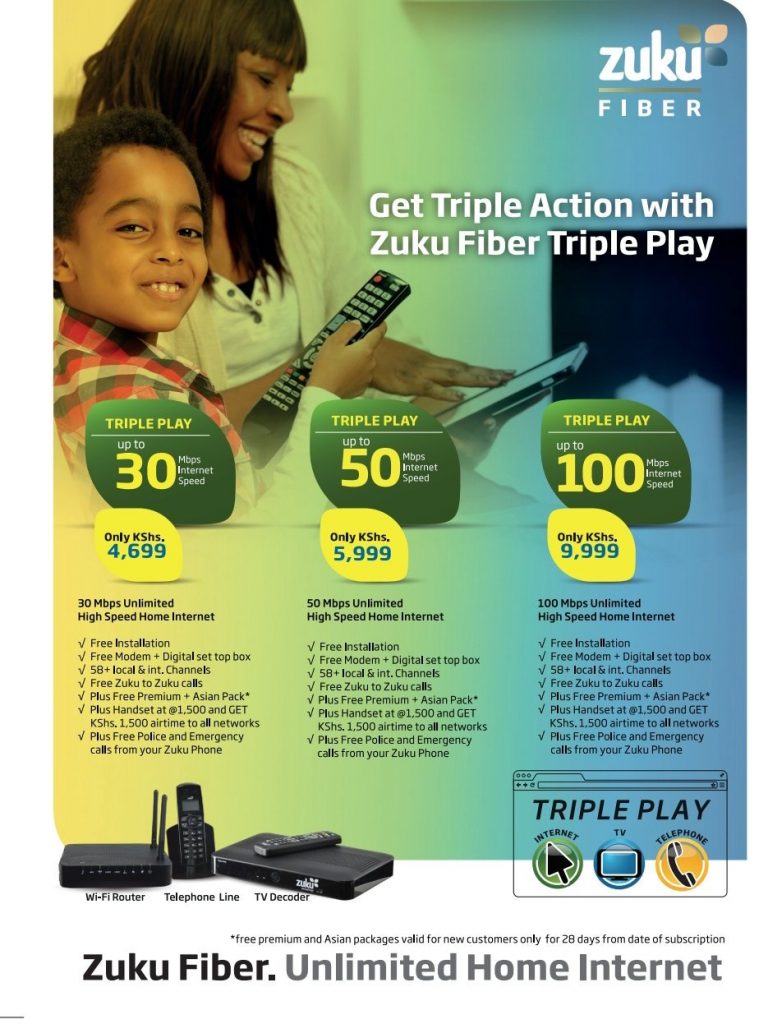 Double Play Packages come with;
Unlimited High-Speed Internet
Free digital TV decoder
Free installation
58 local & int. TV channels
Free Modem
One month FREE Premium and Asian Channels
Internet Only Package offers users;
10Mbps Unlimited High-Speed Internet
Free installation
Free Modem
| Package | Speed | Monthly Price |
| --- | --- | --- |
| Triple Play Packages | 30Mbps | 4699/- |
| | 50Mbps | 5999/- |
| | 100Mbps | 9999/- |
| | 250Mbps | 1999/- |
| | | |
| Dual Play Packages | 5Mbps | 2499/- |
| | 10Mbps | 3699/- |
| | | |
| Internet Only | 10Mbps | 3499/- |
How different is Zuku Fiber from Mobile Internet?
Unlike mobile internet that is delivered to you terrestrially, Fiber internet requires an actual physical connection to a Zuku station. For that reason, Fiber services might not be available all over. Only a few areas can be covered at a time, depending on the robustness of the fiber provider's network.
Advertisement - Continue reading below
Also, most of the time, mobile internet is billed per Megabyte, or one has to purchase data bundles before accessing. With Zuku fiber, and any other fiber implementation for that matter, you choose a speed package and pay for it and you get unlimited internet at that said speed.
Mobile Internet requires you to have a cellular device (a router, a Mi-Fi or a cell phone) to access and take advantage of this. For fiber, you need an actual physical connection to your home or premise and a router to take advantage of this. This way, Mobile Internet is a lot more versatile than a fiber connection.
Zuku Fiber Coverage
Zuku Fiber is available in Nairobi and Mombasa with plans to expand to other regions…although if we're being honest, I don't think this will change any time soon.
In Mombasa, these areas are Zuku ready; Bondeni, Ganjoni, Kizingo, Liwatoni, Nyali, Tudor.
In Nairobi, the areas covered by Zuku include; Avenue park, Ayani. Buruburu, Chiromi. Dagoreti, Donholm, Fedha, Garden Estate, Karen, Kenya Re, Kileleshwa, Kilimani, Langata, Lavington, Madaraka, Membly,Nairobi Dam, Ngumo, Otiende, Pangani, Phenom, Roselyn, Runda, South C, South B, Spring Valley, State House, Syokimau, Tassia, Tena, Thome, Umoja, Utawala and Westlands…. Isn't that the whole city already?
Customer Support
Should you run into any issues, you can reach Zuku customer service in Nairobi on the following.
SUPPORT:  
TEL: 0205-205-205, 0719-028-200
EMAIL: [email protected]
SALES:
TEL: 0205-222-222
EMAIL: [email protected]
MOMBASA CONTACTS
TELESALES
TEL: 0205-255-255
EMAIL: [email protected]
CUSTOMER SERVICE
TEL: 0205-205-205

Advertisement - Continue reading below
Are you customers of Zuku Fiber? What has been your experience so far? How are their speeds? How is the reliability? Post some screenshots showing us the kind of speeds you're getting.