Sad news for WhatsApp users across certain older mobile platforms. In what appears to be the end of an era, Whatsapp Messenger will no longer support most of the mobile operating systems that catapulted the fledgling instant messenger from obscurity to the social media powerhouse of 1 billion users and counting that it is today. The following platforms will unfortunately be axed come end of year 2016:
BlackBerry, including BlackBerry 10
Nokia S40
Nokia Symbian S60
Android 2.1 and Android 2.2 (Eclair and Froyo)
Windows Phone 7.1
To put this news into perspective: at WhatsApp's debut in 2009, the now defunct Symbian OS had the biggest market share running on almost 50% of mobile phones in circulation at the time. Research in Motion (RIM), now simply known as BlackBerry, came in at a distant second with iPhone trailing in 3rd place. It obviously made good business sense for WhatsApp to tap into this market and it has served them well.
Advertisement - Continue reading below
Shockingly though, by the end of 2010 the writing was already on the wall for Symbian which saw BlackBerry and iPhone shove it under the rug. It came as no surprise that Symbian finally became defunct in 2014 and BlackBerry too has been discontinued after the release of what is considered the last BlackBerry OS iteration: Blackberry 10.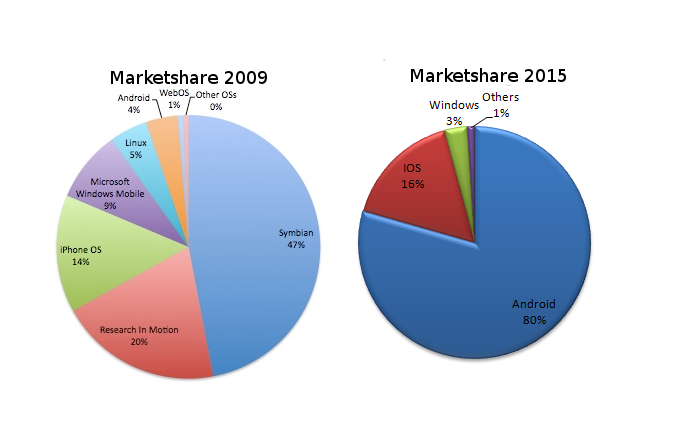 The new game changers; Google, Apple and Microsoft to a lesser degree control a combined marketshare of 99% of all mobile phone operating systems running on Smartphone devices today which is a far cry from 2009. WhatsApp making the conscious decision to concentrate their resources on these brands by all accounts is the smart move. Symbian and Blackberry sadly have to go.
WhatsApp had these last words to say in a press release soon after their 7th birthday:
While these mobile devices have been an important part of our story, they don't offer the kind of capabilities we need to expand our app's features in the future.
This was a tough decision for us to make, but the right one in order to give people better ways to keep in touch with friends, family, and loved ones using WhatsApp. If you use one of these affected mobile devices, we recommend upgrading to a newer Android, iPhone, or Windows Phone before the end of 2016 to continue using WhatsApp.
The silver lining to hold onto from this announcement is that the cost of buying a Smartphone steadily continues to drop while the specs in turn continue to get better and better with each new release. Affected users should consider this a gentle nudge to toss their old smart phones in storage -to show their grand kids one day- and get on with the new. Technology is ever evolving. You shouldn't be left behind.
Advertisement - Continue reading below