Android Instant Apps is a nifty little trick Google showcased at the annual Google IO 2016 event that just made non-committal app hunting a whole lot more interesting. Basically what it does is give you a jaribu -a taste- of the app without having you download the whole thing only to regret doing so a few minutes later. This way, if you don't like what you see, no MBs are wasted in the process. You can actually use the app, say, to shop, effect the transaction and get out of there.
Let's face it, we all have a bunch of perfectly useless apps we downloaded with high hopes they would fill this void in our hearts but all they did was fill our smartphone memory and clog up our limited RAM. Nobody wants to receive that nagging notification that their RAM is maxed out. Lots of these apps are good for one use only for that matter and then we won't be needing them anymore. It does make sense if you didn't have to download them altogether. Google just made that a reality.
Advertisement - Continue reading below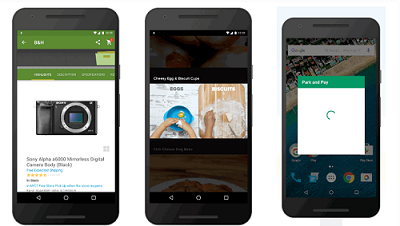 Instant Apps run from Android servers with Google Play Store only fetching those bits of the app via a URL link you are directly in need of instead of the whole thing. These fragmented bits load fast enough that you won't notice any lag in the service. The webpage loads like an app bringing you a service after which you can simply close the hybrid page.
Here's a video clip from the Verge showing how Instant Apps works
Like all the other new products announced by Google at the event such as Allo and Duo, Instant Apps has not yet been launched so what the announcements and subsequent demos achieved was create a buzz for when the products are finally released in the coming month(s). Already Allo and Duo have a pre-register option on the Google Play Store.
Advertisement - Continue reading below