Don't say you didn't see this coming. It was only a matter of time after all. WhatsApp Messenger has for long been touted as a paragon of virtue for all chat apps. WhatsApp co-founder Jan Koum even wrote a sob story of growing up in the Ukraine in a communist country with a secret police tracking everybody's activities. That all is about to change now that Facebook which bought WhatsApp for $19 billion in 2014 wants more than bragging rights for owning the most popular chat app. Ka ching!
WhatsApp will share account information with its parent company Facebook and its sister companies, including usernames, phone numbers along with all other metadata we cannot even begin to comprehend. Facebook has been pointedly ambiguous in their wording choosing roundabout candy-coated words that don't convince anybody. In a nutshell, Facebook intends to monetise user information by push targeted ads from businesses. Read this here:
Advertisement - Continue reading below
---

Quotable: "We want to explore ways for you to communicate with businesses that matter to you too, while still giving you an experience without third-party banner ads and spam.

"Whether it's hearing from your bank about a potentially fraudulent transaction, or getting notified by an airline about a delayed flight, many of us get this information elsewhere, including in text messages and phone calls." 

By coordinating more with Facebook, we'll be able to do things like track basic metrics about how often people use our services and better fight spam on WhatsApp. And by connecting your phone number with Facebook's systems, Facebook can offer better friend suggestions and show you more relevant ads if you have an account with them. For example, you might see an ad from a company you already work with, rather than one from someone you've never heard of ~ WhatsApp Blog
---
WhatsApp's selling point has always been it's privacy policy. Unlike Facebook, WhatsApp did show intent to stick to their guns amid government pressure and the ever growing need to commercialise. We silently cheered whenever WhatsApp refused to hand over user information in Brazil and other countries.
When Facebook came into the picture in 2014, it was believed that WhatsApp needn't worry about money ever again. And they did go ahead and scrap that ridiculous subscription amount. WhatsApp could just continue being awesome and attracting more and more users. But ultimately, Facebook had to find some way of cashing in on the over 1 billion WhatsApp users.
Facebook has a terrible track record when it comes to user data and privacy. Facebook is first and foremost a well-oiled money minting machine in the business of selling ads. We all saw the aggression with which Facebook attacked Adblocker, all the while using those candy-coated words to placate us.
Advertisement - Continue reading below
In the words of WhatsApp co-founder Jan Koum, "When advertising is involved, you the user are the product." Make that a 1 billion strong product. If you are now freaked out by WhatsApp, alternatives include Telegram and Signal among those that have not yet sold out.
How to opt out of sharing account information with Facebook
WhatsApp users will have 30 days to choose whether to opt out of targeted ads on Facebook. Nevertheless, Facebook gets its way either way. WhatsApp will still share user data with Facebook even much as users won't receive targeted ads. WhatsApp shows us how to opt out of sharing account information in the following reproduced tutorial:
Option 1
Before you tap Agree to accept our updated Terms of Service and Privacy Policy, tap Read.
You will see a control at the bottom of the screen. If you do not want your account information shared with Facebook to improve your Facebook ads and products experiences, you can uncheck the box or toggle the control.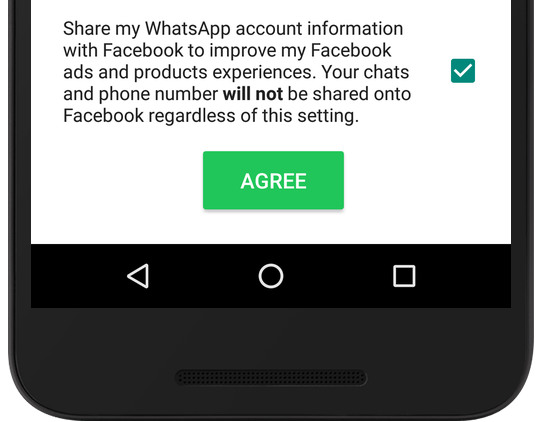 Advertisement - Continue reading below
Option 2
After you agree to our updated Terms of Service and Privacy Policy, you will have an additional 30 days to make this choice by going to Settings > Account > Share my account info in the app. If you do not want your account information shared with Facebook to improve your Facebook ads and products experiences, you can uncheck the box or toggle the control.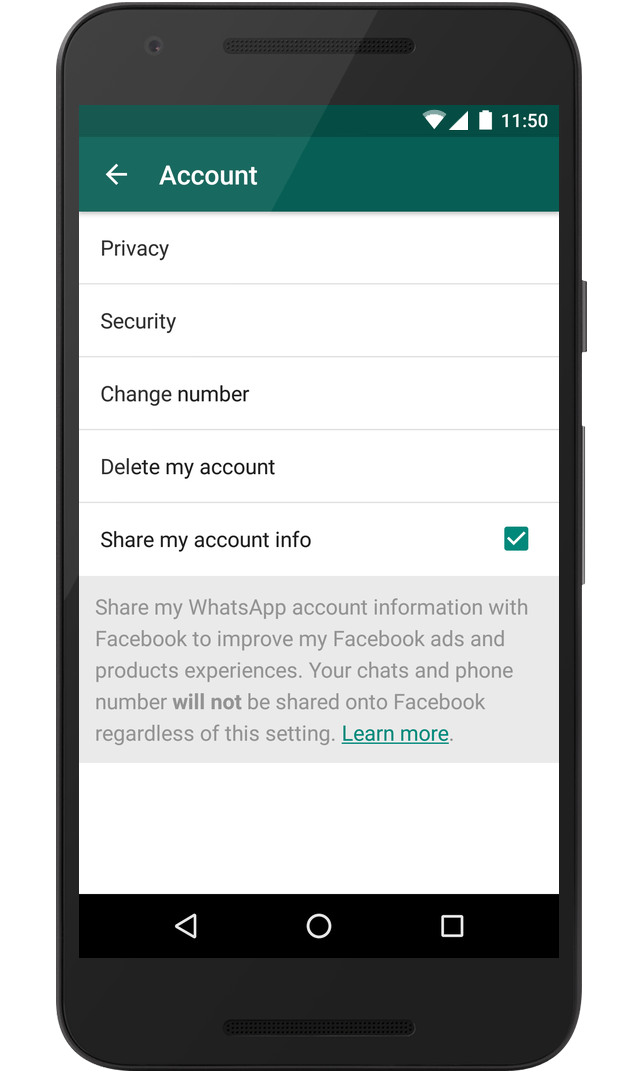 The Facebook family of companies will still receive and use this information for other purposes such as improving infrastructure and delivery systems, understanding how our services or theirs are used, securing systems, and fighting spam, abuse, or infringement activities.