Telegram messenger continues to trail blaze the messaging platform with a slew of awesome features which are later xeroxed by other chat apps. When most people crowd WhatsApp for the sheer number of users, Telegram retains its users by releasing the coolest features such as inline bots, trending sticker packs, self-destruct messages and all that. Now Telegram has added yet another. Telegram's bot-powered HTML5 Gaming Platform 1.0 is live with some 30 games to start you off. You can play these games solo or you compete for highest scores with a friend.
Equally impressive about Telegram's games is that they occupy zero space on your device. They are developed in HTML5, the same language used in webpages. So in effect, these games run like webpages. They fully support full sound and the graphics are just too awesome. The platform supports simple arcade games, 3D shooter and also real-time strategy games. What we didn't see yet is 2 player games.
Advertisement - Continue reading below
Telegram Games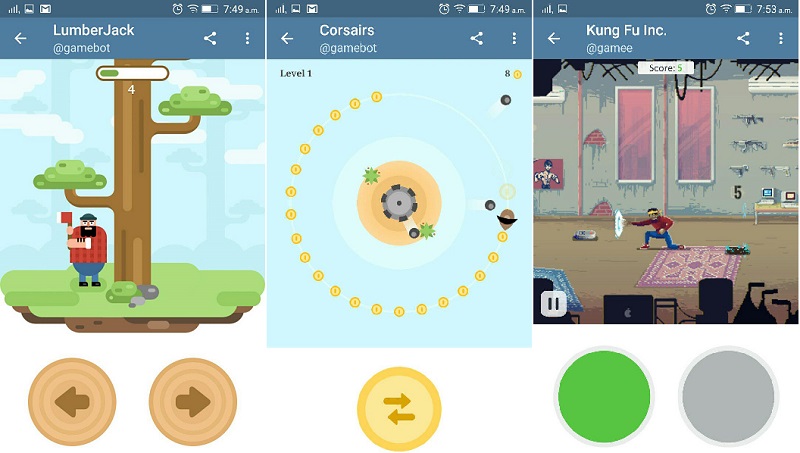 The games are fast and responsive. Given that many of the games were developed in a matter of hours, we are certain of even better ones to come. Telegram says there are 'hundreds' of more games coming our way and we just can't wait.
Quotable: "While these demos look basic, Telegram games can be anything from simple arcades and puzzles to multiplayer 3D-shooters and real-time strategy games. The underlying technology is HTML5, so games are loaded on-demand as needed, just like ordinary webpages. Games will work on iPhones 4 and newer and on Android 4.4 devices and newer. Note that your friends will need Telegram 3.13 or higher to play."Telegram Blog
Accessing the games is dead simple. All you have to do is go to @gamee or @gamebot and you will see a list of games. These include MathBattle, Corsairs, Lumberjack, Karate Kido, Kung Fu Inc, Mr. Muscle, Skipper, Mars Rover, e.t.c. These are some of those by Telegram developers. Telegram has an open policy and whoever has the skills to create their own games. If you can, head over to @botfather and birth your own new exciting game. May the Games Begin!