Email is an effective communication tool, and many can offer testimony to that, but using it for collaboration as a team on projects and getting work done is a major hindrance to productivity.  It is really time wasting, a negative for work stations. Microsoft brings us a corporate collaboration application, Teams, to make group work much more productive and fun featured.
Microsoft Teams is a chat and collaboration digital work space for Microsoft Office 365 customers, designed to simplify work. Its chat-based communication for business is a definite answer to competing platforms Slack and HipChat.
Advertisement - Continue reading below
The users are given a stage to set up Teams, each of which is a hub for group chat rooms also called channels. A single Team can accommodate multiple chat rooms to ease chat following with user notification on any updates. Once users need face-to-face conversation, they can jump into Skype voice or video chat with other channel participants, with a single click.
And it is much more than a chat hub. Teams is integrated with Office 365 implying a tie to other Office services such as SharePoint, PowerPoint, OneNote, Planner, Power BI and Delve. So, any documents, spreadsheets, presentations and the like shared within a Team are synced with a copy stored in Microsoft OneDrive cloud storage and a local SharePoint environment.
From there, every Team member can always access the latest version of the document with collaborative editing very much possible including a reflection of each one's change in real-time. Access to files, internal sites and dashboards is auto-controlled by Office 365 Groups and SharePoint. Users can create a new Group or at least attach the Team to an existing Group when creating the Team.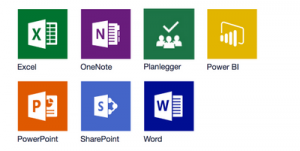 It is designed to meet the same security and data protection standards as Office 365 with a two-factor authentication, single user sign on through Active Directory and encryption of data in transit as well as at rest.
It is an easier way for communication and collaboration than via group emailing and sharing of files via multiple services. It is also cross-platform, with clients for Windows, macOS, Android, iOS and the web all able to access it.
Advertisement - Continue reading below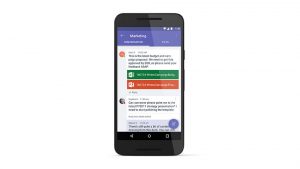 In contrast to its competitors Slack, Teams can not be used to communicate and collaborate with people outside of an organization but Microsoft says it will add a guest access feature by June 2017. Slack is also available as a Freemium product, whereas Teams requires an Office 365 subscription which costs $60 per year at the least. HipChat meanwhile charges $2 per user for a month for its Plus service.