Vodafone Uganda has introduced a new internet bundle called the Power Pack Bundle. According to their website, this bundle gives you daily data, bonus/reserve data and Free WhatsApp valid for 3, 7 or 30 days. The Power Pack Bundle comes in 4 options starting from 2.5 GB to 90GB with validity varying from 3 – 30 days and prices varying from Ugx. 30,000 to Ugx 320,000
It is interesting to note that they aren't calling it unlimited and rightly so because data limited with usage caps and speeds throttled isnt unlimited is it? We've taken a thorough look at the new Power pack bundle; what they are offering, price, volumes, validity and uniqueness. We also do a comparison between the Power Pack bundle and other offers.
Advertisement - Continue reading below
What you get 
Daily data with varying volumes depending on your usage or needs
Bonus/Reserve data to keep you connected even when you exhaust your daily data quota
Free WhatsApp

How it works
You buy a bundle from the options e.g. the 30k Power pack valid for 3 days. This bundle will give you a daily 500MB, an extra 500MB in case you exhaust your daily bundle but still need to stay connected. It also gives you 500MB worth of WhatsApp valid for 3 days. The bigger bundles give you more data and longer validity.
The Vodafone Power Pack Value
Stay connected even after hitting your daily quota with the bonus data
Free WhatsApp
You get more data overall compared to the competition
Uncapped speeds
Self Help web Portal
Android and iOS App to help you monitor your data, recharge, access customer care etc.
Top up your data at any PayWay, Pebuu, Shell, DStv outlets plus over 4700 more partner locations
Vodafone Power Pack compared
We compare the different packages from MTN, Smile and Airtel to Vodafone Uganda. Here is how they hold up.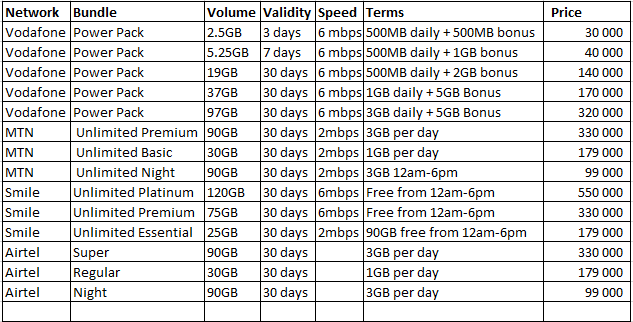 ***Vodafone Uganda speeds aren't capped and will vary depending location and traffic. Vodafone Power Packs come with Free WhatsApp
We have no confirmation of Airtel Uganda speeds and will update as soon as we do
Advertisement - Continue reading below
The Vodafone Power Pack Bundle will works best for;
The Individual who wants to stay connected on a steady and fast network whether for a few days or a whole month
Small Business/SME, Entrepreneur with average internet needs of between 1-3GB daily
Perfect for home to connect multiple devices keeping the whole family connected. The free WhatsApp would come in handy for the whole family at this point.
Best for family entertainment and working from home.
How/Where to buy
Vodafone customers can buy airtime and data bundles using any of the following options available 24/7:
Recharge vouchers (Scratch Cards): To purchase a recharge voucher please visit any Vodafone store or retailer and visit MyVodafone to load or download MyVodafone app for Android or iOS. After buying the airtime
Load data bundle: Log into MyVodafone or download the MyVodafone App here to recharge using a credit/debit card and to convert airtime into a data bundle.
Mobile Money: Purchase Airtime credit using  Mobile Money and convert it into a data bundle of your choice.
Vodafone Uganda Stores Partners: You may be more used to the Vodafone Uganda stores, PayWay, Shell Petrol Stations, DStv outlets among many others. You can load airtime or data conveniently from a choice of over 4,700 partner locations and more.
You can Top Up airtime and data with any of the Vodafone Uganda partners (over 4,700 partner locations and growing)
Ug Mart
Yo Uganda
Quickteller
True African
Micro Pay
Intelworld
Tradelance
Selcom
Shell petrol stations
DSTV outlets
Advertisement - Continue reading below