Not on so many days would you get a chance of marching along a sounding brass band on the streets of Kampala. The feel of striking your legs to the tune of the beating drums is also just not for everyone. This was a different case when Infinix Mobile organised a brand awareness march for their fans and well wishers.
The march, which was originally scheduled for two days – Friday and Saturday, was specifically for brand visibility and to facilitate user brand connection. This was to be done through one on one interactions between users and the Infinix Mobile team.
Advertisement - Continue reading below
I was able to march, call it taking the walk, and it was an amazing experience. It was primarily a physical exercise for me given the fact that I am not at all regular in the gym, and also a chance to march along a brass band – I had never experienced it.
The route plan didn't change from the earlier announcement. It all started at the Wandegeya traffic lights,  through Bombo road, to Kampala road. There was a stop-over at an Infinix shop where phones were offered at a discount, and a spin wheel had been mounted for fans to win gifts. They indeed won, and walked away with them instantly.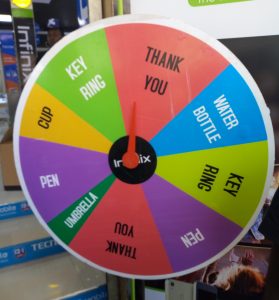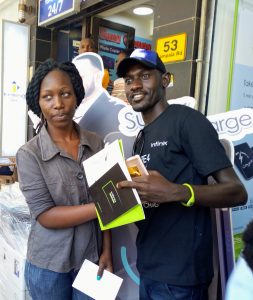 The march went on to Jinja road and we slowly moved on upto the Lugogo Game mall.
What you missed 
Advertisement - Continue reading below
The band had a lot of talent in it. The acrobats kept the crowds gazing in awe, just as the young lads that kept blowing the trumpets.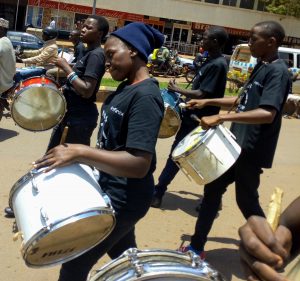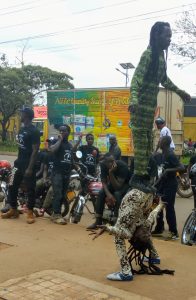 There was quite a lot to win, with a promotion of taking a selfie with the brass band winning one a gift hamper.
Another big thing was meeting new people, with whom you could share experiences and interests. If you are the kind that likes moving places and meeting new faces, you definitely missed out on that.
Generally, the march went on well and we managed to reach Lugogo with ease.
If you attended the march, please send in your experience and what you loved about it.
Advertisement - Continue reading below