What if I told you that you no longer need to brave long queues at the banking hall just to deposit or withdraw money from your bank account? Sure, you could use an ATM machine but only if it's near, working, accepts deposits and if you have your ATM card with you.
Using what's called "Agent banking", Centenary bank seems to be on the edge of bringing its financial services closer to the people by authorizing independent "Agents" to act on its behalf. With the approval from Bank of Uganda(BoU), Centenary bank is the first bank to taste out the agent banking waters with some pilots launched in Masaka district late last year.
Advertisement - Continue reading below
---
Related post: The banks are about to go after mobile money with Agency banking
---
Telecoms have already proved that you can do more when you decentralize financial services using third party agents who accept financial deposits and withdrawals on behalf of a larger financial institution. Now the Telecoms boast of more than 50,000 Mobile money agents and about Ugx 44 trillion transacted on the mobile money networks as of last year.
---
Related post: Mobile Money charges in Uganda: A complete list of mobile money rates across all the providers
---
But banks are now responding with similar model. Centenary bank customers can deposit or withdraw money from their bank accounts using authorized bank agents. Every agent has an agent number written on a poster which also has transactions charges. Just like mobile money, you are not charged for depositing cash into your account, but you'll be charged when withdrawing money and when you pay bills and make utility payments.  The fee is dependent on the amount you are withdrawing and you can see the Centenary bank agent tariff guide in the picture below.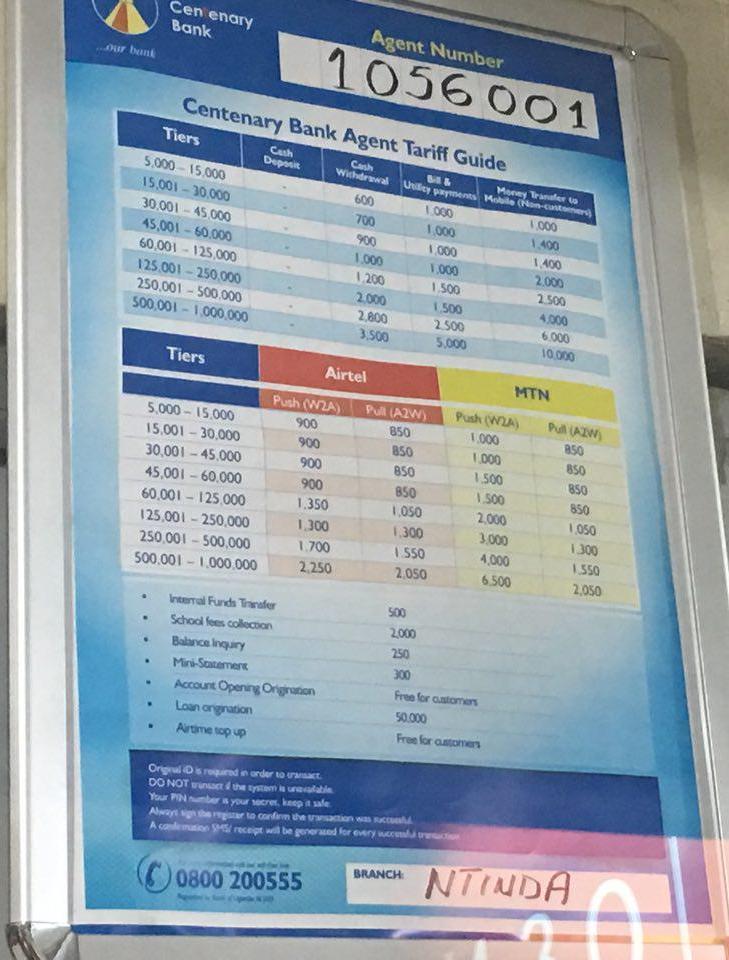 Advertisement - Continue reading below
Now there are number of things that agents are not allowed to do and they include;
* Carry out a transaction when the system is down.
* Charge fees directly to customers.
* Undertake cheque deposits.
* Distribute cheque books, ATM cards or PIN mailers.
* Conduct foreign exchange transaction.
* Sub-contract other persons to provide agency banking services.
* Grant loans or advances or carry out appraisal function for purposes of opening an account.
When we interacted with one of Centenary bank agents at Ntinda Capital shoppers, they didn't seem to be well conversant with the system as mobile money agents are with Mobile money services. That's not a surprise since this is a completely new system. Centenary bank customers, next time you want to perform any banking services, you might to save yourself from long queues at the bank and try out banking agents.