Since the rebranding of Orange Kenya to Telkom Kenya mid last year, the company has been on a roll. Telkom became the 2nd operator in Kenya to launch an LTE network. Thanks to a very deliberate push to undercut their competitors on data prices, the company has continued to receive positive feedback. Today, the teleco seeks to push that a step further by launching their mobile money platform, T-Kash.
Also Read: Telkom Kenya, Awakening of the Sleeping Giant.
Advertisement - Continue reading below
@MareuseAldo our CEO breaks down the importance of the mobile phone and mobile money to the economy and our lives. #TKashIsHere pic.twitter.com/GFggWzeDpu

— Telkom Kenya (@TelkomKenya) March 12, 2018

Mobile money in Kenya is a tough one to crack seeing as Safaricom's M-PESA has it all on lockdown. Telkom hopes to make an impact and to stir up competition in the telecommunication sector by listening to the customer and rolling out services that offer solutions to issues plaguing them with the competitors.
That said, what does Telkom Kenya's T-Kash bring to the table?
Availability on both USSD and Sim Toolkit
Telkom's T-Kash will be accessible both via the normal Sim Toolkit and also on USSD. Customers can dial *160# from their T-Kash registered Telkom lines to access the platform. Telkom says the functionality for both USSD and STK will be similar, not a stripped down version of the other.
Advertisement - Continue reading below
Cheaper rates
Kenyans are very cautious on rates. It, therefore, goes without saying that to make any meaningful impact, you have to undercut the competition, and that is what Telkom did.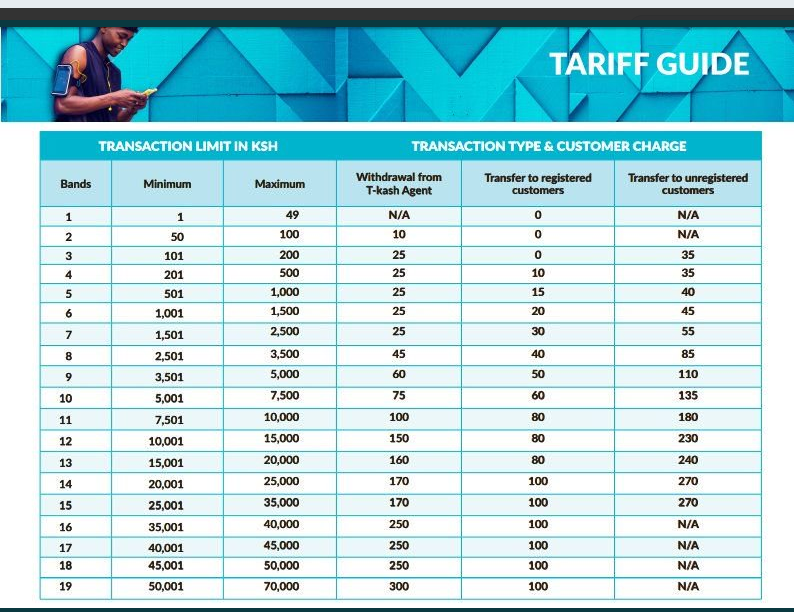 The maximum account balance for T-Kash is Ksh 100,000, same to other operators. The maximum amount transacted per day is capped at Ksh 140,000 and the per-transaction limit is set at Ksh 70,000 per transaction.
T-Kash might have a fighting chance if the mobile money interoperability push goes through. Customers from MPESA and Airtel Money will be able to send cash directly into a mobile wallet and vise-versa.
Stay tuned for a comparison of Transaction charges between MPESA, Airtel Money, and T-Kash.