It is already a week past the Africa Blockchain Conference, which was held at the Serena Conference Centre in Kampala under the theme "The Role of Blockchain Technology in Africa's Transformation". The conference  sought to showcase the different, yet relevant, use cases in a variety of sectors to demonstrate the value and importance of the technology.
The conference was hosted as a partnership between the Blockchain Association of Uganda and Uganda's Ministry of ICT and National Guidance with a wide range of discussion topics such as cryptocurrencies and digital assets, governance, cybersecurity, regulation and policy, risk and investment opportunities, innovation and technology among others.
Advertisement - Continue reading below
It featured representation from 23 countries, with over 750 attendees, 100 pitch competition submissions and over 60 speakers and panelists, all building a case for the adoption of the technology in Uganda and Africa as a whole.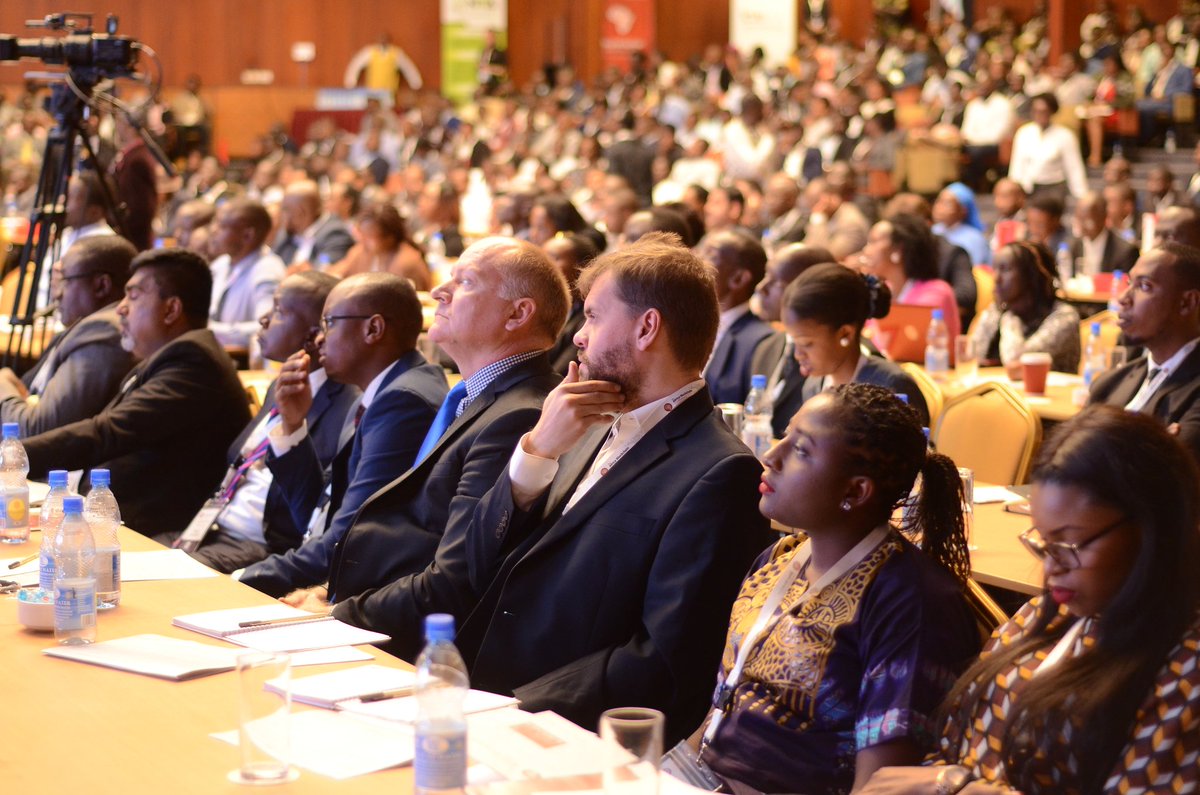 What is Blockchain Technology?
Blockchain is a distributed collection of accounts that allows for the creation and management of decentralized systems and processes, so as to enhance efficiency and transparency of transactions across business operations. It is already disrupting and redefining traditional governance and business models across the world; from the way information is created, managed, and shared to the way products and services are delivered. Various presentations and use cases were brought forward during the summit, and it is from these that we pick the takeouts.
Key takeouts from the Conference
Africa is ready for Blockchain
Dr. Bitange Ndemo, from the Blockchain Association of Kenya, noted that this is Africa's opportunity to have a lead in an innovation.
"In Africa, we were sleeping when Americans were making Facebook, Twitter, WhatsApp, Snapchat etc. You want people to be saying, 'yes,we had a Blockchain conference but we didn't use the technology.' Let's quickly embrace Blockchain technology"
In addition, a presentation from the 6th president of Mauritius, Dr. Ameenah Gurib-Fakim, on how to secure herbal rare plant species, most of which endemic to the Mascarene Islands of Indian ocean, and how their potential is being threatened by habitat loss and species extinction.
Advertisement - Continue reading below
"This is a game changer to Africa that has so much to offer and has lost so much…"
Uganda is also ready for Blockchain, not crypto-currency
When we saw the list of key note speakers with the Bank of Uganda Governor, Tumusiime -Mutebile included, we could only wait to listen to his presentation, and whether he would allow or reject the entire technology – based on the institution's previous remarks in regards to crypto-currency.
Nothing changed, the governor spoke at the Africa BlockChain Conference, and he asked the audience to explore the potential uses of the technology and the opportunity it offers, while warning of the risks that come with crypto-currency.
"We are here to talk about the Blockchain technology and the opportunity it offers. I thought I would use this opportunity to share [our] views about cryptocurrencies but also remind you that the emergence of cryptocurrencies should not divert us from the important role central banks play as a steward of public trust. Please note that cryptocurrencies and the technology that supports it, which is blockchain are two distinct things. Our focus today is blockchain, not cryptocurrency. Beyond its application in cryptocurrency, blockchain is viewed as a revolutionary technology with the potential to change the way we manage data as well as do business "
He further emphasized that no cryptocurrency can match a well-managed national or regional currency.
"Cryptocurrencies do not have the privileges of legal tender and are not backed by a central bank, which ensures that supply of currency is adequate to meet the demand. In view of the risks relating to cryptocurrencies, Bank of Uganda issued a warning to the users of cryptocurrencies to beware of the risks."
In his address, the president of Uganda, H.E. Kaguta Museveni opened the two-day conference stating that it was necessary for blockchain technology to be studied in-depth to identify the risks and find ways of curbing the risks while enhancing the benefits.
He seemed to differ from the governor, and kept on referring to his comments as 'old school' while asserting that cryptocurrencies present an interesting proposition about the evolution of money. He asked the people involved in technological innovation to use their discoveries to improve ways of doing business so that it is easier, faster and more effective. He added that this should not be about merely replacing traditional ways of production of goods and services with technology.
Advertisement - Continue reading below
"I congratulate the brains behind blockchain technology because this innovation will go a long way in providing important solutions in record management in areas of land, finances, revenue, health and public management. This technology should be appreciated because it is an innovation of professionals who are transparent and trust each other. They are elites working to replace the traditional way of secrecy with openness in doing business."
The president concluded by saying Uganda would ensure regulatory frameworks that govern cryptocurrencies and blockchain in Uganda. He said despite the nascent nature of blockchain technology, it was unwise to ignore it since it would curtail innovation and fail to capture any potential benefits it presents.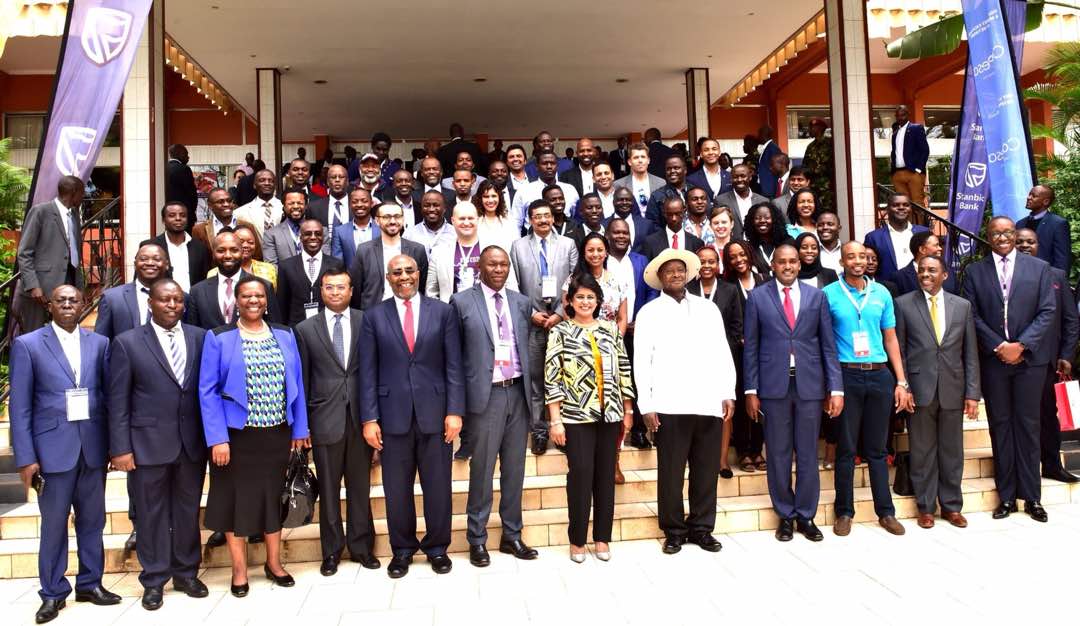 Blockchain can solve many of the Africa's problems
Africa is engaged in big fights against issues like corruption, bad governance, mismanagement and lack of accountability. These have resulted in the loss of income to tax evasion, excessive spending, and mismanagement of public funds. But there have been applications of the blockchain technology in parts of the continent which indicate that it can actually solve these roblems to nil.
Land Fraud: In Ghana, where this is a serious concern, Bitland is providing land registry services using Bitshares blockchain, allowing nationals to register property ownership. This takes the burden of guaranteeing property rights and confirming transactions off corrupt and underfunded local authorities, and thus securing the property.
Education: In Kenya is developing an educational system built on an Ethereum blockchain.
Business: Project UBU aims to empower lower income South Africans with a blockchain-based digital currency. ChamaPesa uses blockchain to help local Kenyan cooperatives improve bookkeeping.
Governance: Sierra Leone recently used blockchain technology, which was put in place by Swiss tech firm Agora, to count votes during their recent parliamentary elections, allowing for a fair and transparent election.
Advertisement - Continue reading below
What are the next steps?
Formation of the National Blockchain taskforce
Hon. Frank Tumwebaze, the Minister of ICT and National Guidance, said that his ministry will appoint a taskforce to explore how the Ugandan government can utilise blockchain technology.
"I have agreed with the Blockchain Association of Uganda, that in the coming weeks, the Ministry will appoint an advisory task force of eminent people on blockchain to further assess the opportunities of the technology and challenges, and advise the government on how to harness the technology. Blockchain technology like any other innovation will successfully take root in Uganda. If you push technology away, others will adopt it."
Sandbox to establish policy and regulatory framework
A sandbox is a virtual space in which new or untested software or coding can be run securely. Regulation frameworks and case studies of successful startups that are leveraging blockchain technology in Africa at the moment will be studied to come up with policies that will guide the stakeholders on how best to move forward. All these will be done within the designated sandbox.
Training of developers and blockchain experts
The CEO of Binance, Zhao Changpeng, met with the Blockchain Association of Uganda to discuss collaboration which resulted in  a partnership with Crypto Savanna, a Ugandan blockchain innovation hub, to aid in the economic development of the country's blockchain literacy.
@binance will partner with @cryptosavannah @AggieKonde @HelenHaiyu to support Uganda's economic transformation and youth employment through blockchain, embracing the 4th industrial revolution. We will do this by creating thousands of jobs and bringing investments to Uganda.

— CZ (@cz_binance) April 22, 2018
The partnership will help an overall improvement in Uganda. These include generation of employment, the attraction of investments and overall growth in the economy.
Advertisement - Continue reading below
Large numbers of people across many regions of Africa do not have access to banks, and more than 30 million Africans work abroad and send money home, so technology that allows people to connect with the financial system could potentially find mass adoption there. For example, M-Pesa, a mobile phone-based payment service, processes over 25% of the entire gross national product of Kenya.
Uganda is not the only African country with a hub for Blockchain technology; others include South Africa, Kenya, and Zimbabwe.
Africa Blockchain Conference 2019
With a successful and sold out event, the registration for the Africa Blockchain Conference 2019 conference is now open. You can visit this link to register and be a part of it.
We are going to run a series of articles, to let you know more about blockchain in a whole.