We've known Payway Uganda as that payment processing company with sleek Kiosks and a wide agent network across the country; always there to make your payments needs served. The company has grown, and has now launched a mobile wallet app, which is already available in the Google Play Store.
This will increase the options available for customers to pay for goods and services using the platform, while allowing them to do so wherever they are.
Advertisement - Continue reading below
With just your National ID picture needed to be uploaded during registration, registered customers will be able to top up float, send and receive money through the wallet. The first version has airtime top up for all networks in Uganda, while other payments like Utility bills, Pay TVs, Internet bundles and much more shall be added soon.
Using the PayWay Mobile Wallet
To get the App, simply go to the Google Play Store, Type in PayWay Mobile Wallet to download the App and register with your mobile number starting with country code eg 256…..for Uganda. Your mobile number is your account number.
To purchase Airtime for oneself or any other telephone number, click on Payments, input the destination mobile number and follow prompts.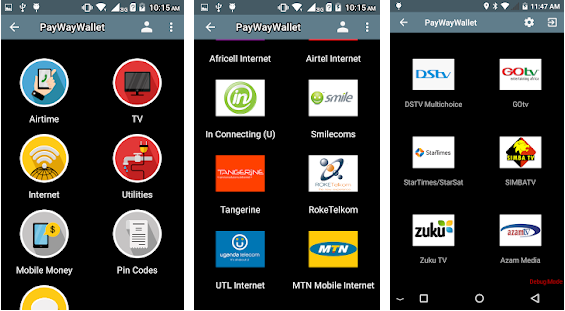 Topping up
You can top up your wallet at any PayWay retailer location country wide or visit any PayWay self-service kiosk near you. Mobile Wallet Top ups are under Mobile Money on the Menu. One can also top up using Visa or MasterCard by login to the PayWay Web Kiosk.
At the moment with the app, one can do Airtime top ups for all networks, sending and receiving money to registered mobile wallet users. PayWay intends to add on the platform Umeme Yaka, NWSC payments, Internet bundles, School fees payments, Mobile Money and much more.
Advertisement - Continue reading below