How sleek will it feel to have the capacity to make HD calls on both SIM cards of your device? Very sleek, isn't it? Well, that's what the Dual SIM Dual VoLTE brings to the table. Questions going through your mind will be: what's Dual SIM Dual VoLTE anyway? What are HD calls exactly?
It seems like too many questions in a single paragraph. Don't worry, we've got you covered.
Advertisement - Continue reading below
What is Dual SIM Dual VoLTE?
Dual SIM Dual VoLTE is a new technology that allows both SIM cards on a smartphone to run 4G LTE networks simultaneously. Simply put, none of the two SIM card's 4G connection will be sacrificed when one of them is switched on.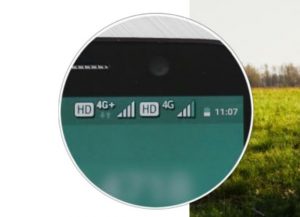 There are uncountable smartphones in the market that support 4G LTE networks but users don't get the chance to operate LTE connection on both SIM cards at the same time on the phone. With Dual SIM Dual VoLTE (DSDV), smartphone users can kiss such challenges with a goodbye kiss. A phone with DSDV can make VoLTE calls (HD calls) with both primary and secondary SIM cards.
This new technology is supported on the latest chipsets released by the following notable chipset manufacturers – Qualcomm, MediaTek, Samsung, and Huawei.
Why it's important?
There must have been instances where you tried to run 4G on one of the SIMs on your 4G-enabled smartphone. Once you do that, the other SIM card loses its LTE connection and reverts to 2G / 3G network. This is as a result of your phone supporting only one LTE network at a time.
Here are what you benefit once your phone supports Dual SIM Dual VoLTE:
Advertisement - Continue reading below
Browse on one SIM with the 4G connection, and also make HD calls on the other over LTE.
None of the SIM cards' LTE connection is sacrificed for the other.
Make HD calls on both SIM cards at any point in time.
It's worthy of note that LTE with VoLTE are considered three times superior over 3G's call and data ability. In that light, DSDV should be something to look out for when you want to purchase a new smartphone.
Which phones/chipsets support it?
The phones that support this technology are those that have the latest chipsets from Qualcomm, Snapdragon, Samsung and Huawei. This is because the technology has to do with the chipset. As a matter of fact, a phone with the latest OS  but not the latest chipset from any of this manufacturers can't perform this function.
The latest Qualcomm chipsets supporting this function are Qualcomm Snapdragon 845, 660, 636 and 630. MediaTek SoCs with DSDV technology includes MediaTek Helio P60 and Helio P23. For Samsung, it's Exynos 9810 Octa while for Huawei, it's HiSilicon Kirin 970.
Smartphones on 4G DSDV
The following smartphones support this new technology:
Asus – Zenfone Max Pro M1, Zenfone 5Z
Huawei – Mate 10, Honor View 10, Honor 10, P20, P20 Pro
LG – LG G7 ThinQ, LG G7 One, LG G7 Fit
Nokia – Nokia X5, Nokia X6, Nokia 6.1(DSDV support via OTA update), Nokia 7 (OTA update), Nokia 7 plus (OTA update)
OnePlus – One Plus 6
Oppo – F7, R15, R15 Pro Find X, F9 Pro
Samsung – Galaxy S9 & S9 Plus (after OTA update), Note 9
Vivo – X21, X21 UD, Nex S, Nex A, V11 Pro
Xiaomi – Redmi Note 5 Pro, Mi 6X, Mi 8 Lite, Mi 8 Pro
Which carriers support it?
All carriers that support 4G LTE network can carry out the DSDV function. Check out this article for all the carriers that support LTE with VoLTE.
Images: techmesto.com