One of the co-founders of the popular messaging app WhatsApp, Brian Action has said he sold his users' privacy when Facebook acquired the company. Facebook, in its biggest acquisition so far acquired WhatsApp for about $19 billion in cash and stock in 2014.
"I sold my users' privacy to a larger benefit, I made a choice and a compromise. And I live with that every day." Brian Acton told Forbes.
Advertisement - Continue reading below
This is not the first time Brian Acton is criticizing Facebook. Earlier on this year, he tweeted "#deleteFacebook" in the wake of the Cambridge Analytica scandal, where Facebook CEO Mark Zuckerberg admitted that as many as 87 million users' information was exposed to data firm Cambridge Analytica.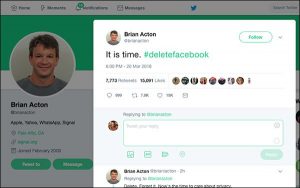 Brian Acton left Facebook in 2017. His fellow WhatsApp co-founder Jan Koum departed in August 2018, according to CNET . Brian's exit, cost him $850 million, according to Forbes.
Earlier this week, Instagram's co-founders Kevin Systrom and Mike Krieger announced that they are leaving Facebook. While a reason for their departure hasn't been given, The Wall Street Journal reported that it came amid clashes with Mark Zuckerberg.
---
Related Article: How to manage "Last seen" notice on your whatsapp
---
Facebook has been involved in controversy since the 2016 U.S. Presidential elections. Intelligence agencies based in the United States of America said that Russian actors used Facebook and Instagram to wage a campaign of disinformation in the election. In February, the Department of Justice issued indictments against 13 Russian nationals of breaking U.S. laws to interfere in the 2016 election.
Advertisement - Continue reading below
Earlier this year, Zuckerberg was forced to testify before Congress after Cambridge Analytica, which worked on the presidential campaigns of President Trump and Ted Cruz, had stolen data from as many as 87 million Facebook users.
After the Cambridge Analytica scandal, one of the founders of WhatsApp, which Facebook acquired in 2014, Jan Koum, said he was leaving the company. According to reports at the time, Korum expressed concern over Facebook's "attempts to use its personal data and weaken [WhatsApp's] encryption