It could be of interest to you that not everyone that has your Whatsapp contact should be granted knowledge of when you are on and when you are off. By default, WhatsApp sets your privacy settings to allow any other user to see your read receipts, last seen, about and profile photo. Your contacts are also allowed to see your status updates.
But your interests could differ, especially if you treasure your privacy to the brim. To change these settings, the simplest path would be to go to WhatsApp Settings, check out your Account, and edit Privacy. In detail, let's look at how you can manage the privacy of your Whatsapp contact.
Advertisement - Continue reading below
For Android smartphones
Launch the Whatsapp application and click on Menu in it represented by a 3-dots symbol on the top right-corner. You can as well access it from the menu button in the three capacitive button at the bottom of your screen. Under the Menu, you will find Settings, which when tapped bring along a series of options. Look out for the Privacy option and select it.
Under the Privacy, you should be able to see the Last Seen option under Who Can See My Personal Info. Just tap on it and select whom do you want to show the information: Everyone implies that the info will be visible to all, My contacts implies that the info will not be visible to people other than your WhatsApp contacts, and Nobody implies that no one can see the info and neither can you see their Last Seen info.
---
Read About: Whatsapp Business app is now available for Android
---
For iOS Smartphones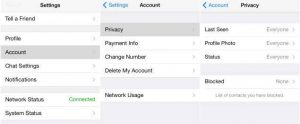 Launch Whatsapp and then tap on Settings in it, located at the bottom right corner. In Settings, you will find an option named Account. Tap on it and then tap the Privacy option under it. Then tap on Last seen to change it from Everyone where your info will be visible to all, to My contacts where it will not be visible to people other than WhatsApp contacts or Nobody where no one can see the info and neither can you see their Last Seen info.
Note that, whereas you can hide your last seen, there is no way to hide when you are online or typing. If you turn off read receipts, you won't be able to see read receipts from other people; and once a contact has disabled read receipts, you will not be able to see that they have viewed your status update.