In time past, Facebook users on Android had the option of Facebook entirely tracking their location or not. In other words, once you grant Facebook permission to access your location, it collects your location data whether you're using the app or not. And when you turn it off, they can't access it in anymore. To utilise features like Nearby Friends or Location tagging for your photos, location access is actually needed. So, putting off location might deprive users of those advantages.
Now, that has changed as Facebook has introduced a new setting called the Background Location Setting. With this feature in place, Android users can block Facebook from accessing their location information while the app is not in use. Yes, more control over privacy.
Advertisement - Continue reading below
If you've noticed, there's no mention of iOS devices such as iPhones or iPads. That's because iOS users have the native enablement to prevent apps not in use from gaining knowledge of their location. Android, on the other hand, lacks this control. It's more of the OS's working mechanism – Apps have full control of your location once you permit them.
READ MORE: How to stop Google from tracking your location
Back to the bone of contention, the new feature is currently rolling out to all Android users as we speak. And this is how to use it:
Launch Facebook app on your phone.
If you receive the notification with the header: "A New Background Location Setting to Give You More Control", you're good to go.
Beneath this alert, tap on Manage Settings.
You'll be directed to the Location Access settings where you'll see Background Location. At this point, you'll turn the background location off.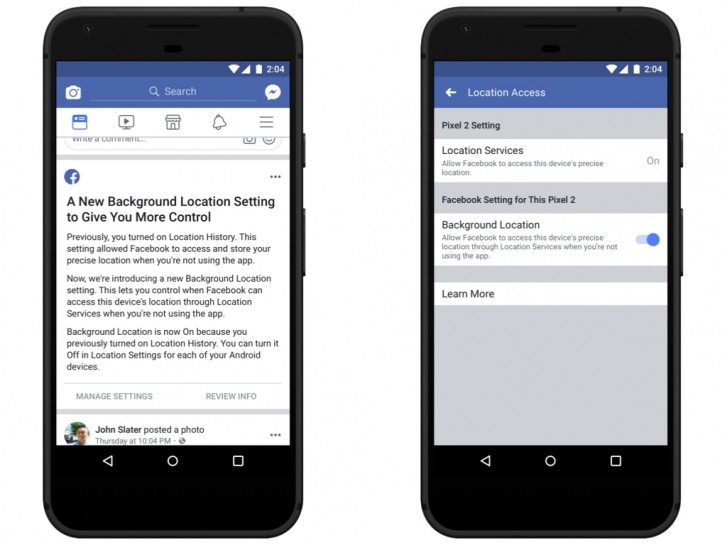 In case you ignore the notification, all hopes aren't lost, you can try out this other method:
Tap the settings menu (with the hamburger icon) at the top right.
Select Settings & Privacy.
Tap the Privacy Shortcuts.
Then, you'll select Manage your location settings.
You can now toggle the Background Location off.
Without hassles, you can now prevent Facebook from background location tracking. Note that if you didn't put on the location access, you don't have to do anything. Your location is not within Facebook's reach.
YOU'LL FIND THIS INTERESTING: Does Leaving Your GPS or Location Turned on Drain Your Phone Battery?
Advertisement - Continue reading below