Xiaomi is spreading its reach in the gaming smartphone niche with the follow up on the Black Shark series and this is the third generation for the series. Pulled out in the Game Developers Conference event, the Xiaomi Black Shark 2 is a strong gaming dynasty incorporated into a smartphone with updates on its past feature and the introduction of some new features. Still adorned with LED light and the game-centric look, the smartphone will be working with controller accessories to make the gaming experience more enjoyable. However, with all these goodies, Xiaomi still manages to make this smartphone very affordable in comparison with the prices of competitions out there. Nonetheless, this is at its core still a smartphone that you can use for your normal day to day tasks.
Key Features
Processor: Octa-core Qualcomm Snapdragon 855 (1 x 2.84 GHz Kryo 485 & 3 x 2.41 GHz Kryo 485 & 4 x 1.78 GHz Kryo 485)
Display: 6.39-inch, AMOLED capacitive touchscreen, 1080 x 2340 pixels
Camera:Dual Dual 48MP + 12MP rear camera and 20MP front camera
OS: Android 9.0 Pie (JoyUI)
Battery: 4, 000mAh non removable Li-ion battery with 27W fast charging
RAM/Storage: 12GB/256GB, 8GB/256GB, 8GB/128GB, 6GB/128GB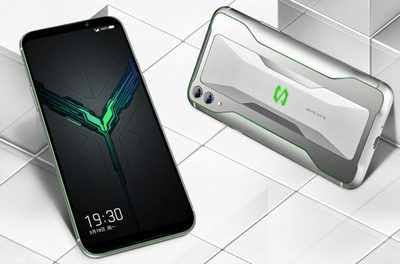 Design
The smartphone looks unconventional right from the box and you would know that by your first look. It has the X groove at the back with dents to house your hand while playing in landscape mode avoiding the antenna or wifi spot. At the sides, you'll find a power button, volume rocker and a toggle button you shift up to enter 'Shark Space' at the right side. Both sides also have strips of LED that you can customize to indicate calls, charging and other notifications. On the back, it has the Shark 'S' logo and some contours concentrated at the center.
Advertisement - Continue reading below
Read More: Xiaomi Redmi 7: Another Well Priced Budget Smartphone
There are gaming attachments that can be used with the smartphone for a more intimate experience. To use these additional gaming accessories, you will have to wear a special case for the smartphone that the accessories fit into. Furthermore, you've got a cooling module that can you can add to the back of the phone to help manage the temperature of the smartphone. Like it is with most of the high-end smartphones, there is no audio jack but you've got a USB-Type-C to audio jack adapter.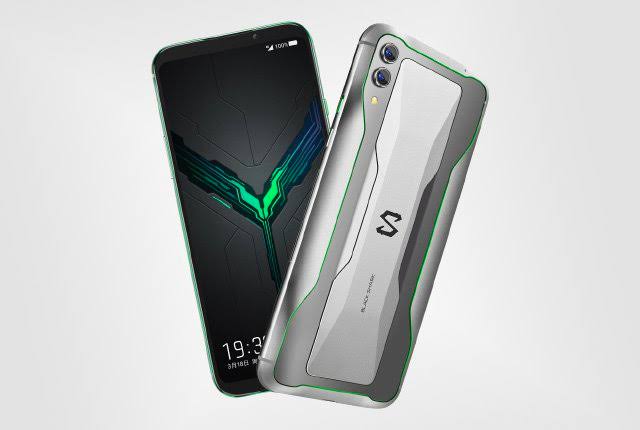 Display
Delivering content is a notchless 6.39-inch display with the vivid AMOLED panel delivering splendid contrast and 100% DCI-P3. The resolution on the screen is not top of the line but it is good enough to deliver punchy colours. Screen responsiveness is also quite good, better than most flagship out there with an input latency of 43.5ms that makes control during gaming smooth. Infused with 1080 x 2340 pixels, the display is also good enough for multimedia use with speakers at the top and bottom for surround sound. Going along with the recent security feature, the fingerprint scanner is now positioned in a section of the screen where you place your finger to unlock your phone.
Software and Battery
The smartphone runs Android 9.0 Pie from the box but with a UI different from other Xiaomi phones. Instead of the usual MIUI, the Black Shark 2 has JoyUI with more game focused features to make the smartphone an even more powerful gaming device. There is the toggle activated Shark Mode that frees up the memory for gaming. If that is not enough, you can enter the 'Ludicrous' mode which automatically boosts the processor and pulls all the power for gaming. Also, you've got a quick menu to check performance, display frame rate and more.
Inside, you'll find quite an ample battery juice just as a smartphone meant for games should have. Catering to the smartphone daily power needs is a 4, 000mAh which supports 27W fast charge to top up the battery in no time.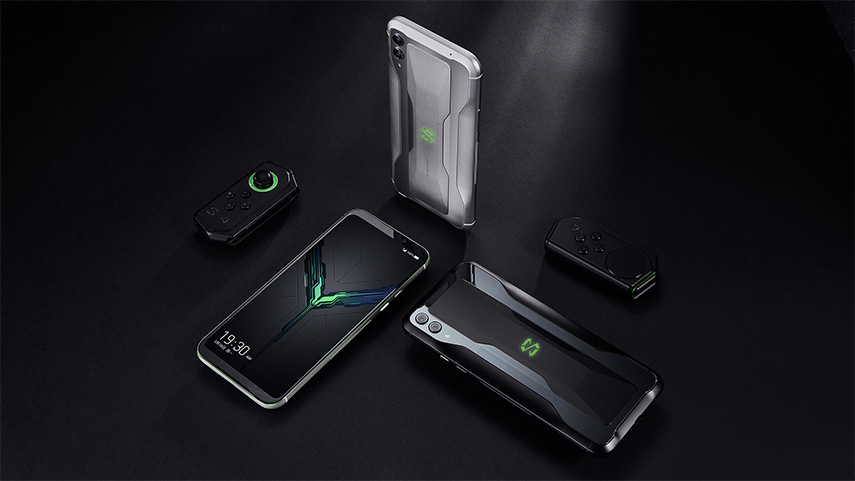 Hardware
Just like you have on gaming laptops too, the Black Shark 2 comes with latest and powerful Qualcomm Snapdragon 855 processor and a befitting Adreno 640 GPU. In addition, it has Liquid Cooling 3.0 which lowers temperature on both ends of the phone making sure you ave an all-round cooling down to the core where the chipsets are. There are different options as regards storage and memory on it. The top-end model has 12GB RAM and 256GB storage space, the next one has 8GB RAM on it and comes with either 256GB or 128GB storage space. The least you can get this smartphone with is 6GB RAM with 128GB built-in storage.
Advertisement - Continue reading below
Also See: Xiaomi partners with Jumia to launch into the African market
Camera
Even as a gaming smartphone, the Black Shark still has a dual rear configuration entertaining a 48MP camera and a 12MP sensor. You would be getting all the nice features of a modern day smartphone with portrait mode available on both sides. Talking of both sides, there is a lone 20MP camera taking decent selfies at the front end with AI assistance and other decent tweaks. Anyways, this is not the type that would focus on the optic part of the smartphone.
The price ranges from around $625 for the high-end version, while you can still get this same smartphone for just $500 depending on the storage and RAM you want