When you want to watch something on your smart TV, you can use a flash disk with your media and connect to it via one of the USB ports, stream online via the internet or connect to a Blu-ray/DVD player. The other thing you can do is connect your smart TV to a wireless NAS drive.
A NAS drive or Network Attached Storage hard drive is a storage device that looks like a big external Hard Drive that can hold vast amounts of your data. But that's not the best part. A NAS drive isn't just another granary for your music, photos and videos. You can turn it into like a Netflix of sorts streaming local media files to any of your wireless device connected to the same network. No internet is required. Also you get benefit of less cabling in the house.
Advertisement - Continue reading below
There are several NAS drives in the market. For beginners, you can checkout the $293 Synology DS218+ NAS drive or the $269 QNAP TS-251B-2G-US 2 Bay Home/SOHO NAS. And if you are particularly looking for something designed for home entertainment experience, then the QNAP TS-251+ 2-Bay Next Gen Personal Cloud NAS is a good start. It has an HDMI port which you can directly connect to the TV and even a QNAP remote is included.
So how do you connect a NAS drive to your smart TV?
HDMI Out
The easiest way is to use an HDMI cable which connects to the NAS drive's HDMI Out port to one the TV's HDMI in ports. The great thing here is that your TV doesn't have to be Smart TV, only it should have at least one HDMI port. However, NOT all NAS drives come with HDMI ports built-in. I have already mentioned the QNAP TS-251+ as one of the options that fits the criteria.
The QNAP TS-251+ 2-Bay comes with an Intel Celeron Quad-Core 2.0GHz, 2GB DDR3L RAM, SATA 6Gb/s, 2 Giga LAN, hardware transcoding and HDMI Out port. It's through this port that you can play Kodi or Plex directly to your TV. It also comes with a remote that you can use to control playback on the TV.
But you can also look at $300 ASUSTOR AS6302T. It comes with one HDMI port and has support for Plex media server. This ASUSTOR AS6302T 2 Bay NAS (Diskless) comes with the Intel Celeron Dual-Core 2.0GHz Processor, 2GB DDR3L RAM. For its media capabilities, it's equipped with HDMI 2.0 for local HDMI multimedia output. This HDMI interface is what you can use to connect to your TV's HDMI port.
Whatever NAS drive you get, it should run a media software such as Plex or Kodi which outputs some sort of User Interface via HDMI to the TV in similar way your laptops does when you connect it to the TV.
Advertisement - Continue reading below
Via WiFi
The most common way to stream content from NAS drive to a Smart TV is wirelessly. Both the NAS drive and Smart TV must be connected to the same wireless network usually created by a WiFi router. Most NAS drives don't have Wireless LAN. Instead they come with one or two Giga Ethernet ports. So you can connect the NAS drive to the WiFi router via an RJ45 Ethernet cable. Then the TV connects to the router wirelessly via WiFi. This only works with Smart TVs since most of them have WiFi built-in.
For a better user experience, make sure you NAS drive supports media server such as Plex or Kodi. They support a media streaming protocol called DNLA or UPnP that basically make your NAS drive visible to the Smart TV.
Read more: Stream your own home media: A complete guide to DLNA and UPnP
Some Smart TVs have Ethernet ports too. So it's possible to connect the smart TV to the router via an Ethernet cable. It's much faster option since you don't have to deal with WiFi signal issues.
Update: I have taken feedback from the comments. Most people say this article doesn't have all the details for connecting a NAS drive to a smart TV and I agree. I wanted to give an overview of what to do without delving into the details otherwise I would have made the post longer than I wanted it to.
Using the Plex Media Server
At the time of writing this post, I was using a Seagate NAS drive which I no longer have which made updating the article even more difficult. But if you're looking at streaming content from a NAS drive to a Smart TV, you basically need a DNLA/UPnP-compliant sofware or server. The most popular options are Kodi and Plex media servers.
Plex in particular has been changing over the years to lean more towards a stand-alone streaming Ad-sponsored service akin to the likes of Tubi, Pluto, IMDB TV etc. But it still allows you to organize and stream your personal collection of movies, music, photos to any device including Smart TV. Plex app is available on most smart TVs including Roku, Android TV, Fire TV, Tizen, Web OS. So it remains the best choice for streaming personal content to any TV platform.
Along with the Plex Smart TV app, you'll also need to download the Plex Media Server (PMS) and run it on your NAS drive. PMS is available on almost all popular NAS drives including QNAP, Synology, Asustor, Drobo, TerraMaster, Western Digital, FreeNAS, Netgear, Seagate, unRAID. For my case, I used PMS on Seagate Personal Cloud NAS drive which is available from their "app store".
Advertisement - Continue reading below
To connect your smart TV to the Plex server. Make sure they are both connected to the same WiFi network. Then from the Plex app on your Smart TV, go to Settings > Manual connections > Connection > Enter the IP of your NAS drive and optional the port, but you can leave the default 32400 if you didn't change it on the server.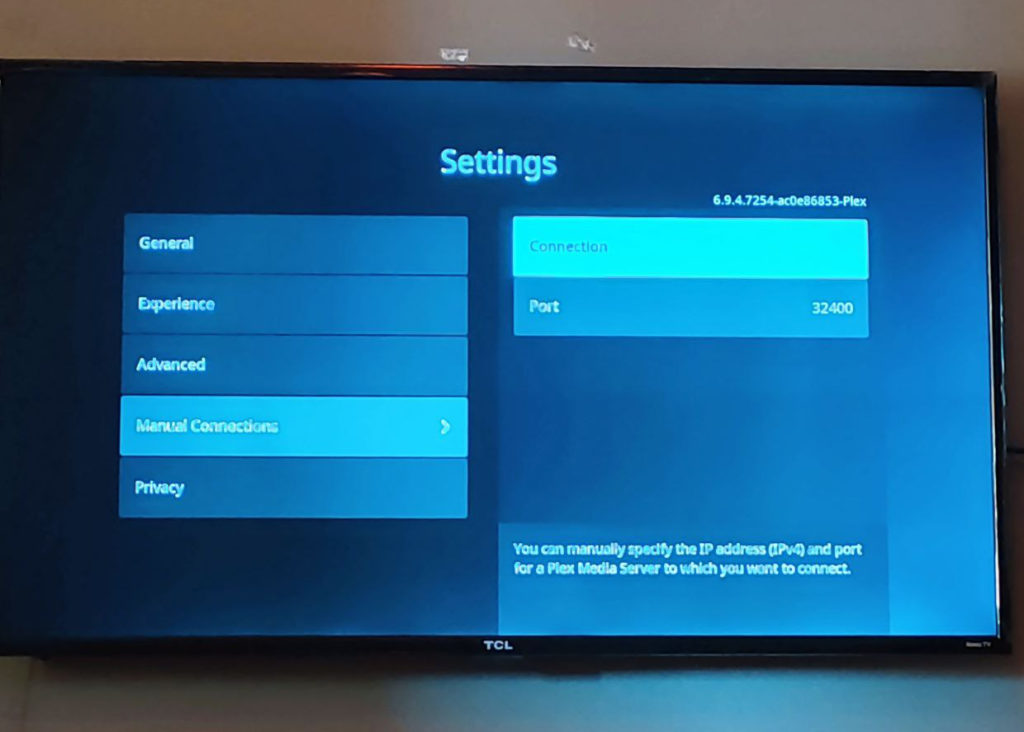 If all goes well, your personal content should be found under your Media section in the Plex App of your Smart TV. You should see all your content properly organized and ready to stream on your Smart TV.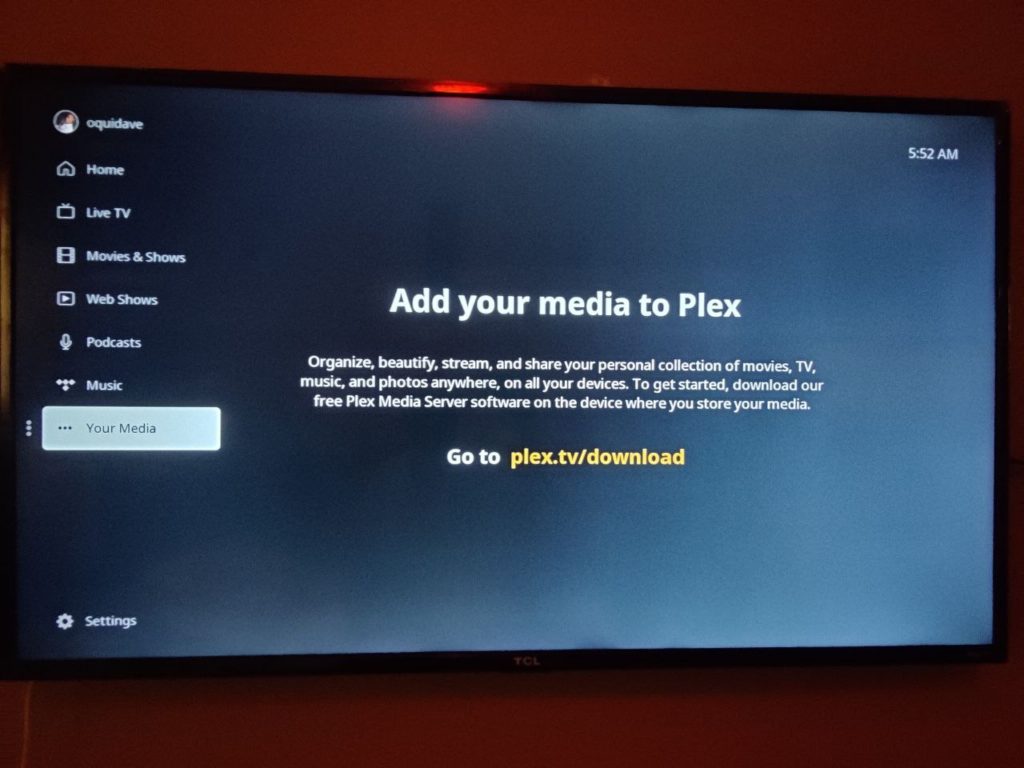 If you don't use the Plex app on your Smart TV, you can still use any DNLA/UPnP-compliant client software to browse and stream content on Plex server installed your NAS server. Roku comes with a built-in media player called Roku Media Player which you can not only use to play media on flash disk/drive but also play content wirelessly from NAS server.
On Android TV/Google TV, you have even more options for streaming local content on your NAS Drive. You can use Plex's android TV app, VLC, BubbleUPnP which is my personal favorite, localcast, Allcast, Castify among others.
Using Kodi
My other favorite option is using Kodi Media server. Kodi has been around for a while and in fact Plex was a fork of Kodi. Now Kodi isn't as widely supported as Plex by Smart TV and NAS drive vendors, but its a great option for tinkerers and people who want the most customization out of their personal Media library.
Just like Plex, you'll need two pieces of the puzzle; Kodi media server running on your NAS drive and an optional Kodi client app or DNLA/UPnP-compliant media player running on your Smart TV.
The best NAS drives that support Kodi are those by Synology and QNAP. You can easily install Kodi from their respective 'app stores'. If want to go DIY, then you can install Kodi on a Raspberry Pi, Windows, Linux or Mac.
Like I previously mentioned, perhaps the only Smart TVs with Kodi support are those running Android TV/Google TV such as some from Sony, TCL, Hisense, Philips and Samsung. Typically, you can download Kodi from the Google Play Store on your Android TV-powered Smart TV. However, Kodi isn't a requirement on the Smart TV. You can still use any DLNA/UPnP-compliant media player which should be able to talk with any NAS server running Kodi.
Advertisement - Continue reading below
On Samsung Smart TVs, you can use Allshare or Smartview to browse content on your NAS drive because it's a DLNA client. You can look at this lifewire post for more details. On LG smart TVs, you can stream content from your NAS drive by turning on the DLNA feature. From the Home screen, tap the Apps Key > Settings > Share & connect > Menu Key > Use DLNA feature. I can't' delve into the details here because I currently own Roku TCL and Chromecast with Google TV and Hisense Android TVs.
Other Media Servers
Other than Plex and Kodi which are the most popular DLNA-compliant media streaming server you can install on a NAS drive, there are other less known options you can look at. You can look at Serviio which is supported on Windows/Mac/Linux. Serviio lets you to stream your media files to DLNA-compliant devices on your home network. Another option is Emby Server available on Windows/Mac/Linux. It supports Live TV support, media management and cloud sync. Other options include PS3 Media Server, Jellyfin and PlayOn. Check if any of these are supported on your NAS drive platform.
Also most NAS drives have their own built-in DLNA-compliant media server which allow streaming of content on any similarly DLNA-compliant Smart TV platform. You can enable DLNA support on both QNAP and Synology NAS drives for instance. If your NAS drive has this feature, then you don't need Plex or Kodi or any of the media streaming servers I have listed above. All you need is a DLNA client app on your Smart TV and you'll be ready to stream any content on the big screen.
So there you go; how to connect a NAS drive to Smart TV. If you have any other ways, let us know in the comments below;