The need for legal services is very serious in Uganda. From signing contracts to filing suits to making simple inquiries about the law. All these require someone with some knowledge of the law. Many Ugandans seek affordable legal services daily because they can not afford to hire the legal services of a private lawyer. JusticeBot, a legal artificial intelligence ChatBot on Facebook messenger has the ability to offer legal assistance and recommend lawyers in real time.
What is JusticeBot?
JusticeBot was launched last year by young people passionate about using their knowledge in technology to help people in their community to solve legal issues they face every day by building an automated online platform that's available 24/7
Advertisement - Continue reading below
This artificially intelligent adviser can:
Provide legal procedure information for free in a simplified manner.
Recommend legal service providers (Lawyers, Advocates, Land Surveyors, etc) with the expertise to help solve such issues.
Help one to get legal Documents and templates.
---
Related Article: What are Chatbots and how to use them
---
How to use JusticeBot
You will have to use Facebook to search for "JusticeBot" and send it a message with your inquiry or anything related to the law
You'll be able to get a timely response from the ChatBot with the perfect answer to your inquiry and relevant information they may need to know.
Alternatively, you can head to Messenger and search for JusticeBot, send it a message concerning anything you would like to know. For example, you may type "I want to know how to buy shares." You will be attended to in real time.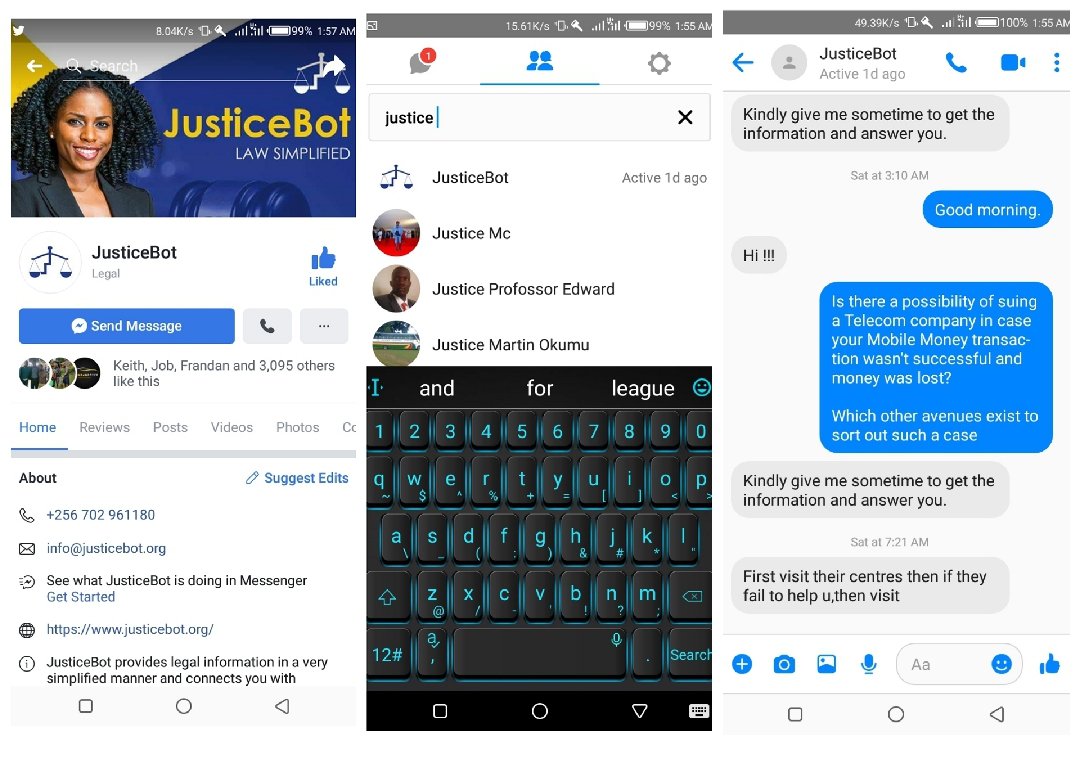 Advertisement - Continue reading below
You might be worried about the language lawyers use but worry not as the ChatBot uses simple English which is easy to understand for everyone seeking Justice.
The aim of JusticeBot is to help Ugandans know different aspects of the law and legal issues so that they're not exploited by experts. Everyone needs to know the basics of the law because it's what guides us in all that we do and this chatbot is here to ease that process. All that we do is guided by the law which guides us. Before doing anything, make sure that you know the legal implications of what you're doing so that you don't find yourself on the wrong side of the law.
Go to Facebook messenger, find JusticeBot and ask for information regarding any legal issue you might be interested in.