"Brilliant" is the one word I can use to describe this move.
This is simply because I've had awful experiences with my local bank that I won't disclose when it comes to customer care support. In fact, my local bank doesn't even have a customer care email line that I can use to remotely reach them for support.
Advertisement - Continue reading below
But one bank — centenary bank — has gone on to out-innovate itself and the competition. Not just in the banking industry, but also in utilities and Telecom sector which till date with modern technology suck at supporting their customers. Again giving an example of my carrier, I recently called customer care to find out why the internet was off, and it took me more than 7 minutes before getting a response. Well, companies may give excuses that could include financial constraints, high human resource always associated with customer care.
However, this bank is not about to give in to these excuses — at least when it has the power of social media at its disposal.
Centenary bank has turned to the power of the hyper-connected generation to help solve its customer care issues. With a Facebook group with well over 900 members as of this writing that's open to all, the bank is turning to over 500,000 Ugandans currently on the mega social network to answer queries of its customers without setting up expensive call centers like the Telecoms and ISPs do.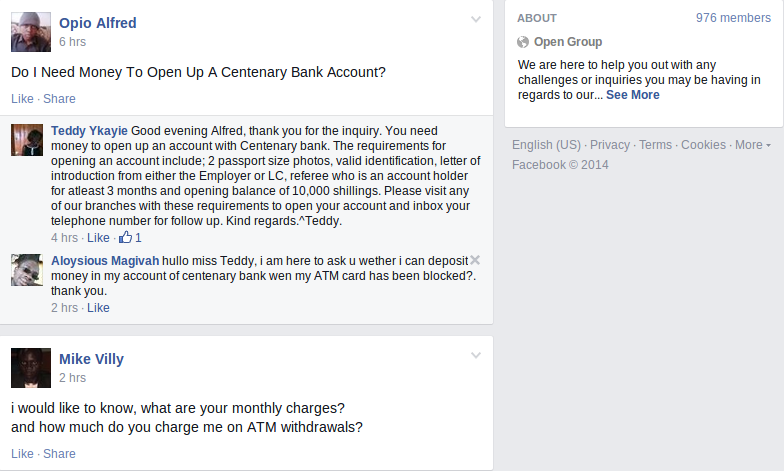 Of course even with self-organizing communities,  there's need for some level of leadership. So the bank also has "community managers" who are in-house staff members that manage content posted on the group and ensure that users' questions are rightfully and promptly answered .The innovative bank has foregone the technological rigidity akin to traditional banks to turn its own customers into "staff members" without paying them a cent. That's brilliant.
But wouldn't that be risky and somewhat naive to  have its customers entrust their rather sensitive details such as bank accounts, phone numbers or even more catastrophic PIN numbers to total strangers? Well, it turns out, the bank has thought about that already. With this very informative document it has termed as "centenary bank social media community guidelines" posted as note to the open group, the bank has empowered its customers or group members to know what and what not they could post in the open group.
Advertisement - Continue reading below
Companies recently started appreciating the power of social media by setting up Twitter handles and Facebook pages among others. However, with out the knowledge of online communities, lack of digital strategies, many have fallen prey to the "likes frenzy" with the misguided thinking that, the more likes one has, the better as opposed to using the platform to communicate and engage with their customers more meaningfully. Centenary Bank is one of the brands we've seen demonstrate expertise in the digital space in Uganda.