Fintech startup sent some shock waves last month when they declared zero-fee cross-border money transfers. We were all excited for this given that the incumbents like Western Union or banks were either too slow or too expensive. Chipper cash offers not only instant cross-border money transfers across five countries including Uganda, Kenya, Ghana, Tanzania, Rwanda but also at zero cost — at least we thought.
This week, Chipper cash sent out a notification to its users telling them of pending addition of "tiny" fees to cross-border transactions in the "coming weeks".
Advertisement - Continue reading below
How tiny the fees would be was not yet communicated. However, Chipper cash went on to assure its customers that transactions within their countries would "always be free".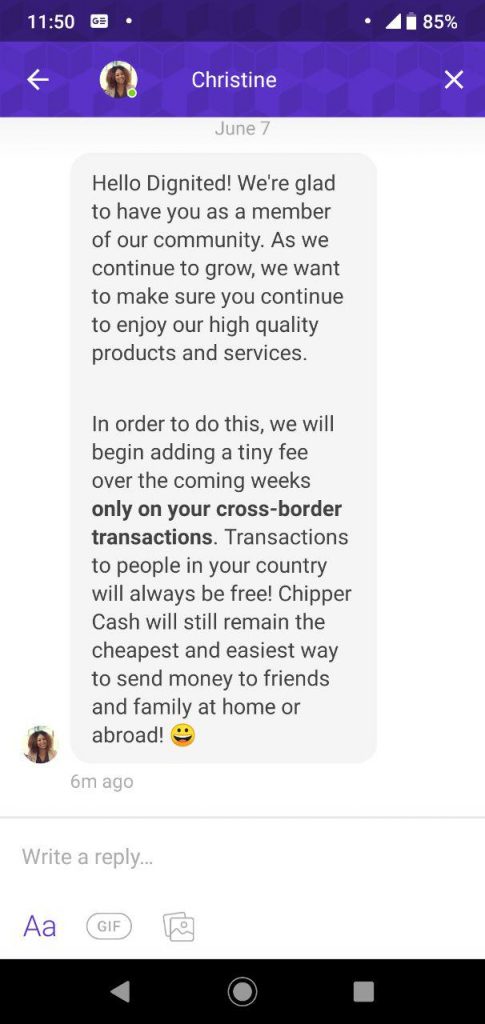 When Chipper cash officially launched in Uganda, I argued that this was simply a growth stunt they were using to onboard new users. Chipper cash tweeted that their business model was quite different and that peer-to-peer transactions are free. Of course, this is clearly not the case.
Even with the coming "tiny" fees, Chipper cash is most likely going to be cheaper than Western Union, Money Gram or traditional banks. The real competition Chipper cash faces is with the Telcos. MTN customers in Uganda can send money to Safaricom M-Pesa customers in Kenya or MTN users in Rwanda and vice versa. Likewise Safaricom customers can send money to Vodacom users in Tanzania. There however, remains a gap in instant money transfers between East Africa and West Africa and Southern Africa — something Chipper cash should concentrate in filling.
Read more: How to send money from MTN Uganda mobile money to M-Pesa and MTN Rwanda
Otherwise cross-border money transfers across East Africa are at least covered by the big Telcos. Chipper cash's pitch was really on transaction fees. It remains to be seen if their new fees will beat what the telcos are currently charging.
Advertisement - Continue reading below
If you are sold to Chipper cash, you can download the Chipper Cash app from Google Play Store or the Apple Store. You can use this invite link (https://chipper.cash/invite/NPMQW) from us Dignited to enjoy a special offer. Or you can read our review of the service first.