So you have been paid, and you have channeled your salary/income to several expenses (rent, food, electricity bills, etc.), investments, savings and other activities you had previously budgeted for the month (or a specific period). But what do you do when an unexpected financial obligation that you NEEDs to be met arises?
Well, you could reach out to friends and families or fall back to your emergency funds, if you have any. In the absence of these, you could (and should) consider obtaining a quick loan. And by "quick loan", bank loans in Nigeria definitely do not qualify; endless paperwork, long banking hall queues, collateral and guarantor requirements, unreasonable interest rates, etc. are some of the things you'd have to deal with.
Advertisement - Continue reading below
Thanks to the increasing number of technology-driven financial platforms, however, obtaining a loan within minutes is now a thing. Best part? These loans are low-interest and collateral-free.
Without further ado, we highlight the top 10 platforms where you can get instant, low-interest, collateral-free loans in Nigeria. In no particular order:
1. Carbon (PayLater)
Formerly (and popularly) known as PayLater, Carbon is one of the leading pioneers of non-bank lending in Nigeria. The 3-year old platform prides itself as "a simple digital finances management platform" that provides instant loans to help cover urgent and unexpected cash needs and expenses.
Carbon (PayLater) is available on web (www.paylater.ng) and mobile apps (Android and iOS). Carbon's rates range from 5 – 15%; this depends on loan repayment period and amount of money to be borrowed. You can check out the company's official guide on getting an instant loan from the platform.
2. ALAT (By WEMA)
ALAT, the self-acclaimed first "Africa's Best Digital Bank", is another platform in Nigeria to get instant collateral-free loans in Nigeria. On the ALAT platform (web or mobile app), you can borrow as much as NGN 200,000 without any paperwork, no physical visitation, and short response time. Depending on the amount you're borrowing as well as the risk level, ALAT's interest rates on loans range from 4 – 5% over a period of 4 – 12 months.
Check out the official page to learn more about ALAT's instant loans.
Advertisement - Continue reading below
3. Branch
Branch is another digital lender in Nigeria that offers loans between ₦1,000 to ₦200,000 with repayment period range of 4 – 40 weeks. Branch is currently available as an Android app but unlike other lenders, Branch doesn't charge loan repayment and rollover fees.
Interests on Branch loans generally range from 15 – 34% and calculated using determinants like the amount borrowed, repayments history, etc. You can learn more about how Branch's loans on the platform's website.
4. Aella Credit
You really cannot name the top digital lending platforms in Nigeria without including Aella Credit. The platform has so far disbursed collateral-free loans to overs 300,000 users since it launched. Like Branch, Aella Credit also doesn't charge a late loan repayment fee but ideally, you would want to pay your loans on time so you can get reduced interest rates on subsequent loans.
Interest rates on Aella Credit loans usually fall within the 4 – 29% range and loan tenure is commonly 30 – 60 days. Learn how to get a loan on Aella Credit here.
5. KwikMoney
Formed out of a partnership between telco companies, banks, and other technology companies, Kwikmoney is another platform that's making credit accessible to Nigerians. With your Bank Verification Number (BVN) and your account number, you can access up to N500,000 instant collateral-free loan.
You can access KwikMoney loans via the platforms web interface (www.kwikmoney.com), mobile app, and –if you don't own an internet-enabled device– USSD code (*561#). Depending on how much money you borrow, kwikmoney charges 5 – 15% on loans and you have to repay between either 14 – 30 days.
6. FairMoney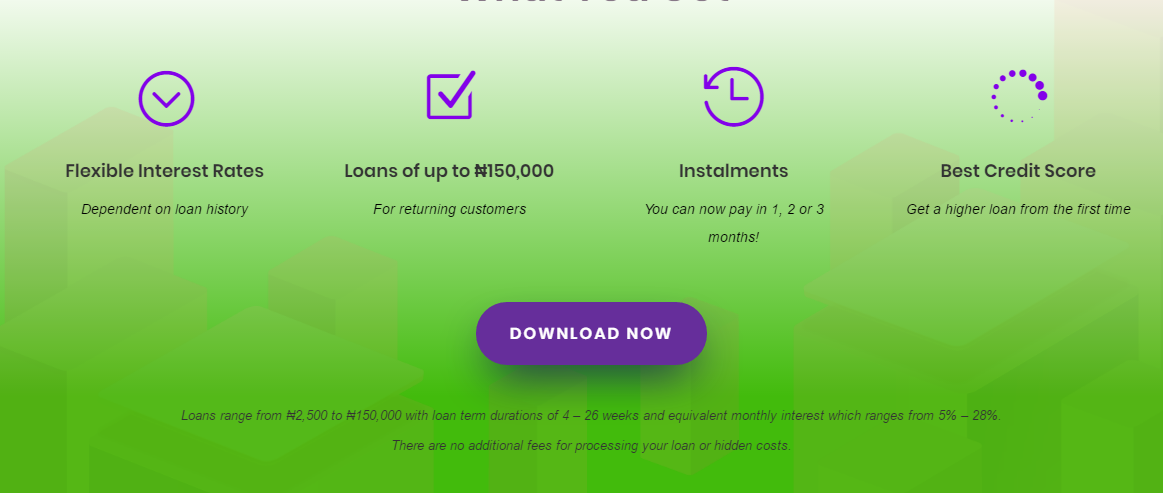 With FairMoney (www.fairmoney.ng), all that is required to get a loan (from ₦2,500 to ₦150,000) is your BVN and your ATM/debit card. FairMoney claims that you can apply for a loan and get it disbursed to your bank account within 5 minutes. Loan interests on FairMoney start at 5% and can grow up to 28% depending on how much you are borrowing, loan term duration (4 – 26 weeks) and other factors.
If you pay back your loan before the due date on FairMoney, you'd repay at a reduced interest rate. Learn more about FairMoney's instant collateral-free loans here.
Advertisement - Continue reading below
7. QuickCheck
QuickCheck (www.quickcheck.ng) provides up to NGN 500,000 of instant loan to its users within minutes but as a first time user, you can only access up to 10,000 Naira for a period of 30 days. Early repayment of loans guarantees lower interest rates and higher amounts. Additionally, interests on loans are only paid for the number of days you use the loan.
To obtain an instant loan from QuickCheck, all that is required is your BVN for security and verification purposes; and Bank account number for disbursal of your approved loan. Learn more about QuickCheck's instant collateral-free loan here.
8. PettyCash
PettyCahs is another non-bank money lending platform where you can access instant collateral-free loans in Nigeria. Unlike other platforms on this list, though, the maximum amount you can borrow on PettyCash is pegged at N50,000 — hence the name "PettyCash". PettyCash comes with a whole lot of features as well as multiple loan products tailored to fit all categories of lenders.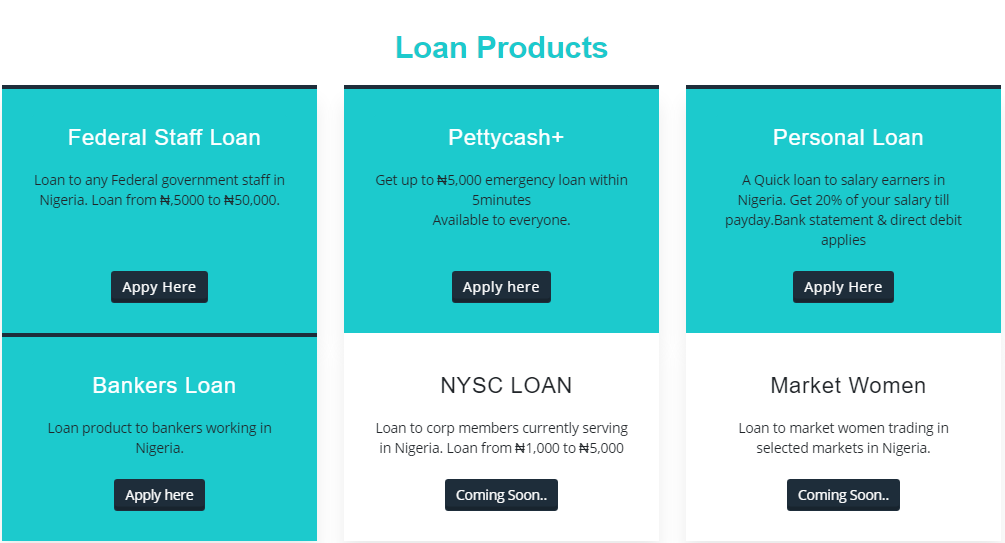 PettyCash's interests rate are also reasonably low and competitive. Learn more about PettyCash's instant loan on the platform's official website.
Other notable mentions