Telcos in Uganda and elsewhere give the option to activate recurring data bundles on the premise that subscribers don't want the hustle of always having to do it themselves. Also known as AutoRenew or Auto-renewal, recurring data bundles make perfect sense in the moment. Later, not so quite. Especially when you were banking on your ka money to make that all-important phone call.
The one time I activated recurring data bundles, I ended up depleting my airtime without actually ever using the data bundles. Learn from my mistakes, children.
Advertisement - Continue reading below
On the plus side, you can cancel recurring data bundles in a few quick steps on MTN, Airtel and Africell Uganda.
MTN Uganda
MTN subscribers in Uganda can cancel recurring bundles with a simple shortcode. Those who like their network sunny side up have it good, matter of fact. We tweeted them up for a nice screenshot which we have attached down below.
>>dial *150*1*10# and then press OK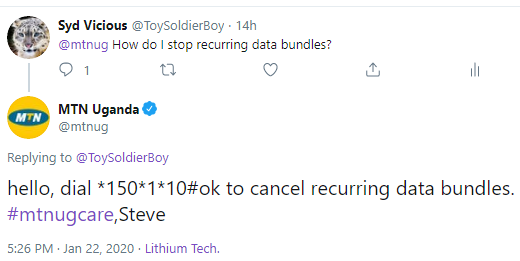 Related: All codes for MTN, Africell, Vodafone, Airtel, and UTL Uganda balance check and recharge USSD shortcodes
Airtel Uganda
Cancelling recurring data bundles on Airtel is a bit longer in comparison. But it works, and that's all you and I want to hear, no? All right then, you can cancel auto-renewal any one of these two ways:
>>Dial *175*2#
>>Select Option 7 (Auto-renewal)
>>Select option 2 (Cancel renewal)

Advertisement - Continue reading below
Alternatively:
>>>Dial *175*2*7*2# and then press OK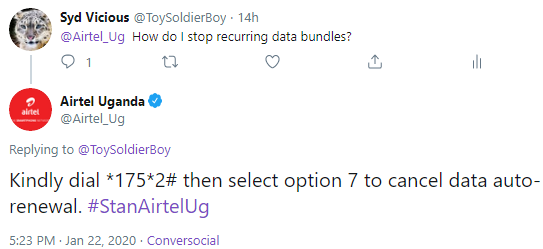 Africell Uganda
As for Africell Uganda, there's no clear-cut process to cancel recurring data bundles like the rest of the telcos. The truth of the matter is that Africell doesn't support shortcodes for cancelling auto-renewal. We honestly don't know why (wink, wink!). Annoying, yeah? Not to worry. Here's what you can do:
>>Dial *133#
>>Choose bundle on auto-renewal
>>Before you confirm the transaction, select the option to stop/cancel auto-renewal

Photo credit: Unsplash