Aella App, which was formerly Aella Credit, was a sole loan app. Aella Credit provided instant credit solutions that eliminated the hassle of standard loan applications and enabled employees to borrow at competitive and fair rates through their employers.
Currently, Aella App helps users (Nigerian) secure loans, make bill and utility payments, carry out investments, and get insured. The product has now packed these four services into one platform and as a result, is much more useful.
Advertisement - Continue reading below
Aella Credit was founded in 2015 by Akin Jones and Wale Akanbi. In February, the company announced a $10 million debt funding from Singapore-based HQ Financial Group (HQF). They had previously raised $2 million in seed funding from Ycombinator.
As it is, Aella App is now doing more than just providing loans. Check out the full services the platform provides in the section below.
Features of Aella App
1. Loans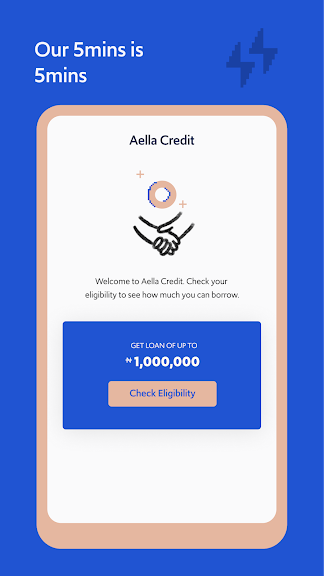 Aella App, like the original product, still gives you access to loans. The platform claims to give loans in 5 minutes and has credit solutions for the everyday person.
To get a loan from Aella, users will have to download the app, create an account, complete profile setup, check eligibility, apply for the desired loan, and receive funds. Like every other lender, your credit score increases as you pay back your loan at the appropriate time.
2. Investments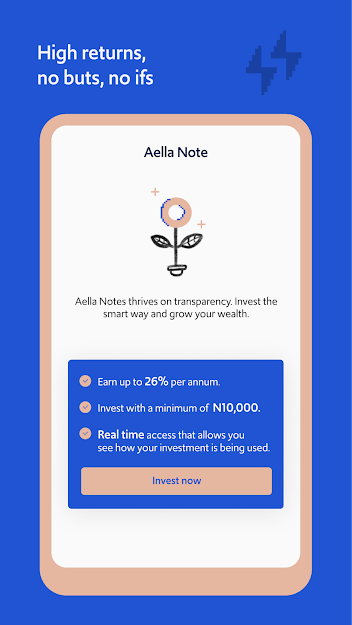 Aella Note is Aella App's investment feature. With Notes, users can invest safely and securely by seeing precisely where your money goes and how much to expect, all in real-time. On Notes, the interest rate for investments is up to 26% per annum.
The minimum investment amount is ₦10,000.00 while the maximum investment amount allowed on the notes is ₦100,000,000.00.
Advertisement - Continue reading below
The interest rate for investors varies depending on investment tenure. A 3-month investment tenure attracts 16% annual interest, 6-month investment tenure attracts 18% interest and a one year tenure attracts a 20% interest.
3. Insurance
Through a partnership with Hygeia HMO, Aella App now makes it quite easy to get health insurance. They provide a simplified process that allows you to get super affordable micro-health insurance plans through the app.
This product is called "Aella Care" and has not been fully launched on the mobile app. However, you can be in the loop for when it is.
Health insurance is just taking center stage in Nigeria. And it is important that platforms like this are helping to democratize it further. Health insurance on Aella would take just 5 mins, which is quite the reverse when users try to do the same elsewhere.
4. Bill Payments
On the app, there are a variety of payments you can carry out. From Internet, to TV, to mobile data, and airtime.
Need an app that does all of the above-mentioned? You should check out the Aella Credit platform and likewise, download the Aella App. When you do, do let us know what your experience was like.