You are now able to send free text messages from your android phone to any phone –exclusive to Uganda.
Free SMS Vumilia is free messaging app that allows Android users to send text messages to any mobile phone user, basic phones inclusive. It uses mobile internet data or wi-fi to send out unlimited number of short texts to all local telecom subscribers.
Advertisement - Continue reading below
Start screen
The start screen of the app prompts one to register their details such as name, specify whether they have  single or dual SIM-cards, gender and age.
After the  registration, you can immediately start texting. There is an input field that  allows you manually input the receiver's number or even input directly via your phone contact list. However,the message area and send button feel congested and typing may feel uneasy.
There is also an option for chatting with those who have the app installed on their phones and also in your contact list –just like WhatsApp! The difference being that Free SMS Vumilia can send text messages to all phones regardless of whether they have it installed or not. To benefit from the app; it's basically every user for himself and Android for us all.
The navigation is quite simple although it doesn't feel smooth enough.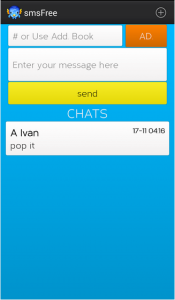 Privacy concerns
The app asks too many personal details upon registration such as birthday, name, gender which I find obtrusive.
Advertisement - Continue reading below
Does this pose a threat to Ugandan telecom services.
Download the app for free from the Play store.