Although electronic payments in Nigeria (and Africa at large) is growing tremendously, sending and receiving money across borders still remains a challenge. Thanks to Chipper Cash, however, money transfer to other African countries can now be done instantly (and for free!) at the click of a button.
With Chipper Cash, sending funds is just as seamless as receiving it. The conversion/exchange rates are also really reasonable and competitive. Asides money transfer, you can also use Chipper Cash to pay bills (cable TV, internet, and electricity) and purchase airtime.
Advertisement - Continue reading below
In this guide, we'll walk you through the features of the Chipper Cash platform and why it is currently one of the best medium for local and international money transfer in Nigeria.
Available and Platform Support
Currently, you have to own a smartphone to use Chipper Cash; there' no web support yet. The service is available for both Android and iOS users. You can download the app via the links below.
---
Download Chipper Cash (Android) | Download Chipper Cash (iOS)
---
Chipper Cash is available in Nigeria, Kenya, Uganda, Tanzania, Rwanda, and Ghana. The firm also recently launched operations in South Africa, making the region its 7th country of operation in Africa.
Registration and Onboarding
To use Chipper Cash in Nigeria, your phone number is the basic requirement needed to create an account. You can also choose to use your email address. Afterward, you'd have to input the verification code that was sent to the number or email you registered with.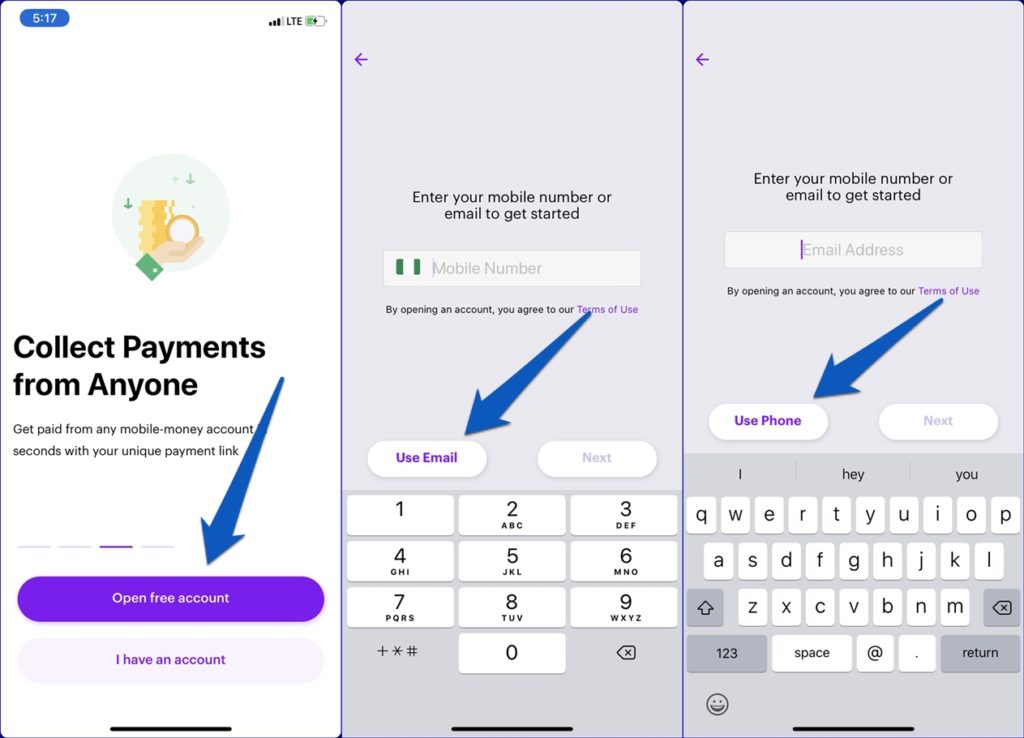 If you registered with your phone number, you can choose to verify your number via USSD — tap the dial button or manually type/dial the provided USSD shortcode on your phone's dialer. You'll also be asked to verify your number each time sign in to your account — whenever you sign out of the app.
Advertisement - Continue reading below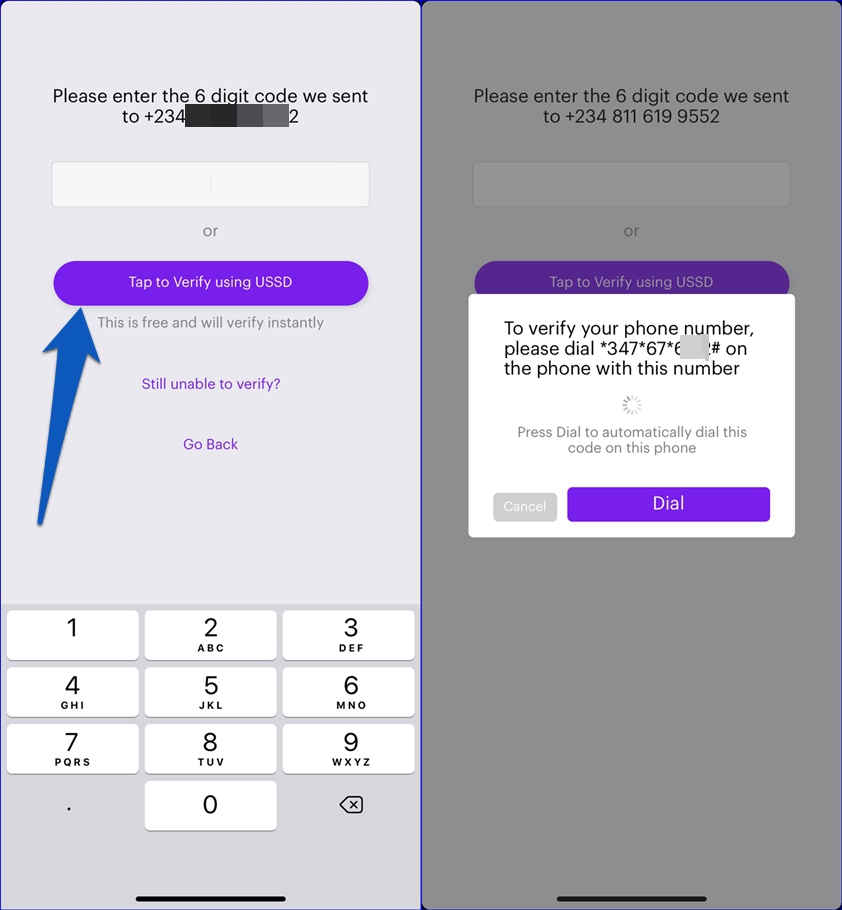 Another unique feature you'd love about Chipper Cash is that it lets you connect and sign in to your wallet/account with multiple numbers or email addresses. On your Account Profile page, tap 'Personal' and select 'Add Phone or Email' to add other numbers or email addresses.
Although Chipper Cash doesn't say if there's a limit to the amount of phone number or email address that can be connected to a single wallet/account, it really is a cool feature that allows for flexible login options.
If you lose your phone number, you can still access (and verify) your Chipper Cash wallet with the secondary numbers or email addresses.
Account Verification and Transfer Limits
As a newly-registered user, you can receive unlimited amount of money from anyone, anywhere. However, you will only be able to send a maximum of Four Million Naira (N 4,000,000) and Twenty Million Naira (N20,000,000). For withdrawals, new users can only cash-out Twenty thousand naira (N20,000) daily.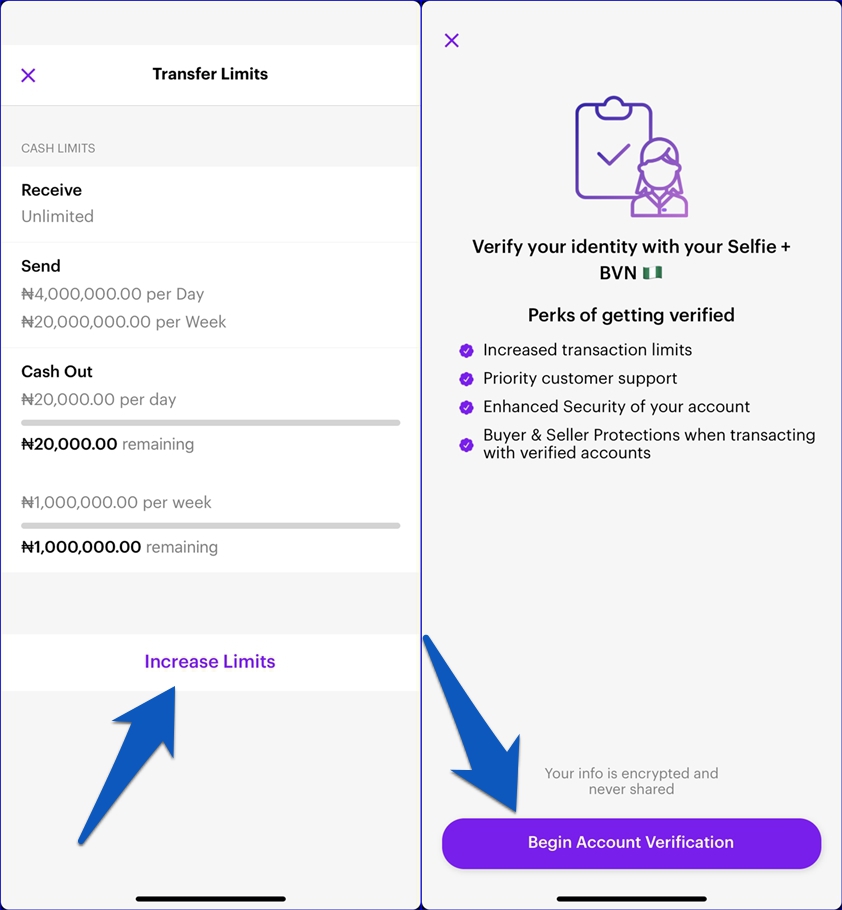 To increase this withdrawal limit, you'd have to verify your identity. To do this (as a Nigerian user), you'll be required to provide your Bank Verification Number (BVN) and take a selfie. Chipper Cash will verify the information provided and raise your transaction limits accordingly. Account verification is also required to activate your 'Chipper Account Number' (more on this later).
It takes a couple of minutes (sometimes, hours) to get verified after providing the necessary information. As a verified user, you can:
Send: N5,000,000 daily | N35,000,000 weekly
Withdraw: N 1,000,000 daily
Receive: Unlimited amount of money
Funding Wallet
At the moment, Nigerian users can only fund their Chipper Cash wallet via card payments. As a first time user, you'd be required to deposit N10 (Ten Naira) to your account to add a bank card.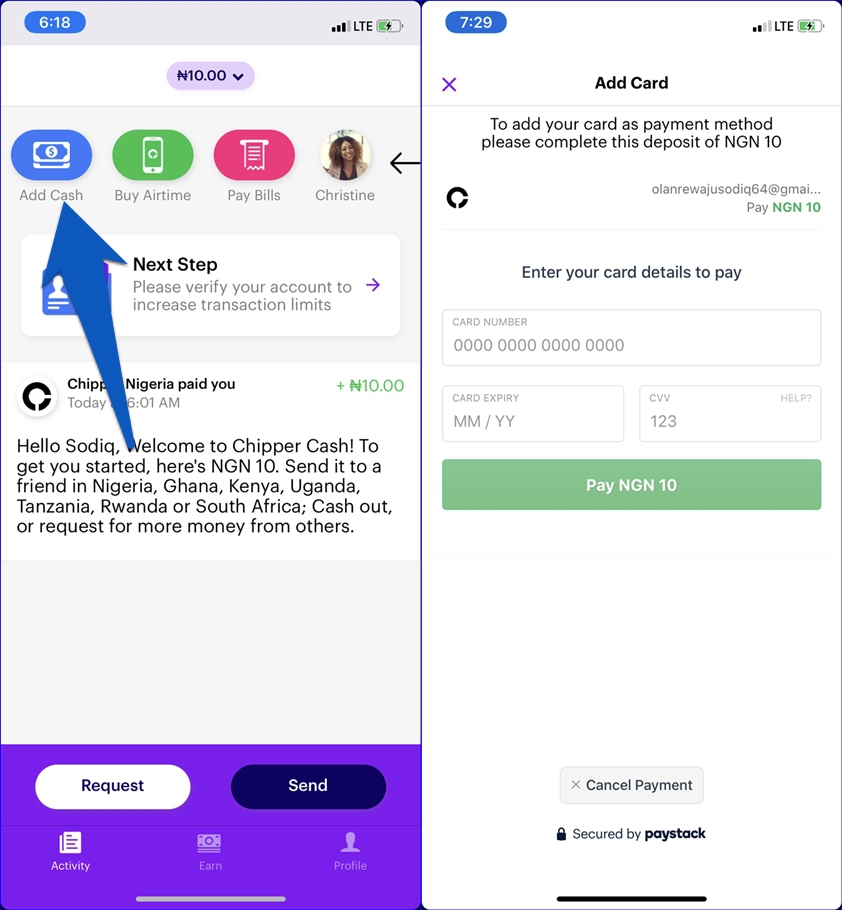 Note: Chipper Cash doesn't charge any fee to deposit money. The N10 will be deposited into your Chipper Wallet.

Advertisement - Continue reading below
Sending Money
Chipper Cash lets you send money to other registered Chipper Cash users on your phonebook. You can also send money to your contacts that aren't registered on Chipper Cash. The recipient will be prompted (via SMS) to create a Chipper Cash account to receive the funds.
Note: If the recipient doesn't register an account to claim the payment, the money will be refunded to you.
To send money to another Chipper Cash user or someone on your contact list, tap the 'Send' button on the Activity page and choose the person you want to send funds to on your contact list. I really liked Chipper Cash's contact segmentation and identification — you'd find contacts who are registered Chipper Cash at the top of the Contacts section alongside their country flag and full name.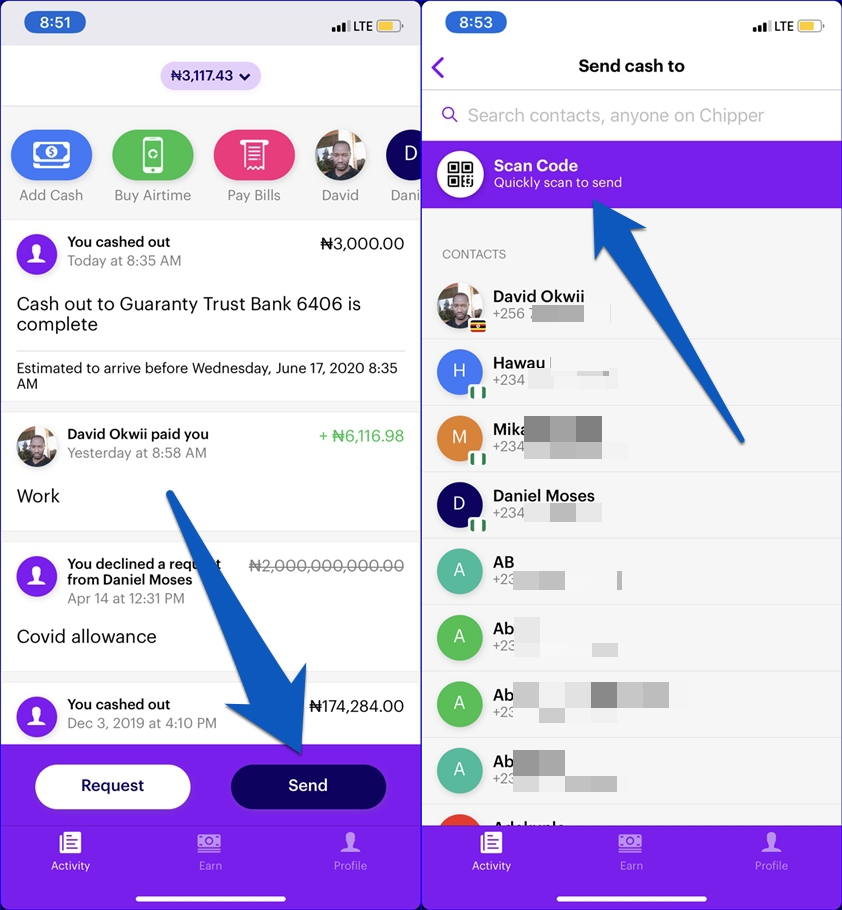 You can also use the search box to find other Chipper Cash users who aren't on your contact list using their username. If you have a user's QR code, you can tap 'Scan Code' to quickly send them money.
It's also worth mentioning that Chipper Cash boasts of really competitive exchange rates. For context, the official Naira to Uganda Shillings rate was (at the time of writing) pegged at ₦ 1 = UGX 9.60 while Chipper Cash had a slightly reduce (but reasonable) rate — ₦1 = UGX 9.00.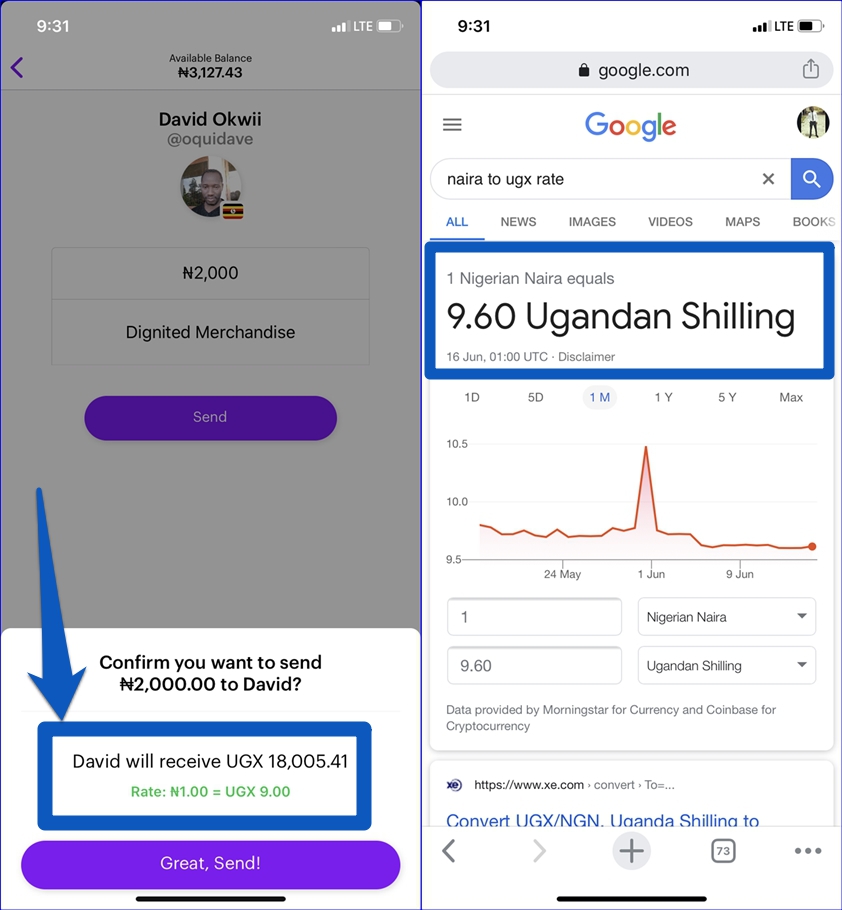 The official Naira to Kenya Shillings was Ksh 1 = ₦3.62. On Chipper Cash, Ksh 1 = ₦3.88. These rates are very much reasonable and the best you'd get out there — compared to other money transfer and bill payments apps.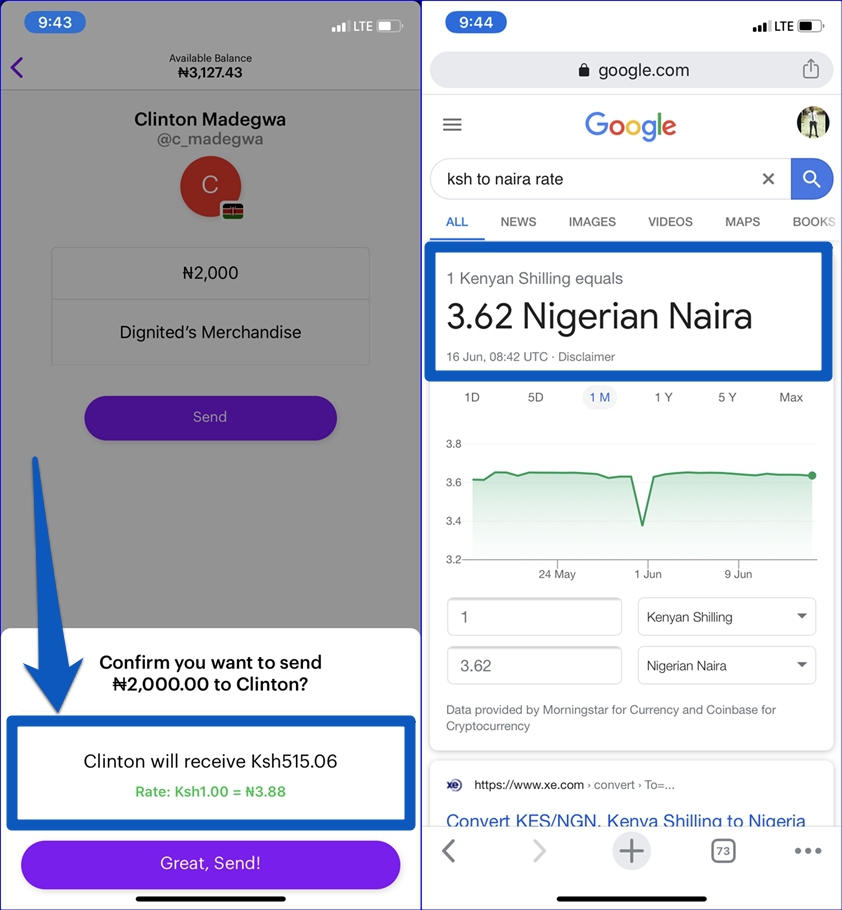 Bill Payments
As earlier mentioned, Chipper Cash lets you pay internet, electricity, and TV bills. I used the app to purchase airtime and it was really fast and seamless. You can also tap the 'Contacts' button to purchase airtime for someone on your contact list.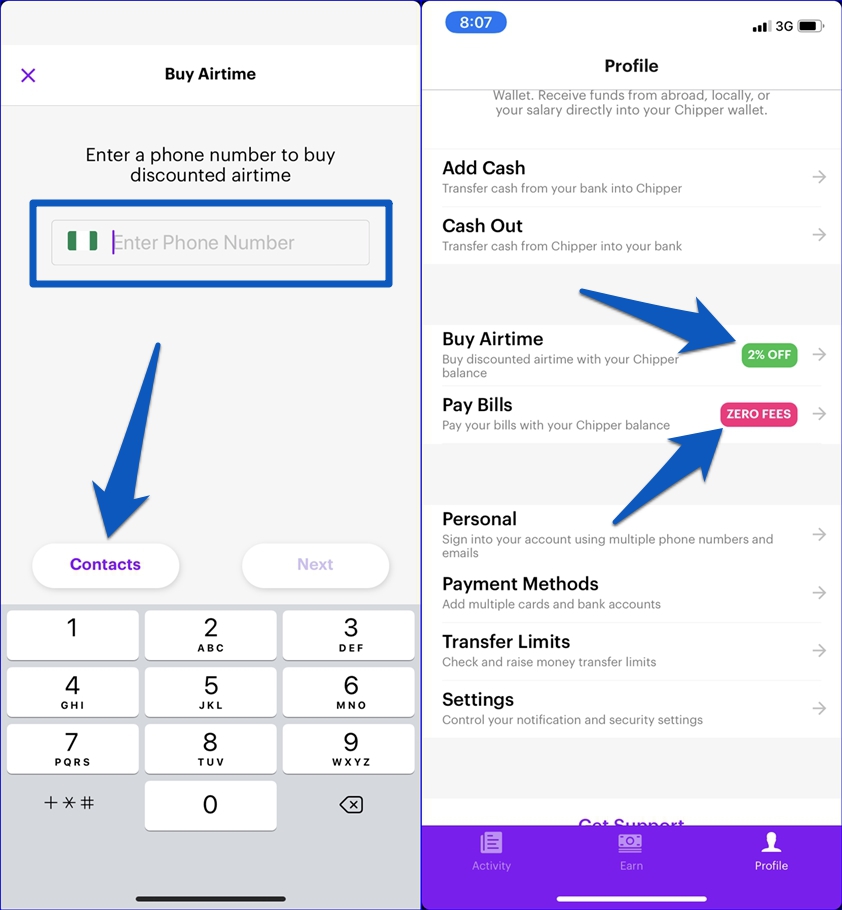 So, when next you want to pay your DStv or GOtv bill in Nigeria, you should try Chipper Cash. The best part is that you get a 2% discount on every airtime purchase. Additionally, bill payments are free. This registers Chipper Cash as one of the very few payment providers that don't charge users to pay bills, send money, or fund their accounts.
Advertisement - Continue reading below
Withdrawal
Like bill payments, airtime purchase, and other services on Chipper Cash, withdrawing funds on the platform is also free. For Nigerian users, you can only withdraw funds from your Chipper Wallet to your bank account. To do this, navigate to Profile > Cash Out and set up your bank account.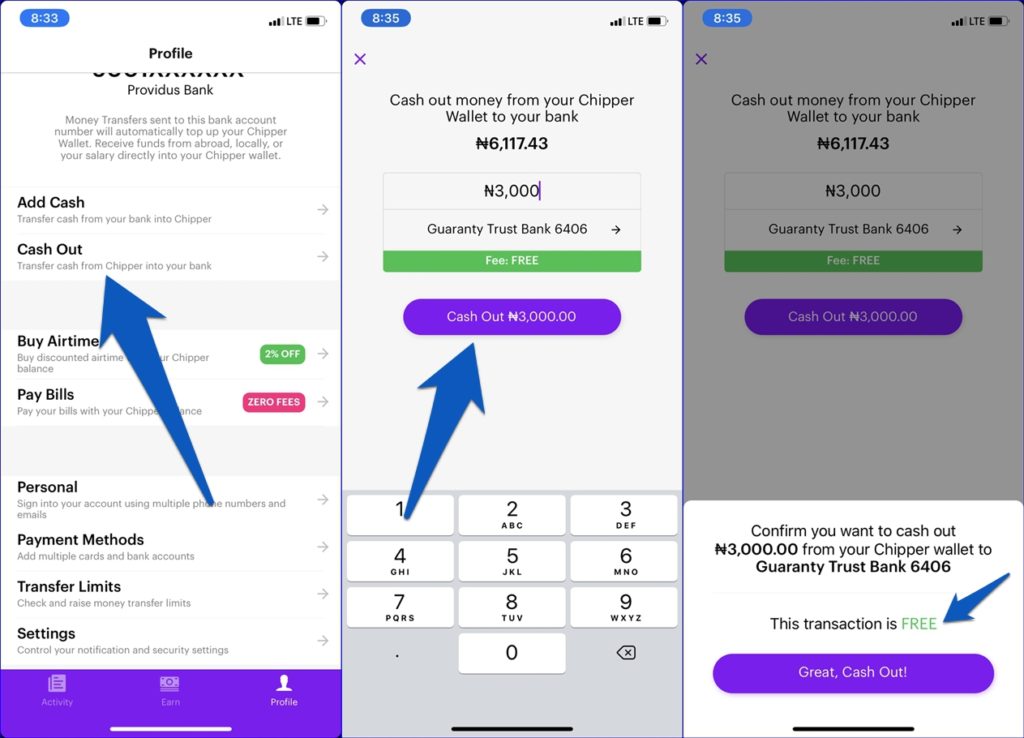 Go to Profile > Payment Methods to add your bank account. Withdrawal to my account was processed in seconds and my bank was credited immediately.
Auxiliary Bank Account
As an added perk, Chipper Cash users also get a bank account (powered by Providus Bank). This account (dubbed the "Chipper Account Number") works just like your regular bank account; people can send money into the account number from their banks and banking apps. The funds will be deposited directly to your Chipper Wallet.
This auxiliary bank account serves as an added medium of depositing funds to your Chipper Wallet. One thing, though: this account number isn't assigned to a user by default. If you want one, you'd have to place a request for it. To do this, navigate to your Profile and tap the incomplete account number to send a request.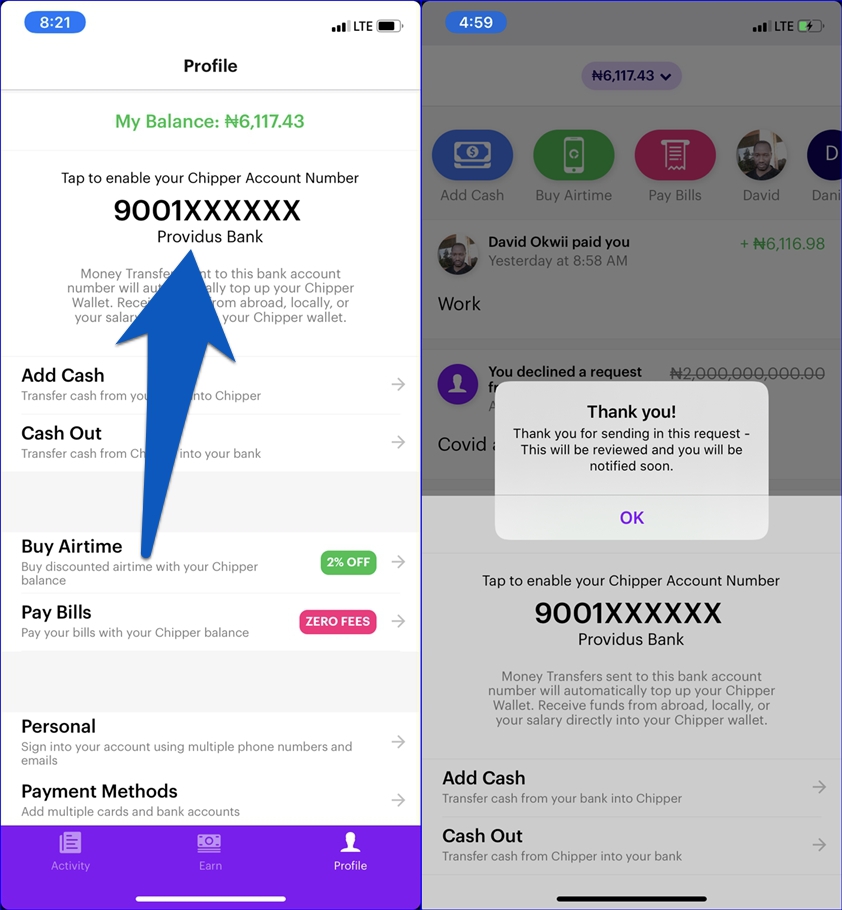 Chipper Cash will review your request and inform you of the status. This might take hours, or sometimes, days.
Money Request
If you are out of money, or perhaps someone owes you, the 'Request' feature of the Chipper Cash app lets you request money from your contact list or other Chipper Cash users.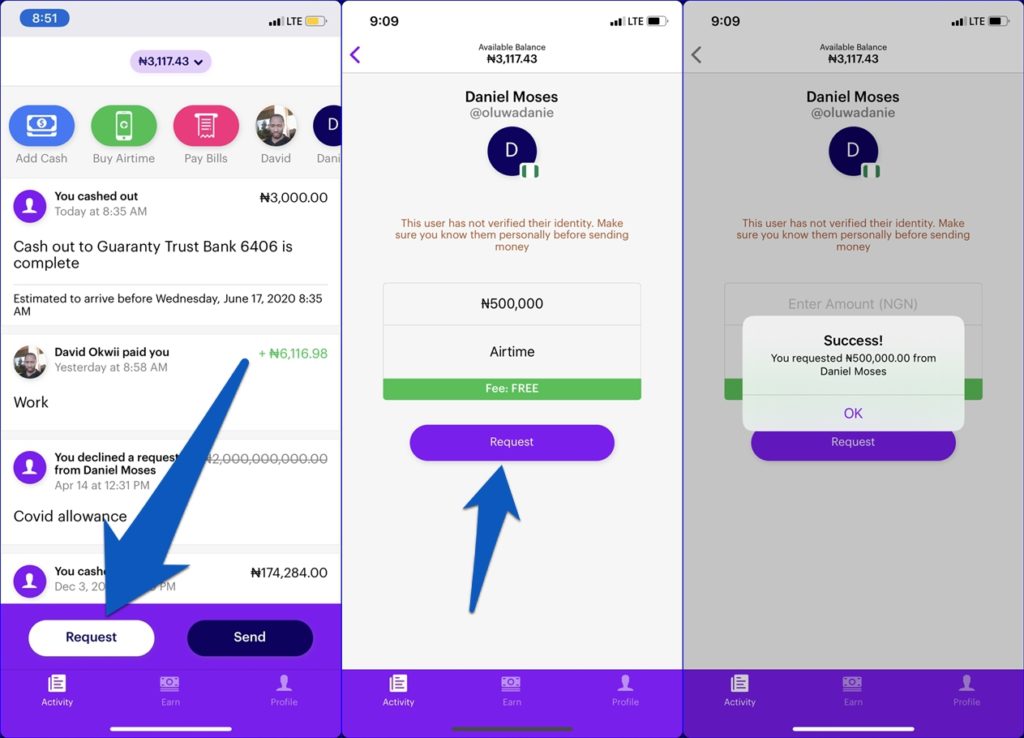 Security & Privacy
Chipper Cash has some measures in place to help safeguard your account and funds. As earlier mentioned, whenever you sign out of the Chipper Cash app, you will be required to go through Two-Step Authentication (via SMS) before you can log back into your account.
The app also has a Security Lock feature that will prompt you to enter your Chipper PIN each time you close the app. This is an added layer of security that will prevent anyone who has access to your device from opening your Chipper Cash dashboard without your authorization. You could toggle on the 'Hide Balance' to conceal your balance from the home screen.
Advertisement - Continue reading below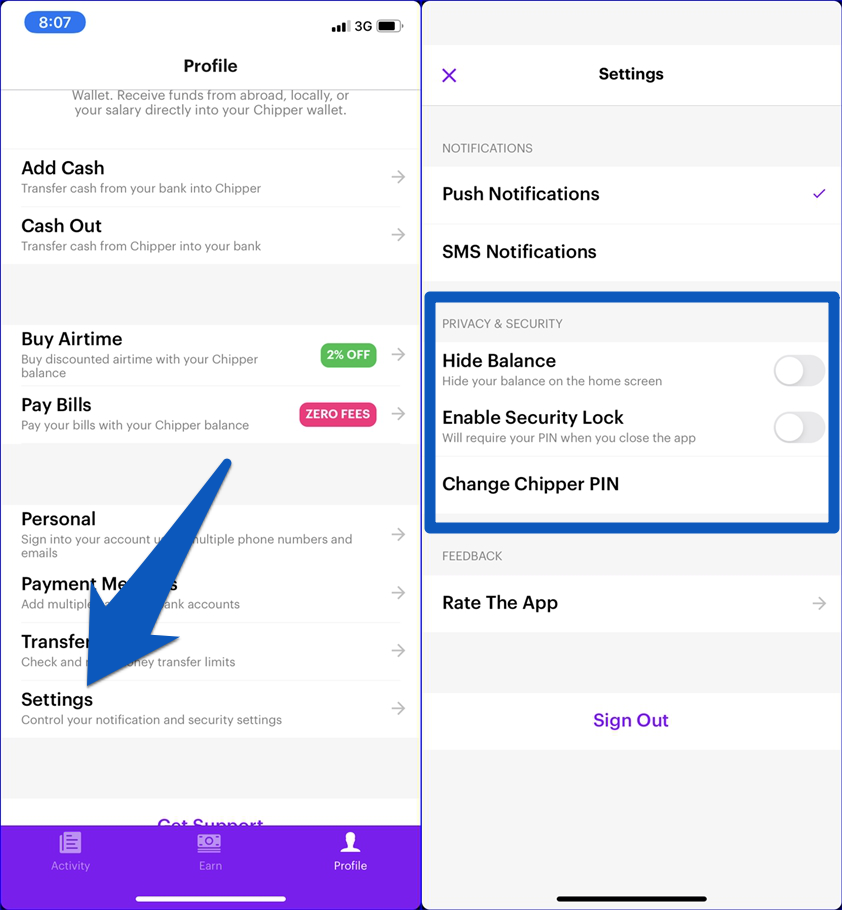 Cheaper, Faster, Better
Overall, the Chipper Cash is great; it's an app for the everyday African smartphone user. The app is well-designed and most importantly, easy-to-navigate. The airtime discount and zero charges on bill payments will also —cumulatively—save you a great deal of money. Money transfer, bill payments, money deposits, etc. all happen instantly. Cross-border transfers are just as fast as local remittances.
There's in-app support, but you can also reach the Chipper Cash Customer Care Team on Facebook or Twitter. I haven't used the in-app support but I've been able to reach the customer care team via Twitter a couple of times. Responses to my queries weren't immediate but they were resolved just in time.
If you have used Chipper Cash in Nigeria, do tell us about your experience (so far) in the comments below. If you haven't, you can create an account with Chipper Cash via this link.