Mobile Money has revolutionized how we transact with each other in Africa. However, for the most part, these mobile money platforms only work well among users on the same platform (in the same country).
Thankfully, we now live in the digital age and international boundaries aren't enough to stop us from conducting business across nations. In that spirit, it is getting increasingly easy to send and receive money across countries using mobile money.
Advertisement - Continue reading below
We have recently covered Chipper Cash and we've seen how it allows users to send and receive money from Kenya to Uganda and other African countries for free. Today, we look at yet another service, Tingg.
In Kenya, most people pciture Tingg as an app used to pay bills and purchase airtime for any Kenyan carrier using M-PESA. The company has partnered with SimbaPay in a bid to diversify its services and allow international money transfer.
Send Money to Uganda Using Tingg
First off, it is worth noting that this service also allows users to send funds to India, China, and Uganda.
Users will need to dial *369# on their Kenyan number. We tried this on Safaricom and it worked flawlessly. We shall try the same using Airtel Kenya and Telkom Kenya update accordingly.
Follow the steps outlined below:
Dial *369#
Select option 6, International Funds Transfer
Enter your full name as the Sender
Select 'Enter Mobile number' and input the recipient's mobile number.
Confirm the country you would wish to send the money to, in this case it will be Uganda based on the phone number entered in the previous step.
Enter the recipient's full name
Select the destination of your money, between Bank and Mobile Money.
Enter the amount you wish to send.
You will then get a summary of the transaction you're about to make, complete with the exchange rate used.
Confirm this and you'll be redirected to your M-PESA mobile money account.
Input your M-PESA PIN to authenticate this transaction.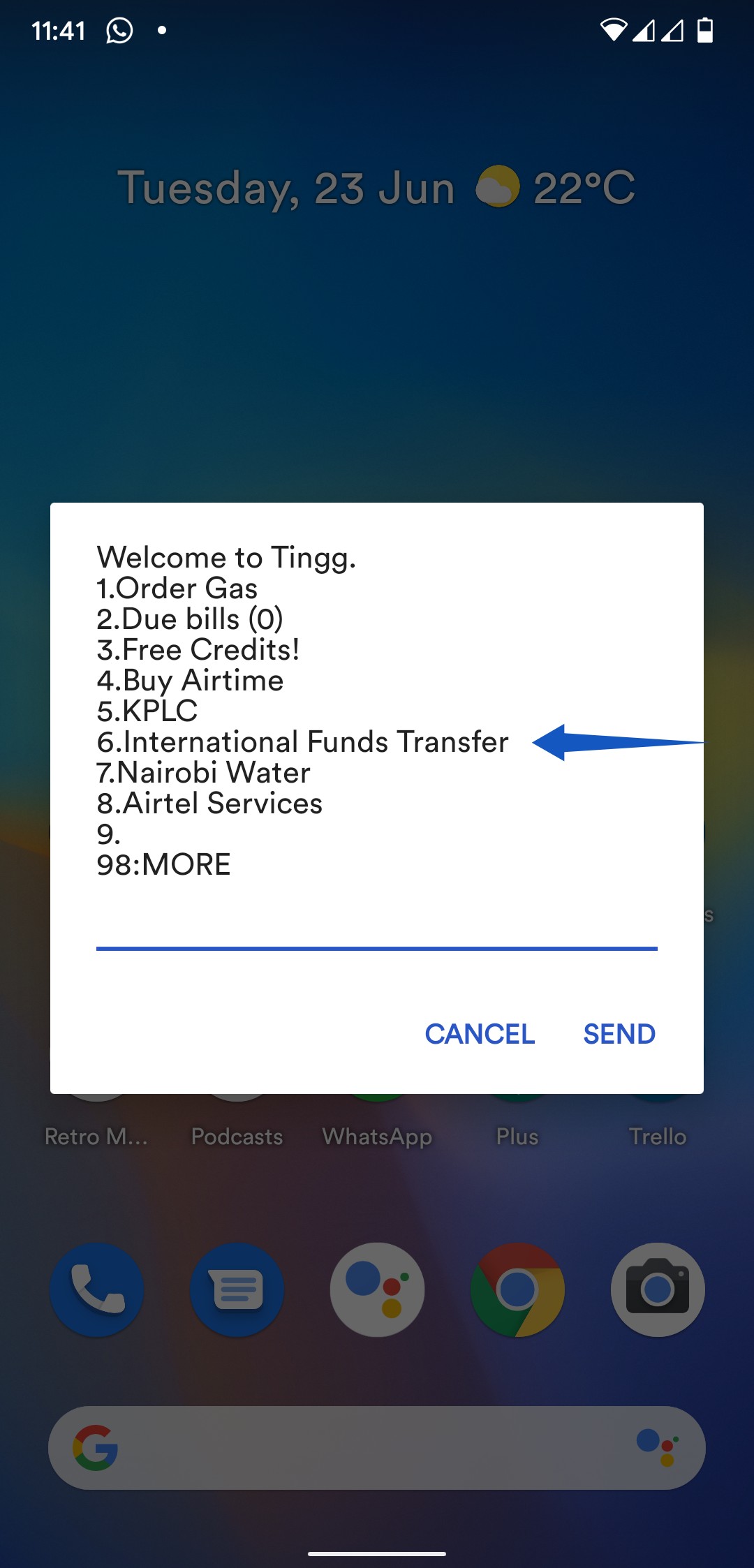 And just like that, the money is on its way to the recipient's mobile money wallet. In our testing, David was able to receive the funds directly into his MTN Mobile money wallet.
Advertisement - Continue reading below
Also worth noting is that, like Chipper Cash, Tingg doesn't charge any transaction fees to perform this transaction.
It is encouraging to see startups and fintech companies pushing for international money transfers and making it cheaper to do business across boarders.