It's almost two months now since MTN Uganda — the leading Telecom provider in the region — partnered with Interswitch and Crane bank,  one of East Africa's leading integrated payments companies to launch MTN cashouts. MTN Cashouts is what the network provider touts as an ATM machine in your mobile phone, a service that rides on the already popular mobile transfer service, but this time brings even more convenience to customers.
The idea is to enable existing mobile money subscribers withdraw liquid cash from any interswitch + Crane Bank ATM machines country-wide with only their mobile phones!
Advertisement - Continue reading below
But does it work?
In the quest to test the product, the TechPost team set out to a remarkably adventurous journey through the streets of Kampala,  to find out for ourselves whether or not the service matches up to the marketing hype. We base our review on information we got from the Telecom's service centres and on-ground experiences with the service.
How it works
A Mobile subscriber registered to the MTN Mobile Money service withdraws money from an ATM machine by first accessing mobile money menu through dialing USSD shortcode *165# on their handset. They then navigate to "ATM Withdraw" option, then the system auto generates a 4-digits "TIN code" that expires in 10 minutes for them before they enter their Mobile money PIN.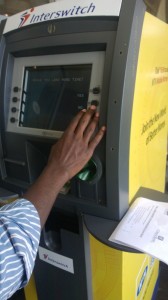 At  any supported ATM machine, the user selects MTN Mobile money option instead of inserting a bank card,  enter their mobile number, the 4-digit code they received and finally the amount they wish to withdraw.
We found this procedure flawlessly,simple and intuitive until we actually wanted to withdraw some cash from the ATM machines.
Advertisement - Continue reading below
Supported ATMs
Currently the service supports only Cranebank ATMs which relatively have a wide coverage across the country. However, the service is also  available at Interswitch-MTN-Mobile-Money branded ATM machines that we're told are actually interswitch "smartpoints". Reliable sources tell us that there are 13 of these around kampala, although we managed to find only one at the MTN towers.
Reliability and service stability
At the time of this review, we could not make any MTN Mobile Money Cashouts at any crane bank ATM. When we tried to make withdrawals at two Cranebank ATMs, the machines reported "transaction not supported" while the printed receipts said "MTN Mobile money issuer not available".
Obviously this gave us a poor precedent as we could  NOT make perform any transactions at supported ATM machines except one an interswitch smartpoint located at the network's headquarters.
Security
For starters, it's important to note that no service is 100% foolproof. However, the degree to which it can be compromised does matter and serves as the benchmark against other similar services.
Now suppose, a stranger knows the TIN code which was generated and proceeds to the ATM machine to withdraw cash before the rightful owner does? Can they successfully withdraw cash? As you could have already guessed, the answer is YES! If the stranger has both the TIN code and the user's mobile number, all they have to do is follow the instructions on the ATM machine and withdraw cash!
However, because the 4-digit auto-generated code expires in 10 minutes and the stranger needs the right phone number, this matrix of requirements lessens the chances of fraud ever happening.
Advertisement - Continue reading below
ATM withdraw Charges
The bank does not charge users for any withdrawal fees. The transaction fees are however, charged through the user's mobile money account.
MTN charges a fee of UGX 1,000 for withdraws between UGX 5,000-30,000 while those between UGX 125,001-250,000 incur a cost of UGX 3,450.
Our comparison on transaction fees between ATM and vendor withdraws yielded almost no difference or if any, very slight. Our initial thoughts were that MTN would be a little easy with ATM withdraws as these automated 24-hour transactions are less costly than vendor-based manual system, but, to our surprise the network makes no difference.
Conclusion
In essence, MTN is trying to duplicate what the traditional banks already did more than 20 years ago — automate cash withdraws with machines and do away with humans. In the long term, it hopes to achieve high operational efficiency and profit returns due to low operational costs.
However, what sets this service apart is first, the network turning your phone into an around device you'll use for just about anything including being your "ATM Card". Secondly transferring funds to someone else who neither has a phone nor a bank account and can receive the funds at anytime (and soon) any where!
What's rather disappointing about the service in its current state is — it doesn't work yet! Whether you blame it on limited interswitch "smartpoints" or service failures at supported ATM machines, the service simply isn't working (yet).