The MTN WakaNet Pocket MiFi is the latest addition to the WakaNet product lineup. It was recently launched by MTN a few weeks ago and many Ugandans have gone ahead to explore what it has to offer. I have been using the device for a week now and I will be sharing insights and an honest review about this MiFi in this article.
As a full disclaimer, MTN Uganda is an Ad-Partner with this website, but this review is 100% based on my personal experience with the device. Also, the review was not pre-approved before publishing. Alright, let's get into it.
Advertisement - Continue reading below
The MiFi
Although this device is officially called "WakaNet Pocket MiFi" or "MTN Broadband" by MTN Uganda, this product is actually an MTN-branded version of the ZTE MF927U 3G/4G/LTE Mobile Wi-Fi Router. Any other telco can offer the same device with a new name and custom software.
I believe these (MiFis) are available at approved MTN Shops and service centers. The MiFi comes at the cost of 75,000 UGX.
---
Also Read: MiFi vs the router, which internet device should you buy?
---
What Is In The Box ?
The box is mid-sized and can fit in any small bag since it is even smaller than some smartphone boxes. It's an average paper box with MTN branding all over it.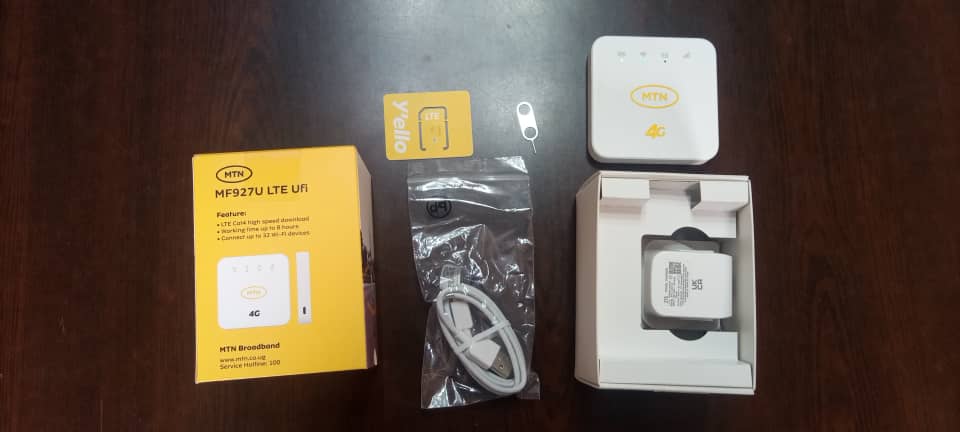 From the picture above, you will find the following;
A ZTE MF927U Mobile Wi-Fi Router
An Instruction Manual
A Charging Adapter
Micro USB 2.0 Charging Cable
1 MTN 4G SIM Pack
A Cool Sim ejection tool
First Impressions
The Pocket MiFi is a compact-sized device with a square-shaped housing that perfectly fits into the pocket as its official name suggests. The case is made of thick, white matte plastic that doesn't look cheap.
Advertisement - Continue reading below
The MiFi's physical design looks very modern. The MiFi does not have a removable battery. It is a single-band, which means it only has support for the 2.4 GHz band. However, this should do for most internet users.
Underneath the device, you will see an attached sticky note with the device info; something like this;
WIFI SSID: Your WiFi Name
WIFI KEY: Default WiFi Password
Device Manager: The Web interface
Password: The Web interface password.
All the above name values are default and can always be changed except for the Web interface that remains the same across all MiFis. On one side of the device, you will find a micro USB charging port while on the very top are two round buttons — A power button and a WPS button. On the other side, you will find the SIM Card slot containing the micro SIM card tray, and right beside it is a pinhole that can be used to reset the MiFi.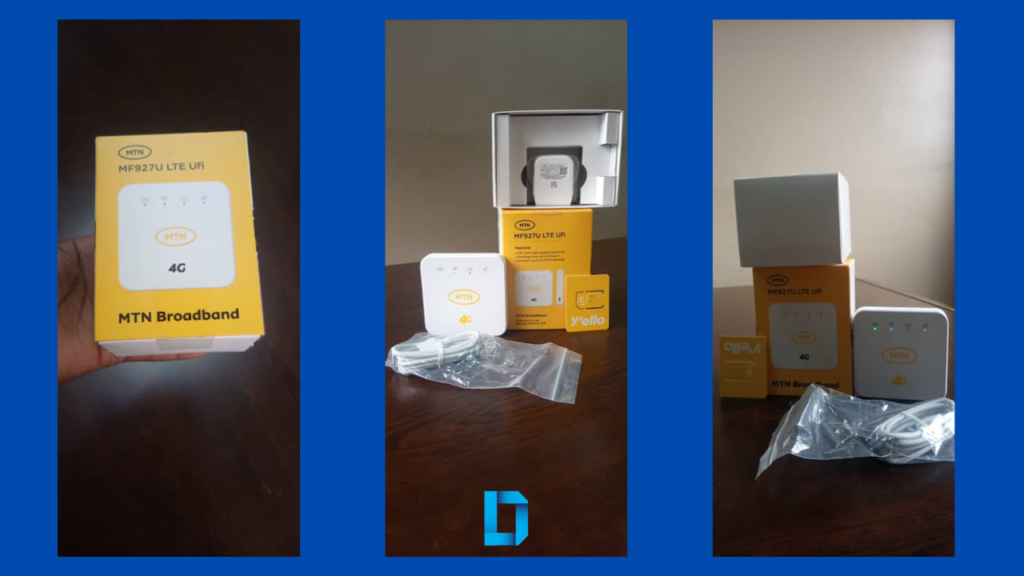 The MiFi Box is also labeled as "Cat 4", which in theory, means that it can support uplink data rates (or upload speeds) up to 50Mbps and downlink data rates (or download speeds) up to 150Mbps.
Free Data and Activation
Upon purchase, you are given the SIM Number that usually starts with 039….. This SIM card is unregistered and I had to go to Mukwano Mall MTN Service Center, Kyagwe road, where I registered the card in my name.
I had to wait for over 20 minutes for it to be activated. I was also told to first insert the SIM card in a feature phone before I could insert it in the MiFi or smartphone in order for the free bundles to actually get activated/work.
---
Also Read: MTN Uganda's New 4G Wakanet MiFi Comes With 15GB
---
I finally got the 15-FREE GB bonus after the whole process. The SIM card was also registered for Mobile Money. This free data does not expire and it is automatically activated.
Advertisement - Continue reading below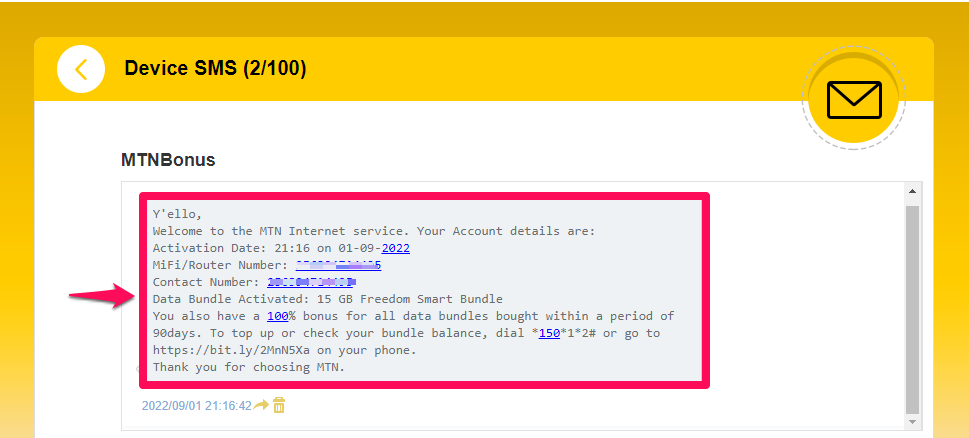 From the web manager, you will find the above welcome message with data bundle activation under SMS. You can check for your data balance on the MiFi by the MTN App, or *150*3*2*2#.
Network Speed Tests
I live in Makerere, Kampala and when I tested the MTN MiFi speed by downloading a 1GB video file, I was impressed with the results. I averaged an Upload speed of 9MB/s and a Download Speed of 10 Mb/s. On a normal day usage (e.g browsing the internet, chatting, and watching WhatsApp statuses,) the average download speed fluctuated between 1 Mb/s and 4Mb/s, and there was no lag or buffering when streaming videos.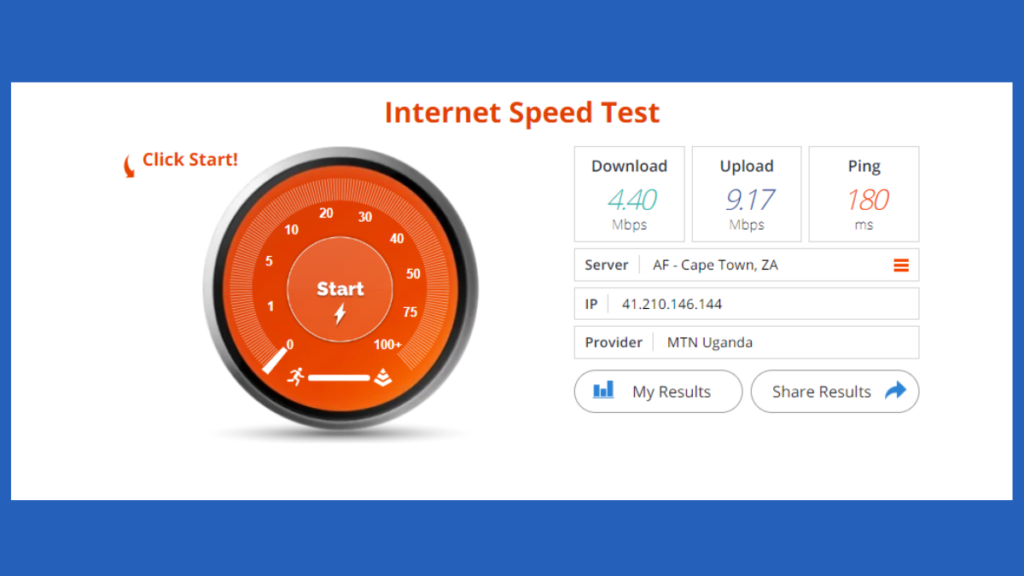 However, the device disconnected a few times which could be something related to my computer. But once it is connected, it would persist the connection.
---
Related Articles:
---
The Device Manager
The web interface can help you manage your MiFi, see advanced settings, control devices, and networks and do the general configuration of your device I will be coming up with an article on how to use this interface. Change SSID, Credentials, etc.
The above interface (https://192.168.1.1) can only be accessed when you have connected your computer to the device. It can also be reached even offline. We shall see how to use it in another article.
Battery Test
With the factory-fitted charger, the average time it took to reach 100% from 0% is 1 hour and 30 minutes. The Pocket MiFi can support up to 32 connected devices (on the box) but I would strongly recommend against doing that as it may heat up the device and reduce the battery life and you may go with the recommended ten devices.
The Pocket MiFi battery boasts a capacity of 2000 mAh, and tests have shown really pleasing results. With two devices connected, I was able to use it for about 5-6 hours before the battery indicator turned red, meaning the battery was low.
Advertisement - Continue reading below
Interpreting the Light Indicators
You might ask "What do the light indicators on the MiFi do?". Well, since it does not have an LCD display, you will need to know what these signals mean in order to make sense of them. The table below shows the different lights on the MTN MiFi and what they mean.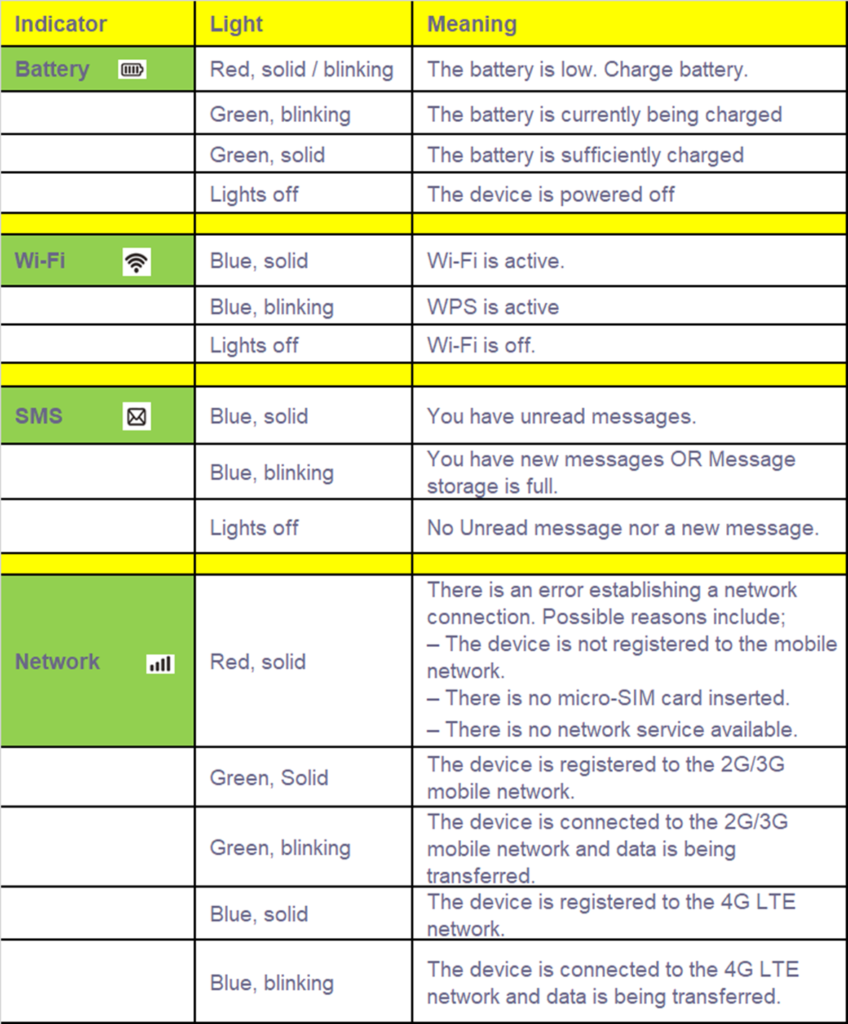 Should you buy the MiFi?
✔ Battery is good, save on smartphone battery
✔ This MiFi can be charged using a regular power bank
✔ Fast mobile 4G speeds of upto 10Mbps on the go
✔ BUY it if you are always on the move
❌ DON'T buy if you always need to connect multiple devices all the time. Not suitable for everyday office use with several devices connected. You would rather go with their fully-fledged 4G wall-socket powered router. Alternatively, you can also subscribe to MTN Home Fiber which is much suited for heavy users with multiple devices.
One of the features this MiFi boasts of is an LTE Cat4 High-speed download, which I fairly agree with but this could change depending on your location and the nearest network tower. Also, the device easily heats up when you connect about 5 devices, and at most, it would give me roughly 4-6 hours when fully charged.
Conclusion
I have been with the device for over a week now. And I needed a fast and reliable internet connection to power my devices on the move. Instead of always using your phone's hotspot, you can get an MTN Mifi and save your battery.