5G the much-hyped next generation of mobile technology is here. A growing number of countries including the U.S, Canada, China, India, the U.K, South Africa, Japan, South Korea have piloted some form of 5G network. Mobile Smartphone brands with 5G support have also been growing.
5G promises faster data speeds of between 50Mbps to as much as 1.8Gbps depending on the standard. As of this year, the GSA reports over 77 commercially available 5G smartphones. Big mobile heavyweights like One plus, Samsung, TCL, Xiaomi, Huawei, Oppo, Nokia have one or two of their smartphones with 5G support. Google and Apple is surprisingly missing in action although the coming iPhone 12 is said to support 5G.
Advertisement - Continue reading below
If you recently bought a smartphone and you aren't sure if it supports 5G, how can you confirm for sure whether or not your device supports the latest mobile technology standard?
Check Smartphone Specs online
The easiest way to know if your smartphone really has 5G is to Google up its specs online. You'll most likely land on Gsmarena which boosts the biggest database of smartphones specs in the world. Enter your smartphone model in the search bar and scroll through it's specifications. Under the Network field, lookout if 5G bands are listed or not.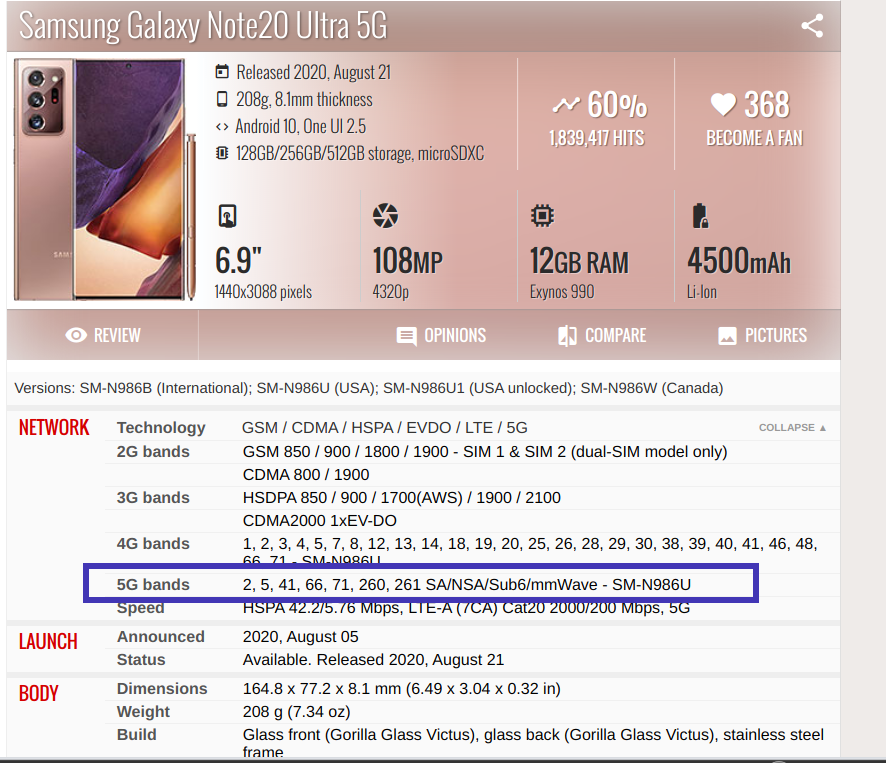 Gsmerena's information is relatively accurate and you can count on it.
Android phone settings
Another easier way to tell if your smartphone supports 5G or not is to check in the phone settings. Assuming it's an Android phone, tap on Settings >> Network & internet >> Mobile Network >> Preferred Network type. You should see all the Mobile Network technologies supported such as 2G, 3G, 4G and 5G. If 5G is listed, then your phone supports it.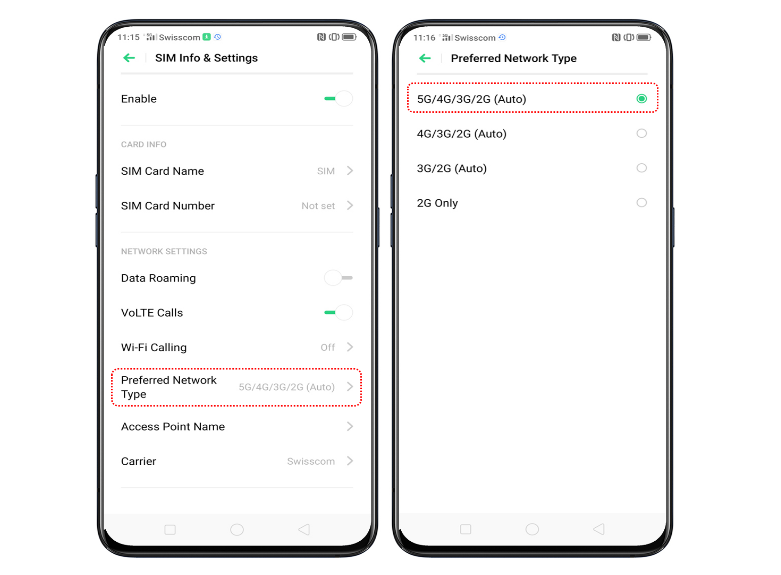 Update: We have made a video tutorial on how to check if your phone has 5G;
Top list of 5G smartphones in 2020
The list of 5G Smartphones is growing every year. We can't practically list every device here, but I'll list the popular smartphones as of 2020 that have 5G support so far.
Advertisement - Continue reading below
Samsung Galaxy S20 series
Samsung Galaxy Note 10 5G / Plus 5G
Samsung Galaxy A71 5G
OnePlus 8 series
OnePlus Nord
LG V60 ThinQ
Sony Xperia 1 II
Oppo Find X2 Pro
Xiaomi Mi 10 series
Realme X50 Pro 5G
Huawei Mate 30 Pro 5G
Vivo IQoo 3 5G
Redmi K30 5G
This list is going to be increasing over the coming months. Before you purchase a pricey 5G smartphone, first check if your Mobile network operator has a 5G network in the first place, otherwise, 5G will be a redundant feature.
Image: Samsung Galaxy S20+ 5G